New Yorkers for a Human-Scale City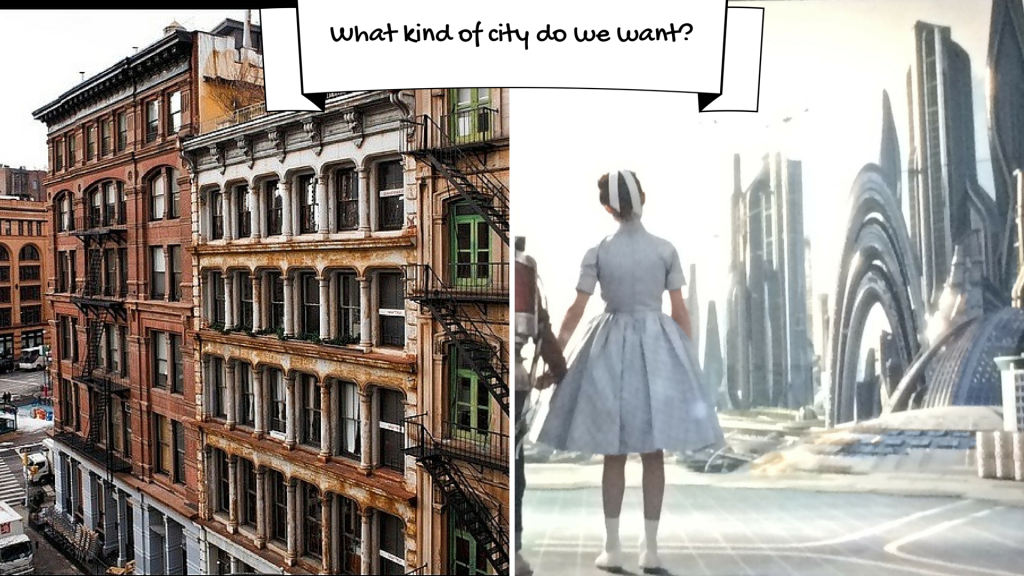 Dear Neighbors in Tribeca,
You signed our petition to protect Tribeca. You put up anti-demolition posters in your windows.  You supported our research.  We thank you for all you have done. It is because of you that Tribeca Trust was able to obtain a meeting with the Chair of the Landmarks Preservation Commission in early October. We went with Alison Greenberg, Hal Bromm, Lynn Ellsworth, and Roger Byrom who is Chair of our Community Board's Landmarks Committee.
But that meeting did not go well. We were put off to the New Year and stalled yet again, for no logical reason whatsoever. The door isn't closed to us, but only because we are keeping it open with our collective boots. You bet we will be back.
We left that meeting angered. We also realized this: although the merits of our case for historic district expansion are excellent, it is clear that the Landmarks Preservation Commission has been told to stand down in the face of Big Real Estate's desire to overbuild everywhere, especially Tribeca.
So what can we do?  Should we give up and roll over and let 33 more buildings come down in Tribeca and pretend to ourselves it doesn't matter?
No. We are not giving up. It turns out neighborhoods across the city are in a similar situation of reckless overdevelopment. We plan to hold a town hall in November here in Tribeca to explain the stakes for our neighborhood and get your help.  Clearly, we need a demolition moratorium. We need zoning reform.
So first we are getting out our pitchforks and sharpening them. We have joined – and even helped to create – a coalition of 51 community organizations and non-profits across all the city, from the Bronx to Staten Island. That coalition is called New Yorkers for a Human-Scale City.  That coalition is growing every day.
New Yorkers for a Human-Scale City has created a new electronic petition demanding policy change from De Blasio. It calls for an end to the way the real estate lobby has captured our city government and all its regulatory bodies like City Planning and the Landmarks Preservation Commission. We plan a policy summit.
If you sign the petition, your signature and comment goes immediately to the Mayor.  Show your anger and show your disgust for what is happening to our city. Read the petition and sign here: http://www.humanscalednyc.net/.  Then pass the link on to all your friends and neighbors across New York City. Ask them to sign too. This is the first step to regaining the neighborhood and city we have loved.
Sincerely,
The Board of Tribeca Trust
---
The Founding Members of New Yorkers for a Human-Scale City Are:
Art Loisada Foundation
Bedford Stuyvesant Society for Historic Preservation
Bowery Alliance of Neighbors
Citizens Emergency Committee to Preserve Preservation
Citizens Defending Libraries
Coalition for a Livable West Side
Committee for Environmentally Sound Development
Community Action Alliance on NYU2031
Concerned Citizens for Community Based Planning
Defenders of the Historic Upper East Side
DUMBO Neighborhood Alliance
East Harlem Preservation
Fiske Terrace Association
Friends and Residents of Greater Gowanus
Friends of Brook Park
Friends of Bushwick Inlet Park
Friends of City Hall Park
Friends of Greenwich Street
Friends of Lamartine Place Historic District
Friends of South Street Seaport
Friends of Tribeca Park
Historic Districts Council
Historic Park Avenue
LANDMARK WEST!
Lower East Side Preservation Initiative
Lower West Side Association
Madison-Marine-Homecrest Association
Movement to Protect the People in Crown Heights
North Avenue A Neighborhood Association
NYU Faculty Against the Sexton Plan
Preservation League of Staten Island
Project for Public Spaces
Save Chelsea
Save Harlem Now!
#SaveNYC
Save the View Now
Save Our Seaport
SoHo Alliance
South Bronx United
South Village Neighbors
Sullivan-Ludlam-Stoddard Neighborhood Association
TakeBackNYC
Tenant.Net
Tribeca Trust
29th Street Association
Vinegar Hill Neighborhood Association
West 80's Neighborhood Association
Women of Woodlawn
(the list is in formation and shown as of September 25, 2015.  If you would like your organization to be on the list, please email us at volunteer@tribecatrust.org)