This is a great idea.
Alessandra Galletti of the Tribeca Trust board has been pitching parklets for a while.  Everyone at Tribeca Trust has been enthusiastic, although parklets are a bit of a headscratcher in terms of getting set up.  We wanted to do one for Finn Square but Con-Ed got grumpy.  So last summer, we got on our bikes and rode around Tribeca with someone from Transportation Alternatives looking at potential sites for these things.  Duane Street seemed prime.  Alessandra and I and Ron Morrison from Transportation Alternatives then went to work door-to-door. Alessandra finally found a taker of the idea in the form of David Steingard, owner of the Laughing Man coffee shop.
Parklets are small decks built out onto the street, along the curb, taking up roughly the space of a parked car.  The Department of Transportation has been encouraging them for a while, but has lots of rules.  Here is a picture of my absolute favorite parklet, the one on Sullivan Street in SoHo. It is made of  natural materials and with the umbrella, grassy planters, provides a sense of enclosure from the street, yet still open to the sidewalk.  And the u-shape gives a natural way to stimulate chit-chat among neighbors.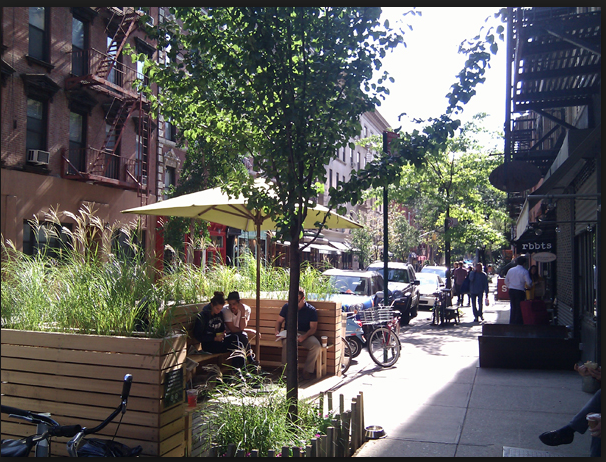 Parklets are not sidewalk cafes.  They have to be open to anyone to sit down, no purchase necessary, no waiter service allowed.  But they are privately maintained and insured, usually by a business next to the parklet.  In this picture, the coffee shop in front of the the parklet paid for it.  It finds that the presence of the parklet increase revenue enough to justify paying for it. They are not permanent fixtures. DOT says they have to be taken down and stored from late fall through early spring.
Not all of them are as charming as the one on Sullivan Street, in fact some of them are downright ugly.  I won't show you the ugly ones. It really depends on the design.
This is a really exciting opportunity and potentially a great public asset for Tribeca.  I look forward to seeing the proposed design that Laughing Man comes up with and hope that Tribeca Trust will be there at the community board next month in full on support. Alessandra thinks that if we can find a public non-profit entity like Tribeca Trust to cover the costs of building them, more businesses would take on their insurance, maintenance, and storage.  What do you think?
There is a petition at Laughing Man you can sign to support this idea.  And who knows, maybe another business on Duane Street will do another one and we'll get two parklets!
Now, if only we could get a celebrity like Hugh Jackman to support the expansion of Tribeca's historic districts and an end to the demolitions going on, we'd be really happy.