Here we have what used to stand at 50 and 52 Murray Street (south side). Fantastic, no?  It was owned by Charles Ahrenfeldt and Son, the New York office of an importer of fine Limoges china.
Ahrenfeldt operated out of here from the 1860's until 1913, when other tenants took over these two matching buildings.  Note that the Amish Market building would be just off to the left of these buildings.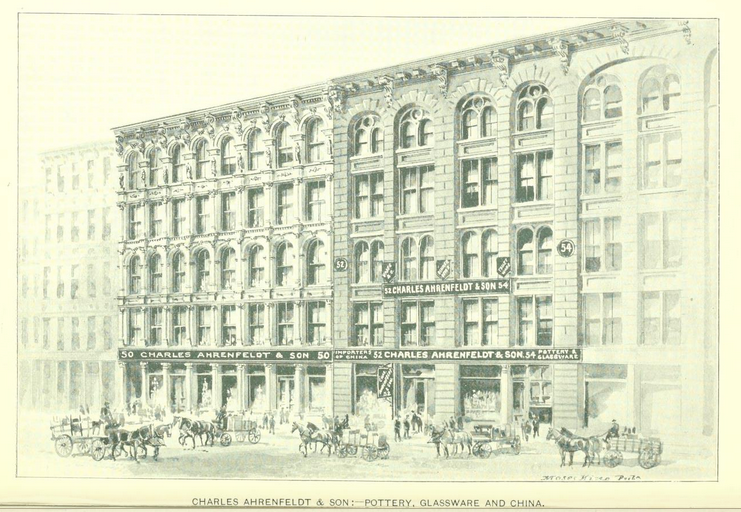 Murray Street between Church and Broadway was once part of a thriving glass, china, and crockery industry scattered throughout what we now think of as Tribeca South and West.  There were many importers and showrooms, and some manufacturing, as this old NYPL photo from a Duane Street operation shows. 
I don't know when the magnificent Ahrenfeldt buildings were torn down – most likely in 1963 to make way for the undistinguished office tower that now occupies the site.  Maybe a reader knows and can let me know.  Back it 1963 it was quickly leased to the Internal Revenue Service.  The IRS building still stands but was converted to rental apartments in 2003.  It also presently houses an Equinox gym and a Starbucks.
Here is a photo of the still-standing tower that replaced the Ahrenfeldt Building back in 1963. Reading the Times 1963 article about it, it was clearly part of Big Real Estate's on-again, off-again drive to convert the old Washington Market area to "Wall Street North."  Since it went up during the early reign of Ada Louise Huxtable as the architecture critic for The New York Times, I thought I could uncover one of her reviews, but I could not.  She was always short and to the point, although she did often equivocate and contradict herself. In this case, my guess is she would have just glanced at this building and dismissed it with one of her favorite insults: "banal" and therefore not worthy of her attention.  I do think we used to have meaningful architecture at this site, and somehow this design from 1963 just does not have the same allure as to what it replaced.