A Perfect Holiday Gift for your home,  a Replica of Your New York Apartment Building – in Gingerbread!

Proceeds to benefit Tribeca Trust

/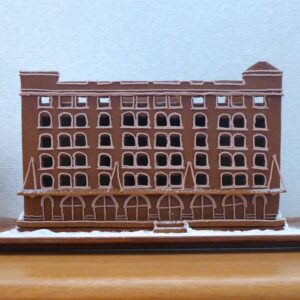 You provide a clear photograph or drawing of the front of your building and Tribeca Trust Board
Member Andrea Pratt (gingerbread baker extraordinaire) will make a replica in sweet, spicy
gingerbread.  100% edible.  Pick-up/delivery to be arranged in New York City only.
Size suitable for tabletop or mantle.  The example below is of 60 Beach Street in Tribeca West
Historic District.  It is 14″ wide x 9″ high.
You can bid on this service on Ebay.  Proceeds of the auction (over the baker's costs) will be
donated to Tribeca Trust, which we know is your favorite charitable organization.
Go to the link below to place your bid for your own uniquely designed gingerbread house at
Ebay, Auction # 281520402708
http://www.ebay.com/itm/281520402708?ru=http%3A%2F%2Fwww.ebay.com%2Fsch%2Fi.html%3F_from%3DR40%26_sacat%3D0%26_nkw%3D281520402708%26_rdc%3D1