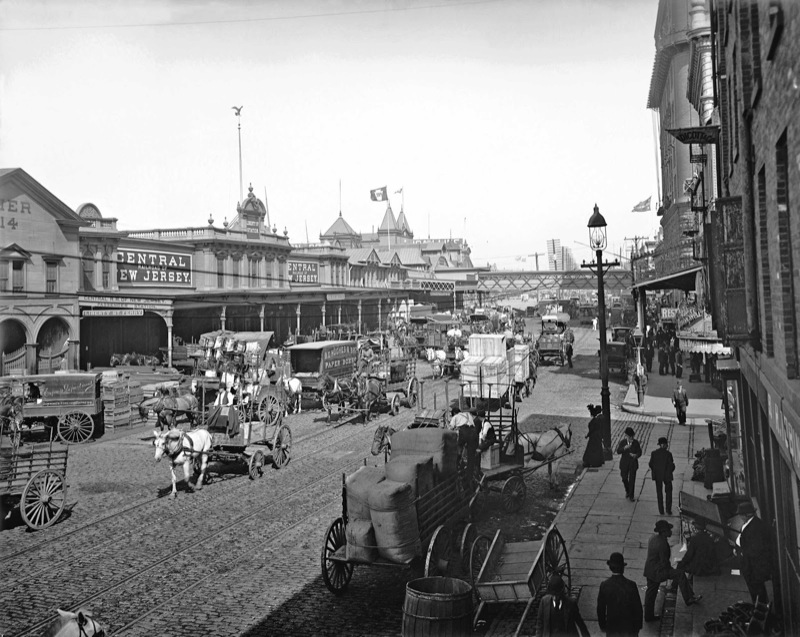 (piers on West Street circa 1900 from NYL).
As many of you know,
the Hudson Park Trust obtained changes in the enabling legislation for Hudson River Park such that it could sell air rights from the piers to developers along West Street. This presents a huge problem for historic districts along the water, Tribeca included.  Related Properties has long been accumulating assets along the river and we could easily end up with a tower of glass blocking us from the river. The Greenwich Village Society for Historic Preservation has been leading a coalition of community groups asking the electeds to put greater safeguards into the legislation. Tribeca Trust is part of that coalition. Meetings are already taking place about carrying out the air rights transfers, so a community meeting has been called: Here is the letter from GVSHP urging attendance at the meeting
Dear friends,
The Hudson River Park Advisory Council will be meeting on Monday, April 21st starting at 5:30 pm at Chelsea Piers (room TBD), and the issue of air rights transfers from the park will be on the agenda. As someone concerned about this issue, I strongly urge you to attend.
As you know, we have been trying to get firm answers to questions from elected officials and the Trust on a variety of issues, as well as urging them to put in place safeguards and limits on the use of air rights from the park to ensure that overdevelopment of our neighborhood does not result. The Advisory Board meeting will be an important opportunity to continue to raise these issues and find out more.
The most recent letters on this issue can be found [at wwww.gvshp.org].
It was recently reported in the press that elected officials, the Trust, and the community boards have begun meeting with City Planning on this issue. This makes our continuing to press these issues all the more important.
If you are able to attend on the 21st, please let me know.
Thanks,
Andrew
Andrew Berman
Executive Director
Greenwich Village Society for Historic Preservation
232 East 11th Street, New York, NY 10003