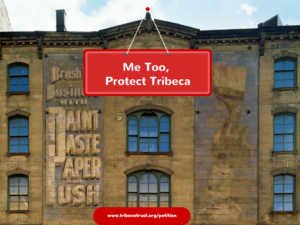 Petition to City Government to Protect Tribeca
We, the undersigned residents of Tribeca, join with the Artists Committee for the Defense of Tribeca, to ask the Mayor, the City Council, the Department of City Planning and the Landmarks Preservation Commission to better protect the architectural and historical heritage of Tribeca.
This neighborhood is all that is left of our city's connection to the world's largest produce market, the now-demolished Washington Market.  Yet the visual and historical integrity of this heritage is now being eroded by inappropriate and excessive development. Buildings with affordable housing and small businesses are under threat of demolition.  Developers aim to replace those buildings with luxury housing.  We are losing our small-scale retail.  The public value represented by one of the most extraordinary historic districts in the world is threatened.  Something must be done.
We call on City government to expand the boundaries of Tribeca's historic districts and to modify the zoning to ensure the long-term survival and human-scale of one of the city's great cultural assets.
To add your name to this list, please sign here.
Your name will appear on the list within 24 hours.  Your email and address will not appear on the website or in any public way.  The signatures may appear in other media.
The undersigned:
Lynn Ellsworth –
Emmaline Ellsworth – Tribeca – 14 years old
Joan Kreiss – Tribeca
Lillian Perlmutter – Tribeca
Robert Ripps – Tribeca
William Duggan – Tribeca
Heide Fasnacht – Tribeca
Dorothy Lichtenstein – West village
Yves Seban – Tribeca 25 years
Lori Stone – Tribeca
Janet Perr – Tribeca
David Diao – Tribeca-41 years
Paul Pagk – Tribeca
John Willenbecher – Tribeca
Jamie Gordon – Tribeca
Doneley Meris – Tribeca-29 years
Eileen Bermingham – Tribeca
Lisa Kaye – Tribeca
Katie Campbell – Tribeca
Lisa Kirsch – Tribeca
John Newman – Tribeca
Boji Wong – TriBeCA
Troy Torrison – Tribeca
Joyce Frater – Tribeca
David Row – SoHo
Curry Ford – Tribeca
Yvette Velez – Tribeca
Jennifer Weisbord – Tribeca
Lorenzo Ciniglio – Tribeca
Claudine Williams – Battery Park
Joe Foster – Tribeca
Natasha Shapiro – Tribeca
Emily Hoffmam – Tribeca
Jill Godmilow – Tribeca
Laura Hunter – Tribeca
Lynda Lippin – Tribeca/FIDI
Jennifer Kenny – Tribeca
Bill Westcott – Tribeca
Alison Greenberg – Tribeca
Linda Rowe – TriBeCa
Zhenya Merkulova – Tribeca & Greenwich Village
Rachel Kuchinad – Tribeca
Cecilia Vicuna – Tribeca
Susan Bernfield – Tribeca
Patricia Mcdonough – Tribeca
Aria Grillo – Tribeca
Candice Weatherly – Fort Greene
Rafael Bueno – Tribeca
Perry Bard – Tribeca
Ariane Lopez-Huici – Tribeca
Briar Winters – Live: Lower East Side / work: TriBeCa
Anne Hamilton – TriBeCa
Elizabeth Whittley – Philadelphia
Margaret \"Julie\" Finch – Flatiron
Michel Cohen – Gowanus Brooklyn
Jennifer Van Zandt – Tribeca
Gina Barac-Bauer – Tribeca
JOSEPH AUGUSTINE – TRIBECA
Christine Magdo – Tribeca
Suzy Benzinger – Tribeca
Kimberly Henderson – Tribeca
Annie Luce – Tribeca
Patricia McCobb – TriBeCa-25 years
Mario Rivelli – TriBeCa- 44 years
Jeffrey Way – Tribeca – 46 years
Carolyn Cartwright – Tribeca – 10 years
Alexander Stamatiadis – Tribeca
Wendy Lawson – Tribeca
Joanne Gorman – South Street Seaport
Denise Gilson – Tribeca
Tamara Downey – Tribeca
Joel Roskind – Tribeca
Susan Rosenberg Jones – Tribeca
Kate Taverna – Tribeca
Alan Adelson – Tribeca
Jaime Vinas – TriBeCa North – 20 years
Rohin Hattiangadi – Tribeca
Linda Secondari – Tribeca
Jennifer Johnson – Tribeca
Jeanine Bianco – FiDi William between Maiden Lane and Platt
Cynthia Walt – Bay ridge, formerly financial district.
Mitchell Grubler – Chinatown
Alice Albert – Tribeca
Michael Gerstner – Tribeca NW
Jari Bartsch – TriBeCa
Ellen Callamari – Tribeca
Albert Lee – Tribeca
Andrea Pratt – Tribeca
Bill Sullivan – Tribeca
Betty Eng Lee – Tribeca
Lila Zemborain – Tribeca
Stephanie Black – Tribeca
Jonathan Stinnett – Tribeca
Sunil Gopal – Tribeca
Edmund Rosner – Tribeca-37 years
Erica Rooney – Tribeca
Tracy Weller – Tribeca
Noah Green – Tribeca (17 years)
Scott Geyer – TriBeCa
Sarah Schmidt – Lexington, KY, formerly TriBeCa 14 years
Deborah Treisman – Tribeca
Melissa Connor – Battery park city
BG Dilworth – Tribeca
Henry Turner – Tribeca
Cynthia Sayer – Upper West Side & part time in Tribeca
Kristina Biondi – Tribeca
Jean Standish – East Village
Elisa LeNoir – Upper West Side
Lizbeth Marano – Tribeca
Kimberly Fasting-Berg – Tribeca
Kathleen Amshoff – Tribeca
Francesca Bochner – Tribeca
Judy Kuhn – TriBeCa
Piera Bochner – Tribeca
Fiamma Arditi – Upper east side
Shirley Matyscak – Harlem
Margaret Dessau – Tribeca
Sandra May – Tribeca
Meg Cimino – Tribeca
Kara Levin – Tribeca
Kiwon Wang – TriBeCa
Jimmy Nicholas – TriBeCa
Julio Gavilanes – Tribeca
Brad Mas – Tribeca
Dillon Pena – Tribeca
Pam Chmiel – Financial District
Amy Margolis – Tribeca
Jill Geisinger – Tribeca
Zoe D\'Souza – TriBeCa
Loretta THomas – Tribeca
Mary Ehni – TriBeCa
Eve Goldman – Tribeca
Diana Gustafsson – Tribeca
Ed Fields – Tribeca
April Gornik – Soho
Elisabeth Biondi – Tribeca
Liz Conley – Tribeca- 15 years
Karen Stamm – Tribeca
Peter Balis – Tribeca
Craig Troyer – Tribeca
William LoPinto – Tribeca
Mamak Shahbazi – Tribeca
Nikki LoPinto – Tribeca
Liam LoPinto – Tribeca
Anna Stern – South Tribeca 35 Years
Michael Harris – Tribeca
Tammy Meltzer – Battery Park City
Charles Hobson – Boerum Hill
David Schwab – Tribeca
Sandy McLeod – Tribeca
Luca Borghese – Tribeca
Vicki Bran – Tribeca
Sadaf Syed – Tribeca
Robert Moore – Tribeca
Erica Quan – Tribeca
Michael Pierson – TriBeCa
Kim Uchiyama – Tribeca
Alana Varel – 463 Greenwich street, 1
Ellen Scovotti – Tribeca
Mary Hoeveler – Northern Tribeca
Richard Gluckman – Tribeca
Ashley Kasperzak – South Tribeca
Carlos Corona – Teibeca
Emanuele Castano – Northern Tribeca
Antonia Polizzi – 125 Watts Street, 1st Floor, NY, NY 10013
Jolene Howard – TriBeCa NW
Ella Biondi – Tribeca, almost 40 years
Catharina Cosin – 31 years in Tribeca North
Florence Jacobs – Tribeca
Ken Jacobs – Tribeca
Azazel Jacobs – Tribeca
Joanne Greenbaum – Tribeca
Nisi Jacobs – Tribeca
ERICKA BECKMAN – Tribeca
Alexandra Suppes – Tribeca
Carolyn Ripps – Tribeca
Brooks Williams – Tribeca
Bevin Bailis – TriBeCa
Julia Heyward – Tribeca- 37 years
Jessica Davison – Tribeca
Caleb Davison – Tribeca
Dave Christensen – Tribeca
Max Bailis – Tribeca
Marcus Gustafsson – Tribeca
Kevin Volland – Tribeca
Thomas Sansone – Tribeca
Jan Uretsky – Hoboken
Erin Hill – Forest Hills, Queens
A Meadow – Tribeca x 38 years
Marian Baldwin – Tribeca
Theresa Raffetto – Battery Park City
Nisha McGreevy – Tribeca, 21 years
Amy Sewell – Tribeca
Nicole Saunders – Tribeca
Constance Williams – London
Isabella Schiller – Tribeca
Tania Anthony – Tribeca
Renee DeSantis – Tribeca
Scott Berrie – Tribeca
Debbie Bader – Tribeca
Linda Schoenheimer – Tribeca
Ric McCurdy – Tribeca
Nina Romano – Tribeca South Extension, previously Washington Market & \"City Hall\"
Christina Juhasz – Tribeca
Nola Romano – Tribeca south 40 years
Jake Kalish – Lower east side, tribeca
Nicole Arnold – Tribeca
Suzanne Brown – Tribeca
Eunice Easley – Work
Cassandre Pallas – Carroll Gardens
Edna Samuel – Tribeca
West Murray – Tribeca
Mark Hennen – Tribeca
Terry Hirst – Tribeca
Karen Slade – DUMBO, Formerly Tribeca
Andrea Zakin Amano – Soho
Arlene Collins – Tribeca
Cheron Tomkins – Tribeca
Thomas Milo – Tribeca
Dolores Cotten – Hudson Square
Lawrence Blume – Tribeca
Philip Mershon – Tribeca
David POWERS – Tribeca
Michael Mancuso – Tribeca
Diane Stein – Tribeca
Max Blagg – Tribeca
Carol Jazwinski – Tribeca
Carol J, Collins – Tribeca
Jon Gibson – TriBeCa
Hilary Thompson – TriBeCa
Margaret Krug – Nolita
Mel Bochner – Tribeca
Carolyn Oberst – Tribeca – 41 years
Yvette Georges Deeton – TriBeCa 46 years
L.C. Armstrong – TriBeCa 20+ years
Clem Labine – Park Slope Brooklyn
Edward Keane – TRIBECA
Christopher Deeton – TriBeCa
Sophie White – Former Tribeca, 25 years
Dana James – Tribeca
Neeta Govind – Battery Park City
Joyce McKee – Tribeca
José Urbach – Tribeca
Valerie Boom – Tribeca
Emily Gershon – Tribeca
Andy Gershon – Tribeca
Mark Bader – Tribeca
Mafa Edwards – TriBeCa for 37 years
Stacey Mayesh – Tribeca
Peggy Resnick – East village
Marina Urbach – Tribeca
Erica Foley Weldon – TriBeca
Miriam Wysoker – Tribeca
Caroline Press – Tribeca
Yuri Denysenko – Tribeca
Elizabeth Hovey – Tribeca
Michael Gordon – Tribeca
Mark Winkelman – Tribeca since 1984
Niki Levy – Tribeca
Vivian Intermont – Tribeca – 25 years
Kaiama L Glover – Tribeca
Noah Perlmutter – Tribeca
Aubrie Fine – Tribeca
Stephen Dimmick – Altadena Los Angeles
Kathryn Moynahan – Tribeca
Dana Buchman – Tribeca
Ahu Shahrabani – Financial District Resident – 7 years
Penny Armstrong – Tribeca
Lynn Wagenknecht – Tribeca has been home to my business since 1980; Residence is Chelsea
Barbara Smith – TriBeCa
Allison Bourne – Cook – Murray Hill
Mark Brashear – Tribeca
Michael Berghela – Tribecca
Patricia Wesolouski – Tribeca
Erin Reese – Tribeca
Carla Ruiz – Battery Park
Melanie DUNEA – TriBeCa
Alessandra Galletti – Tribeca
Vered Behr – Tribeca
Srini Venkateswaran – Tribeca
Richard Chung – Tribeca
Michelle Curran – Tribeca
Steve Edwards – Tribeca
Hal Bromm – Tribeca
Becca Parrish – TriBeCa
Stephan Weitzel – Tribeca lover and visitor
John Willenbecher – Tribeca
Betty Heller – Battery park city
Orlan Boston – Tribeca
Lisa Feldkamp – Tribeca
Jeffrey Lamb – 165 Duane Street
Bob Townley – East village
John Jurayj – Williamsburg brooklyn
Dave King – Fulton Ferry Landing District (Brooklyn)
James Racchi – Old town
Tracy Ranson – Tribeca
Victoria Faust – Hudson Square
Michael Ranson – Tribeca – 11 years
Jeff Ehrlich – Tribeca
Angus Whyte – Brooklyn Heights
Bettina Teodoro – Tribeca
Ellen Cammer – Tribeca
David DesLauriers – West Village
Jason Butler – Upper West Side
Thatcher Bell – Tribeca
George Calderaro – Midtown East
Liv DeRose – Tribeca
Ivy Feuer – Tribeca
Troy Roberts – Tribeca
Beth Hirsch – Financial District; formerly Tribeca (28 yrs)
Harry Cammer – Tribeca
Ella Dove – Tribeca
Wayne Snellen – SoHo
Stacy Cochran – Tribeca
Connie Schraft – Tribeca
Don Schuck – Tribeca
Alain Kirili – Tribeca
Barbara MacAdam – Morningside Heights
Veronique Nguyen – Tribeca North 27 years
Jordan Tamagni – Brooklyn (formerly TriBeCa)
Catherine Cusset – Tribeca
John Sutter – Hudson Square
John Mc Clave – Battery Park
Ghislaine Vinas – Tribeca
Bette Gordon – Tribeca
Rebecca Smith – Tribeca
Vanina Sorrenti – Tribeca
Markus Kiersztan – Tribeca
Catherine & Dave Bernath – Tribeca
Stephanie Teicher – Tribeca
Cathy Drew – Tribeca
Madeline Lanciani – TriBeCa
Neil Brown – Tribeca
Peter Schlosser – Tribeca (35 years)
Linda Day – Tribeca
Marina Adams – Lower Manhattan
David Cohen – Noho
Amanda Millet-Sorsa – NYC
Erin Smith – Tribeca
Michael Attias – Hell\'s Kitchen
Roger Byrom – 1992
Orshi Drozdik – Tribeca
Seton Smith – Lower East Side
Frank Schroder – Tribeca
Isabelle Armand – Upper West Side
Tomas Mikuzis – Tribeca
Elise Mac Adam – Tribeca
Jacqui Brown – Battery Park City
David Steingard – Tribeca
CL Callahan – TriBeCa
Bob Holman – Bowery (20 years formerly in Tribeca)
Chuck Levey – Tribeca
Deborah Kopinski – Tribeca
Hal Zapken – Staten Island work in Tribeca
Wende Romo – Tribeca
Alexandra Reese – East Harlem
Vera Miljkovic – Chinatown
Maggie Gray – Tribeca-16 years
David Reese – Tribeca
Bryan Hunt – Tribeca
Jacqueline Culang – TriBeCa
Domenica Carcione – Worked here for over 8 years
Mark Skinner – Carroll Gardens
Pete Zych – Kendall park
Maya Jimenez – Sutton Place
Heriberto Rivera – Jamaica,new york
Delphine Dannatt – Paris
Fred Pescatore – Tribeca
James Siena – Lower East Side/Chinatown
Katia Santibanez – Tribeca
Isabelle Autones – Greenwich Village
Tali Fox – Tribeca
Nina Cochran – Tribeca
Robert Feintuch – Noho/East Village
Elizabeh Baker – Midtown East
Sally Foster – Tribeca
Michael Horton – Westchester
Mitch Howell – Tribeca
Joseph Thometz – TriBeCa
Michael Quinn – Tribeca
Wayne Bartlett – Clinton Hill
Robert Gurland – Tribeca – 40 years
Mark Mooradian – Tribeca
Joseph McElroy – TriBeca
Suzanne Winkelman – Tribeca
JAMES O\'HERN – TRIBECA
Lorry Kikta – Williamsburg (work in Tribeca)
Michael Durek – Jersey City
Kathleen Hayes – Tribeca
K. M. Jones – Lower East Side
Phil Weisman – Lived and now work in TriBeCa
ERic Drasin – Bushwick
Mark Macaulay – Hopkins
Suellen Epstein – Tribeca – 42 years
Claude Brian Breyre – TribecA
Shelley Hirsch – Tribeca -since 1975
M. Vern Woodhead – Washington Heights
Ying Liu – Kings, New York
Theodore Gottlieb – Tribeca
Lisa Wilkie – Tribeca
Brian Auerbach – Oakland CA
Troy Johanson – Tribeca
Dean Westerfield – Long Beach, Ca
Soumya Reddy – Tribeca
Victoria Keddie – Greenpoint
Hideki Kato – Windsor Terrace, Brooklyn
Penny Ensley – Upper West Side, long-time slimmer of TriBeCa
Adam Oestreich – Tribeca
Ada Laemmert – Vienna
David Tamura – East Harlem
Jennifer Laoang – Midwood
Dawn Jonas – Upper West Side
Charlotte Owers-Johansson – Tribeca
Bill Brand – Tribeca
Carol Tanenbaum – Tribeca
Julie Boddorf – New Jersey
Barry Stewart – Highbridge, Bronx
Oona Mekas – Los Angeles via Soho
Gerardo Macias – Highland Park, Los Angeles
Paul Yates – West Village
Ursula Scherrer – Lower East Side
Margaret Crimmins – Soho
Boone McElroy – TriBeCa
Christian Haub – Chinatown
Tricia Vessey – Chelsea
Nicole Arbusto – Los Angeles, lived in the West Village for 25 years.
Michael Freeman – Los feliz via Harlem
Lindsay Willemain – Crown Heights, Brooklyn
Robyn Arn – Oklahoma
Jody Pinto – Tribeca 33 years
Pauline Edwards – Tribeca
Victor Axelrod – Gowanus
Joy Spontak – Tribeca visitor.
Leon Gruenbaum – East village
Ross Partridge – East Village
Chapin Wilson – Silverlake, Los Angeles (former Tribeca Resident)
Susan Ensley – SoHo
Travis Myers – Tribeca
Tim McGee – Everest, WA
Ben Velez – Greenwich Village – 44 years
Joseph Angier – Chelsea
Brian Schneider – Lafayette, LA (Formerly Washington Heights)
Philip LaLonde – Venice, CA
Becca Keating – Los angeles
Alfred Martinez – Lower East Side 38 years
Agnes Baddoo – Upper West Side
Camila Pesce – Financial district, manhattan
Dolly Wells – Brooklyn
Beverly Chassler – Upper West Side
Teri Nguyen – West Harlem
Sarah Rara – Echo Park, Los Angeles
Terrence Hayes – South boston Massachusetts
Matt Boren – West village
Shravanti Reddy – Tribeca
Sato Masuzawa – Santa Monica
Karen Pyudik – Los Angeles
Kelsey Siepser – Los angeles
Chris Beresford – Tribeca
Lyndsey Beresford – Tribeca
Vita Dill – Tribeca
Kim Barr – Tribeca
Brad Coleman – Tribeca
Hila Rosen – Tribeca, 36 years
Fuki Masuzawa – Seatac, WA
Debbie Nicol – Everett
ROY FOWLER – TRIBECA 40 YEARS
Katie Sheehy – Brooklyn
Jennifer Lafleur – East Village
Hele Wey – Tribeca
Pamela Yates – Williamsburg
David Elliott – Chinatown
Richard Abramowitz – Westchester
Rachel Mickenberg – Ditmas Park
Susan David – Delray Beach, Florida
Lori DeBlois – Financial District (Tribeca school parent over 9 years)
Carina Levintoff – Tribeca
Amy DURNING – SOHO
Carol Balacek – Tribeca
Jan Mershon – TriBeCa
Janet Checkman – Tribeca
Catherine Weinstock – Tribeca
Bruce Bromley – Tribeca
Stacy DiLieto – Tribeca
Marilyn Klaus – Tribeca (36 years)
Holly Fisher – 9 Murray Street, #10NW, NYC, NY 10007
Hubertus Raben – Tribeca
Nicholas Dewitt – 1610 Cerro Gordo St. LA CA 90026
Carol Zeits – TriBeCa 31 years
Lisa Schiller – Tribeca
Allen Murabayashi – Tribeca
Melissa Olson – Tribeca
Maya Irina McKechneay – Vienna, Brigittenau (Austria), former resident of the USA
Richard Wendell – Tribeca
Chevonne Silverman – SOHO
Amy Mishra – Battery Park City
Rosalie Maniscalco – Tribeca
Greg Singer – TriBeCa
Chris Uettwiller – Green point, Brooklyn
Cara Ottilio-Cooper – FiDi, 15 yrs
Leticia Cortes – Tribeca
Ellen Brooks – Tribeca
Mark Paulson – Tribeca
Linda DiStefano – Greenwich Village
Blanca Montejo – Financial District
Letitia Mackay – Battery park
Porter Collins – Tribeca
Sara Barek – Tribeca
Vanessa Liu – Tribeca
Patti Horn – Battery Park
Maura Craven – Tribeca
Sophia Galatioto – TriBeCa
Amber Jacobs – Tribeca
Tatjana Aleksic – Michigan, formerly Tribeca
Kate McCurdy – TriBeCa
Timothy Tracy – Tribeca
Ingrid Bateman – Tribeca
Haynee Johnson – Tribeca
Robert Krauss – Tribeca
Dawne Reich – Flatiron
Marc Walkow – Tribeca
Madeleine Kiersztan – Tribeca
Foster Maer – Tribeca
Bahij Chancey – Cobble Hill
Judy Baker – Tribeca
Fanny Krivoy – Battery park
Mary Beth Forshaw – Tribeca
Bronwyn Guthrie – Tribeca
Mikal Lazarev – East Village
Justine Pippitt – West Village
Manon Chevallerau – Battery Park City-Tribeca 18 years
Candace Gottschalk – Clinton Hill
Sarah Allentuch – Tribeca
Sandra Bramwell – Long island
Melissa Hoffman – Tribeca
Hilary Reyl – Financial district
Mel Kendrick – Tribeca
Richard Gorman – Tribeca
Catherine Bennett – Soho
Constance Giamo – East Village
Catherine Procopio – Tribeca
Stacey McArdle – Soho
Claire Procopio – Battery park
Sebastian Urbach – Tribeca
Sandy Tabatznik – Tribeca
Christina Donahue – Tribeca
Randall Peacock – Tribeca
Hayjin Byun – Tribeca
Z Behl – Brooklyn, formerly tribeca 25 years
Jill Ostergaard – Tribeca- 15 yrs
Rosebud Elijah – Tribeca
Nicholas Goldsmith – Tribeca – 37 years
Eileen Naughton – Tribeca
Isabel Rose – Tribeca
Holly Fogle – Soho
Jeffrey Lieberman – Soho
Jill Cunniffe – TriBeCa
Margot McLean – Tribeca (34 years)
Will Meyerhofer – TriBeCa
Eric Guillemain – Tribeca
Ronald Finkelstein – Tribeca 32 years
Sadia Matin – Tribeca
Adriana Zubikarai – North Battery Park
Atoussa Stone – Financial District
Jill Fergus – TriBeCa
Nick Stone – Financial District
Blythe Wilder – Battery park
Ryan Maupin – Montclair, NJ
Mary Salter – Tribeca
Mark Kopinski – TriBeCa
Willa Kendrick – Tribeca
Chris Frissora – Tribeca
Patrick English – Tribeca
George Lau – Tribeca
IRWIN WEISSMAN – TRIBECA
Joe Fergus – Tribeca
Deron Haley – Tribeca
Paul Sohn – Tribeca
Ann Colby – Tribeca
Barbara Haley – Tribeca
Danielle Strazzini – Tribeca
Matt Lenski – Soho
Lillian Paulson – Tribeca
Jessie Attard – Tribeca
Melissa Bamber – Tribeca
Christopher Heinz – Tribeca
JD Moriarty – TriBeCa
Michael Marra – Tribeca
Kim Petersen – TriBeCa Hudson street
Erica Fite horvath – Fidi
Nicole Francis – TRIBECA!
Michael Pollack – TriBeCa
Leslie Abbeu – Tribeca
Jean Grillo – Tribeca 45 years
Sabrina Blaichman – Union Square
Betsy Heffron – Upper West Side but artist @ 61 Warren St. 4th fl.
Kirsten O\'Reilly – Tribeca
Lisa Attea – Upper west side
Craig Shapiro – Hollywood
Sandy Hyun – Boerum Hill (formerly Tribeca 7 years)
Lois Kaminsky – Tribeca
Alan Russo – Tribeca
Kate Bio – Tribeca
Angela Benfield – Tribeca/Battery Park City
Eva Miliakos – FiDi
Richard Dalbert – Tribeca
Beth Lieberman – Tribeca
Laura Cohen – Tribeca (29 years)
Robyn Russo – Tribeca
Robert Russo – Tribeca
Xavier Russo – Tribeca
Andrew Rosenberg – Tribeca
Brendan Monaghan – Tribeca
Heather Church – Tribeca – 20 Years
Rob Fraley – Tribeca
Vincent Licata – Tribeca
Anne Patterson – Tribeca
Victoria Petrusenko – TriBeCa
Stephen Gaboury – Tribeca 32 years
Bill Tsapalas – Tribeca
Chris Boals – Tribeca
Claudia Scala – Tribeca
Kathleen McGovern – Tribeca
Stacey Duffy – Tribeca
Lucas Lieberman – Tribeca
Robert Moskowitz – TriBeCa
Richard D\'Albert – Tribeca
Linda Aldredge – Five Points
Elodie Vinciguerra – TriBeCa
Bridget Russo – Tribeca
Anne Roy – Tribeca
JULIE PITMAN – TRIBECA
Claude Goodwin – Tribeeca
Nichole Whiting – Tribeca
Jason Whiting – Tribeca
Nick Bader – Tribeca
Jake Bader – Tribeca
Mizuo Peck – Tribeca
Kate Sanzin – Park Slope
Frances Sultan – TriBeCa
Laurie Spiro – Tribeca
Valeska Von schirmeister – Tribeca
Jennifer Stewart – Brooklyn
Laura Benoist – Tribeca
Sunita Shah – Tribeca
Mark Pitman – Tribeca
Mitu Shah – Tribeca
Dennis Spates – Tribeca
Madeline Spates – Tribeca – born and raised
Tom Gallagher – BPC
Alexandra Heinz – Tribeca
Joseph Henry – TriBeCa
Hikaru Nishimae – Tribeca
Omar Miller – Tribeca
Lee Fryd – TriBeCa 20 years
Dennis Gault – Battery Park City
Casey Matheny – Upper West Side
Dawn Perry – TriBeCa
Kim Larkin – Tribeca
Mary Jaeger – Tribeca
Stuart Liben – Tribeca
LAURA BAJKOWSKI – TRIBECA
Amanda Egan – Financial district/ Tribeca
Cyndi Firth – Tribeca
Cindy Nelson – TriBeCa
Terri Cude – Greenwich Village / NoHo
Julie Matsumoto – Tribeca
Takaaki Matsumoto – Tribeca
James Metcalfe – Tribeca
Kaeli Andersen – Financial District
Jed Selkowitz – TriBeCa
Flavia Campi – Tribeca – 5 years
Emilie Adams – Soho
Taylor Hartley – Financial District/Tribeca
Martin Gottlieb – TriBeCa
Agostino Campi – Tribeca
Hannah Reimen – TriBeCa
Ku-Ling Yurman – Tribeca
Greg Drasler – Tribeca
Tom Klem – Murray Hill
Jason Tauber – Tribeca
Carole Hochman – Tribeca
Allan Pilson – Tribeca
Alina Bliumis – Tribeca
Jennifer Zicari – Tribeca
Arne Balassanian – Tribeca
Joseph Perciaccanto – Tribeca – 39 years
Keith Steimel – Tribeca
Addi Regev – Battery park city
Susan Bodo – Park Slope
Mark Doyle – Tribeca
Stephen Lyle – Tribeca, 34 years
George Buchalter – Tribeca
Jennifer Goggin – Tribeca
Karen Pearlman – Tribeca
Karen Lancaster – West street
Eleni Pappas – Long island
Joe Romo – Financial district
Meg Siegel – Tribeca
Jennifer Baum – Tribeca
Ava Becklund – Tribeca 25 years
Ann Beeder – Tribeca
Jacki Ford – FiDi
Gerri Dibenedetto – Tribeca
Pilar Whitman – TriBeCa 43 years
Peter Colman – Tribeca
Sardi Klein – Tribeca
Nicolas Michael – Tribeca
Sique Spence – TriBeCa since 1977
Geoff Goell – Park Slope
George Plamondon – Tribeca
Colette Mullan – Financial District ( 25 years)
Elisa Darrigo – Tribeca
Cheryl Fish – Tribeca
Jamie Hort – Tribeca
Heather Crowley – Tribeca
Carole Frankel – Tribeca
Oliver Frankel – Tribeca
Rema Hort – TriBeCa
Ian Gazes – Tribeca
Jennifer Marrus – Tribeca
Logan Cortes – Tribeca
Laurie Romo – Financial District
Dallas Rexer – Tribeca
Amy Beaumont – Tribeca
Mary Corliss – Tribeca
Michael Hirsch – Treadwell Farm Historic District
Kimball Richmond – Tribeca
Danielle Reilly – Tribeca
Meryl Miles – Tribeca
Eileen Montague – Tribeca
Lisa Klausing – Tribeca
Jakob Bergendorff – Tribeca
Kelly Ripley – Tribeca
Lauren Manning – Upper east side
Tyler Manning – Upper east side
Gregory Manning – Upper east side
Keith Klein – Tribeca
Marilyn Diamond – TriBeCa
Lena Lalvani – Tribeca- 9 years
Laura Randall – Suffolk County
Amy Jo Pitts – Tribeca
Gakey Bibn – Trubca
Erin Ross – TriBeCa
Molly Snyder – Tribeca
Tanya Burton – Tribeca
Lori Fineman – Tribeca – 10 years
Keri Bannon – Tribeca
Serge Krawiecki-Gazes – Tribeca
Lisa Keenan – Nolita
Michael Maslansky – Tribeca
Pamela Hootkin – Tribeca NW
Stephen Hootkin – Tribeca
Victoria Pryor – Tribeca
Pauline Leung – Tribeca 18 years
David Certner – South Tribeca
Kim-Pok Wong – Tribeca
Christine Kiourtsis – Ny
Lorie Almon – Tribeca
Pamela Gross – Tribeca
Alexandra Ross – TriBeCa
Lisa De Armas – Tribeca 14 years
Susan Levkoff – Tribeca
Paul Iacono – Tribeca
Kevin Corrigan – 6 Varick Street
Winsome Brown – Tribeca
Dori Friedman – Tribeca
Michelle Ross – Tribeca
William Bannon – Tribeca
Laurie Slosberg Kaminsky – Tribeca
Mark Bamber – Tribeca
Mark Abellera – Financial District/Lower Manhattan
Gabriel Lieberman – TriBeCa
Andrea Costa – FiDi
Shawn Visco – Tribeca
Stacy Nathan – FiDi, formerly Tribeca
Anjali Augustine – Tribeca
James Paul – Park Slope
Jory Wood Syed – Tribeca
Louis Cortes – TriBeCa
Diana Christo – New York
Sarah Meikle – Tribeca
Lee Day – Tribeca
Oliver Jones – Canarsie
Purdy Eaton – Tribeca
Dennis Rizzi – NY
Tara Fitzpatrick – Tribeca
Melissa Barth – Ny
Michael Hoffman – Tribeca
Katherine Slawinski – Gramercy Park
Allan Reese – Bronx
Joaey Allgor – Tribeca
Victoria Feder – Tribeca
Gary Just – NJ
Joseph Molinaro – Tribeca
Elijah Black – Tribecca
Rich Tillery – Middletown, ny
Cesar Carranza – Tribeca
Justin Meyer – Queens
Nicole Blaskovic – Tribeca
Matthew Holt – Park Slope
Susan Byrnes – Tribeca 30- Bedstuy
Shelley Kaplan – Tribeca
Danny Davis – Tribeca
John Doldan – Jersey City 20 years
Eva Hoffman – Tribeca
Romy Ashby – Chelsea
Marianne Stikas – Tribeca
Thomas Hansen – Staten island
Juanita Galvis – Tribeca
Paul Riccio – Financial District
Allison Kane – Astoria
Joseph Davis – Brooklyn ny
Carrie Steinberg – Greenpoint
Alexandra Dowling – Upper West Side-47 years
Geoffrey Feldkamp – Tribeca
Lauren Jackson – Park Slope
Tracie Golding – Tribeca
Jenny Isikoff – Tribeca
Aimee McClain – East Village
Julie Ronning – Tribeca
Tye Clemons – Tribecca
Taralee Schoen – Tribeca
Nathalie Rubens – Tribeca
Anne Palmer – Soho
Thomas Smith – Bronx
Lisa Marino – Queens
Christin Kohls – Tribeca
Nikolas Randall – Long Island NY
Maria Pappas – South Florida
Michael Smith – Florida
Joe Kohls – Tribeca
Jessica King – Windsor Terrace, grew up in Tribeca
Perry Pettinato – Staten island
Terence Cobb – Harlem
Victoria Fishel – West Village
Daniel Duffany – Tribeca
Dave Campanaro – New jersey
Jully Kumar – Tribeca
Michael Kumar – Tribeca
Mitchell Bompey – Tribeca
Julia Steinhagen – Greenpoint, Brooklyn
Julia Kelly – Tribeca
Justin Liebergen – Astoria
Matthew Schoen – Tribeca
Scott Lundblad – Denver
Omar Ortiz – Long Island
Kathy Breslau – Brooklyn
Kevin Httrick – Long Island
James Mickens – Denver
Alice Lam – East Village / Tribeca
Danielle Allen – Battery Park
Gwyneth Barclay – Tribeca
Amanda Brings – Littleton
Alicia Ceria – Tribeca
Faith Barrett – Canarsie
Suzanne McMahon – Sullivan County NY
Robert Guizio – Morningside Heights
Katie Kravit – East village
Lori Schmid – Rockland
Blaze Nowara – Harlem
Maryann Kwietkowski – Brooklyn
Leanne Heeg – Tribeca
Santoshi Parab – New Jersey
Yash Mantha – Tribeca/Lower Manhattan
Katie Sasso – Astoria
Jennifer Leshem – Tribeca
Robert Rosenberg – Brooklyn Heights
Cynthia Mitchell – Brooklyn; formerly Tribeca
Angeline Jung – Tribeca
Koji Kusakabe – Tribeca
Yohji Kusakabe – Tribeca
Vincent Romano – Upper east side
Keri Jackson – Tribeca
Danny Greenberg – Tribeca
Lori Gadkari – Tribeca
GIOVANNA ROSSELLI – Tribeca
Dina Felder – Tribeca
Sharon Des Jarlais – Tribeca since 1978
Elizabeth Berdann – Soho
Katie Hartell – Tribeca
Kathleen Wendell – Fox Chapel, Pittsburgh, Pennsylvania 15238
Michelle Gutierrez – Tribeca
Elenor Kovachevich – Tribeca
Gabriel Harvis – Tribeca
Andrew Sia – Tribeca
Carrie Seifer – Tribeca
Liz Kane – Astoria
Thomas Kovachevich – Tribeca
Mary Taylor – TriBeCa
Jessica Mertlich – Financial District
John Jones – Lower Manhattan- Tribeca
Hollister Lowe – South Village
Joel Perlman – Tribeca
Zachary Minor – Tribeca
Frankie Heppell – Tribeca
Rose Colman – Tribeca
Alan Dodd – Tribeca
Jussara Lee – West village
Zia O\'Hara – TriBeCa
Jim Shreve – Tribeca
Sydney Jones – Tribeca
Claire Blair – Financial District
Gertrude Jones – Tribeca
Philip Parker – Tribeca
Sulan Kolatan – Financial District
Grazia Vita – Tribeca resident for 46 years
Francine Lathrop – Tribecca
Laura Newman – Financial Districe
Buxton Midyette – Tribeca (10 years)
Maya King – Tribeca
Juliet Burrows – Battery Park City
Liz Berger-Tribeca 40 years – Tribeca
Ari Espay – Battery Park City
Susan Horowitz – 80 N Moore Street, New York, NY 10013
David Behl – Park Slope
Cristine Richmond – Tribeca
Kevin O\'Rourke – Tribeca
Staci MacKenzie – Tribeca
Judy Rifka – East Village
Rachelle Rodwell – TriBeCa
Michael Sorkin – Tribeca
Justin Meyer – MAHOPAC
Anthony Walsh – Long island city
James Sanders, AIA – Tribeca
Andreas Bauer – Tribeca
Signe Nielsen – 187 Duane Street
Paul Mutter – 53 Leonard Street
Connor Pratt – Tribeca
Danielle Pratt – Tribeca
Susan Diehl – Upper West Side
Marie Sonalet – Tribeca
Leah Caruso – South Street Seaport
Lisa Haslacher – FIDI
Samantha Cowley – Brooklyn
Sarah Johnson – Tribeca
Joanna Maggio – Financial Distric
Jonathan Reyes – Tribeca
Evan Walke – Flatiron (Work in Tribeca)
Edmund Spencer – Meatpacking
JASMIN RIVAS – WASHINGTON HEIGHTS
Libby Kountzman – Park Slope Brooklyn
Dr. Hassan Shahabzi – Tribeca
Homa Shayagi – Upper Eastside
Siamak Shahbazi – Upper Eastside
Jean and Gary Cohen – Hudson and Duane, Tribeca
Joseph McElroy – Tribeca
Peter Balis – Tribeca
HENNY GARFUNKEL – TRIBECA
Leora Manischewitz – TriBeCa
Jan Mershon – TriBeCa
Philip Mershon – TriBeCa
Drew Mershon – TRIBECA
Linda Gottesfeld – Tribeca
Philip C. Parker – Tribeca
Mary Gail Parr – Tribeca
Barbara Ellmann – Tribeca – 31 years
Steve Urbanowycz – Seaport
Kate Mccamy – Tribeca
Amalie R Rothschild – Tribeca
Anah Nicholas – Tribeca
Joseph Dumbacher – TriBeCa
Aviva Gorig – Tribeca
Carol Collins – Tribeca
Marco Depero – Tribeca
Eric Guillemain – Tribeca
Sharon Haskell – 138 Duane St NY, NY 10013
Carol Balacek – Tribeca
Deborah French – Tribeca
Edward Ioffreda – Tribeca
Richard Connerney – Tribeca
Taranjit Sabharwal – Tribeca
Una Fogarty – Tribeca
Noah Landfield – Greenpoint
Sandra Bramwell – Uniondale
Marco Piemontese – Tribeca
Peter Rooney – Tribeca
Disne Hoffman – Tribeca
Dis Scholvinck – Tribeca
Liane Kentas – Tribeca
Ron Greenberg – Tribeca
Bryan Hunt – Tribeca
Joseph DeSalvo – Tribeca
Ana Sani – Greenwich Village
Martha Edwards – TriBeCa
Agnes Chapski – Tribeca
Jonathan Chapski – Tribeca
Julian Radford – Tribeca
Andrea Deniemeyer – Tribeca
George Rush – Tribeca
Joanna Molloy – Tribeca
Elizabeth Berridge – TRIBECA
Niki Jones – Tribeca
Liam Lacey – Tribeca
NICOLAS MICHAEL – 181 Hudson St. apt 4D
Nalin Mukherjee – Tribeca
Elenor Kovachevich – Tribeca
Mary Shultz – Tribeca
Carl Goldhagen – Tribeca
Eileen Herman – TRIBECA
Robert Thebault – Tribeca
Solon Kentas – Tribeca
Stephen Pile – Tribeca
Mary Jo Pile – Tribeca
Elise Ward – Tribeca
Bernadette Polsky – Tribeca
Robert Ungaro – Tribeca
Mark Kopinski – TriBeCa
Hermine Ford-Moskowitz – Tribecca
Leo Clark – SE TriBeCa
Carole Server – Tribeca
Lisa Lowell – TriBeCa
Mary Judge – Brooklyn
Jill Fergus – TriBeCa
Susan Smith – Tribeca
Miryam Kogan – Tribeca
Miles Frankel – Tribeca
Diana Kellogg – Tribeca
Charles Frankel – Tribeca
Kyle Mann – TriBeCa
James Cottrell – Soho, Hudson Square
Alixandra Englund – Tribeca
Diane Duthoit – Tribeca
John Gardner – Tribeca
Susan Basu – Tribeca
Audrey Manley – Tribeca
Stephen Kramarsky – Tribeca
Richard DeRose – Tribeca
Douglas Mercer – Tribeca
Betsey Katz – Tribeca
Joanna McClure – Tribeca
Nola Romano – Tribeca south
Cheryl D\'Hollander – Tribeca
Jake Kalish – Tribeca south -lower east side
Amar Kuchinad – Tribeca
Steven Winick – Tribeca
Lauren Salem – Tribeca
Judy Kuhn – TriBeCa for 27 years
Gary Svirsky – Tribeca
Jean Powers – Tribeca 19 years
Barbara Gallimore – Stuyvesant Town, Manhattan, N.Y.C.
Wendy Lawson – Tribeca
Isabel Rose – Tribeca resident
Deeb Salem – Tribeca
Miraj Patel – Tribeca
Galit Svirsky – Tribeca
Jamie Lewis – Tribeca
Katharine Sayre – TriBeCa
Cecilia Vicuna – Tribeca
Jamie Lawson – Tribeca
Tessa Lawson – Tribeca
Juliette Chemin – Tribeca
Caitlin Eppes – Tribeca
William Kelly – TriBeCa
Nicole Kelly – TriBeCa
Pamela Herlihy – Tribeca
Amy Van Buskirk – North Battery Park City
Lisa Kasser – Battery Park
Shmuel Sorkin – Battery Park
Abby Rudzin – Tribeca
Tricia Himot – Financial District
Olivier Vinciguerra – Tribeca
Holly Fisher – Murray street, tribeca
Alex Goor – Tribeca
James Sabey – Tribeca
Patrick MURPHY – Murray Hill
Cora Cohen – Long Island City (Tribeca 35 years)
E Quan – Tribeca
Greg Drasler – Tribeca
Nicole Saunders – Tribeca
Rella Stuart-Hunt Wurmfeld – City Hall
Rupali Dixit – FIDI
Stephanie Hattiangadi – Tribeca
Joan Hall – West Village
Joseph Lovety – Soho
Jo Castagna – TriBeCa
Kiwon Wang – TriBeCa
Jimmy Nicholas – TriBeCa
Andrea Simon – West Village/Meatpacking
Kathleen Hill – Morningside heights
Sandy Mcleod – Tribeca
Rolf Aschenbrenner – Tribeca
Tina Singh – Tribeca
Vincent Lepre – Tribeca
Steven Boyce – Tribeca
Cecilia Oh – Tribeca
Gail Donnenfeld – Tribeca
Ilona Dotosn – Tribeca
Paul Bang – Tribeca
Lillian Ball – Tribeca
Penny Donnenfeld – Morningside heights
Kenney Oh – Tribeca
Yoon Kim – TriBeCa
Damon Tassone – Tribeca
Kanan Kapadia – Tribeca
Phillip Han – Tribeca
Steve Ramm – Connecticut, formerly Tribeca
Lauren Bloomberg – Tribeca
Dong Vincent – Tribeca
Jennifer Han – Tribeca
Orlando Muyshondt – Tribeca
Kassandra Matthews – Midtown
Anthony Lee – Tribeca
Jason Lee – Tribeca
Justin Davies – Tribeca
Scott Saunders – Tribeca
Leah Singer – Tribeca
Alexander Donnenfeld – FIDI
Lee Ranaldo – Tribeca
Margaret Eisner – Tribeca
Barbara Stratton – UWS/Tribeca business owner 18 years
Julia Trotta – Tribeca
Erica Barratt – Tribeca
Zach Barratt – Tribeca
Marianne Gaertner Dorado – Tribeca
Richard M. Dorado – Tribeca
Mary Gehlhar – Tribeca
Violeta Goldaracena – Tribeca
Eric Steifman – Tribeca
Kathleen Dorado – Tribeca
Kathryn O\'Connor – Tribeca
M. Christine Dorado – Tribeca
Loic Lamoureux – Tribeca
Estelle Artus – Tribeca
Antonia Polizzi – Tribeca
Eric Andrus – Tribeca – 17 years
Charles Burkhalter – Tribeca
Marilena Anastassiadou – Tribeca
Erica Hoefer – Tribeca
Gabriel Danaher – Tribeca
Richelle Davies – Tribeca
April Uchitel – Tribeca
Brad Lindenbaum – Tribeca
LIzz Smith – Tribeca
Gina Goldman – Financial district
Morleigh Steinberg – Tribeca
Ronni Casty – Upper East
Mary Hoeveler – Tribeca
Suzanne Barbero – Trubeca
Ricardo A. Sagrera – Tribeca
Haley Binn – Tribeca
Kelly Stinnett – TriBeCa
Tamyka Smith – Tribeca
John Judge – Tribeca
Brian Burns – Tribeca
Rachel Daykin – North Battery Park City
Philip Giordano – Tribeca
Rhonda LaRosa – Yorkville
William Previdi – Tribeca
Kevin Hartnett – TriBeCa
Monica Anderson – Tribeca
Amy Grillo – Tribeca
Lucy Deland – Tribeca
Christine Brogan – Tribeca
Kenneth Bobetsky – Upper West Side
Kevin Bruno – Tribeca
Greg Singer – 9 Murray Street
Carol Zeits – TriBeCa
Marion Preston – Tribeca
Russell Cecil – TriBeCa
Caroline Stewart – Tribeca
Christa Frey – Tribeca
Jennifer Puritz – Tribeca
Takahiko Takemoto – Tribeca
Suzan Courtney – Tribeca
Lauren Chung – Tribeca
Lisa Crafts – Tribeca
Jeffrey Way – Tribeca – 46 years
Doneley Meris – Tribeca
John Hagen – Tribeca
Rawle Deland – TriBeCa
Atoussa Stone – Financial District
Andrew Scheman – Tribeca
Daniel Miller – Tribeca
Jon Gilman – Tribeca
Bridget Schuy – South Street Seaport & TriBeCa – 30+ years
Katharine Lewis – Tribeca
Craig Unger – Tribeca
Annie Chanler – TriBeCa
Diana Kingsley – Tribeca
Victoria Meakin – TriBeCa
Don Harding – Tribeca
Stephanie Giorgio – Tribeca 100 reade street
Sonia Carty – Tribeca
Laura Morgan – Tribeca
Thomas Halley – TriBeCa
Tiana Demas Corum – Tribeca
Allyson Backus – Harlem
Kelsey Piercr – Harlem
Manuel Frey – Tribeca
Irina Bisroev – Battery park
Peter Bisroev – Battery park
Tom McAdam – Tribeca
Jemma Brown – Tribeca
Alex Skora – Tribeca
Julie McCane – Tribeca
Jason Gerstein – Tribeca
MaryKate O\'Brien – Midtown East
Dashiell Lieberman – TriBeCa
Isabel Halley – West village (tribeca born and raised)
Lev Gordon – Tribeca
Patricia Elfanti – Tribeca 30 years
Carol Saper – Upper East Side
Patrick Sullivan – North Battery Park City
Elizabeth Ketels – North Battery Park City
Patrick Kehoe – Tribeca
Caroline Press – Tribeca
Tamryn Shami – Battery park city
Eve Ahearn – Tribeca
Alejandra Villagra – Tribeca
Christian DiNapoli – Financial District
Tricia Joyce – Tribeca
Charles Wolf – Tribeca
Carolyn Dean Wolf – TriBeCa
Elise Dean Wolf – TriBeCa
Todd Burris – Tribeca
Katherine Slawinski – Gramercy Park
Larry Loonin – Tribeca
Susi Smith – Tribeca
Steven Winick – Tribeca
David Certner – Broadway & warren sts, ny county
Derrick DeMay – Tribeca
Amy Lee – Tribeca
Claude Goodwin – Tribecca
Cecilia Vicuna – TRIBECA
Charles Komanoff – Tribeca
Carolyn Strachan – Tribeca
Miriam Boyce – Tribeca
Jeff Lamb – Tribeca
Adam Weiner – Tribeca
Adam Kies – Tribeca
George Calderaro – Murray Hill
Vincent Arcilesi – Tribeca
Sung Lee – TriBeCa
Beverly Spatt – Brooklyn
Rella (Pip) Stuart-Hunt Wurmfeld – City Hall/Tribeca
Loretta Chan – Tribeca
Henry Chan – Tribeca
Jeffrey Saunders – Jackson Heights
Amy DURNING – SOHO
Max Miller – Tricbeca
Douglas Mercer – Tribeca
Joel Roskind – Tribeca
Janet Checkman – TriBeCa – 33 years
Nola Romano – Tribeca south 40 years
Marci Brenholz – Tribeca
Martin Vahtra – Tribeca
Oren Eisner – Tribeca
Ellen Brooks – Tribeca
Pablo O Garcia – Lower East Side
Polly Brandmeyer – Tribeca
Jennifer Kotter – Tribeca 33 years
Perry Bard – Tribeca
Deborah French – Tribeca
Mari Jo Winkler-Ioffreda – Tribeca
Marina Soskic – Tribeca
Susan Swan – Tribeca
Robert Steininger – TriBeCa
Jim Gatheral – Tribeca
Philip A. Epstein – Tribeca
Francine Lathrop – Tribecca
Greg Singer – TribeCa
Gigi Salomon – Tribeca
Rodrigo Salomon – Tribeca
HENNY GARFUNKEL – TRIBECA/ SINCE 1976
Jeremy Woodoff – Park Slope, Brooklyn
Naoto Nakagawa – Long time Tribeca resident
Lauren DeMay – Tribeca
William Kwok – Tribeca
Halbert Barton – Tribeca
Katie Sisson – Tribeca
Rosario Castronovo – Tribeca
Brian Fingeret – Battery Park City
Marea Parker – Murray Hill
Elke Lehmann – Tribeca
Ralph Ferraioli – Battery park city
June Grancio – Tribeca
Kathy Scott – Tribeca
Richard Forrest – Tribeca
Lillia Chelala – Tribecas
Elaine Schweninger – Tribeca
Jane Bradbury – Tribeca
Jamie Dang – Fidi
Simone Kaplan-senchak – Soho
Lisa Midyette – Tribeca
Alanna Heiss – Tribeca
Kerry Riordan – Tribeca
Steven Levy – Tribeca
Andrea Barnet – Seaport
Scarlett McCutcheon – Tribeca
Joan Rizzo – Tribeca
Patricia Harris – Tribecs
Lorenza Smith – Tribeca
Vivian Taylor – Tribeca
Steven Levkoff – Tribeca
Linda Weinstein – Tribeca
Tomio Nagaoka – Tribeca
Taro Nagaoka – Tribeca
West Murray – Tribeca
Martin Schoeller – Tribeca
Joseph Macari – Tribeca
William Sullivan – Tribeca
David Zaus – TriBeCa
José Urbach – Tribeca
Roya Sullivan – Tribeca
Alex Israel – Tribeca
Darren Katz – Battery Park City
Vera Ahmadzadeh – Tribeca
Scipione Del Carmine – Tribeca
Peter Meyer – Battery Park
Colette Macari – TriBeCa
M A Chiulli – Tribeca
Ian Gazes – Tribeca northern historic district
Helen Rutman-Schoeller – Tribeca
Matilde Busana – Tribeca
Judy Levine – Tribeca – 20 years
Dulcie Lin – Tribeca
Laura Goldman – Tribeca
Marisa Badov – Melbourne Australia
Katherine Sedaka – Tribeca
Craig Sedaka – Tribeca
Ellen Mash – Tribeca
Halee Sage – Tribeca
Nadia Margaritis – Melbourne, Australia
Elizabeth Allen – TriBeCa
Elena Scotti – West Soho/Tribeca
Genevieve Lynch – Trubeca
Paul Rinehart – Tribeca
Stephen Bass – Tribeca
Lewis Taffer – Tribeca
Joel Redfield – Tribeca
Jennifer Rinehart – Tribeca
Andrea Wobensmith – Tribeca
Howard Mash – Tribeca
Lesley Collins – Tribeca
Howard Maah – Tribeca
Shaun Michael – Tribeca
Louis Marcais – Tribeca
Kerry Ancheta – Tribeca
Suzy Heimann – Tribeca
Lisa Edwards – Tribeca
Marc Cohen – TriBeCa
Jason Spieler – Tribeca
Cinthia Martinez – Tribeca
Melena Lambrides – Tribeca
Suzanne Winkelman – Tribeca
Valentina Guazzoni – Tribeca
Yael Reinharz – Tribeca
Ann Freedberg – Tribeca
Brigette Roth Smith – Tribeca
Cora Gersten – TRIBECA
Patricia Cauley – Battery Park City
Therese Powers – Soho
Stephanie Carroll – Tribeca
Victor Kennedy – BPC
Jennifer Kenny – Tribeca
Genine Esposito – Tribeca
Tuncay Cevher – Tribeca
Laura Ieni – Tribeca
Dana Gourtay – Tribeca
Telma Garcia – Tribeca 11 years
Gabrielle Edwards – Tribeca
Jamie Kohen – Tribeca
Gil Raviv – Triveca
Roark Dunn – Lower Manhattan
Kim Staller – Tribeca
Ricardo Soares – TriBeCa
Fernando Saad – TriBeCa
Nicole Penn – Tribeca
Learose McCormick – Tribeca
L Cheung – South Tribeca 35 years
Soren Rose – TriBeCa
Alexis Rockman – Tribeca
Sameer Sethna – Tribeca
David Ngai – Tribeca
Kevin Burg – Tribeca
Teri Hagedorn – Tribeca
Peter McCormick – Tribeca
Julie Merberg – Tribeca
Jane Freeman – Tribeca
Connie Schraft – Tribeca
Laura Kane – Union Square
William Rauffenbart – Tribeca
Neil McDonald – Tribeca
Stasia Harris – Battery Park City
Anton LeRoy – Tribeca
William Kelly – Tribeca
Elizabeth Sawyer – Upper east side
Claudine Bazini – Forest Hills
Nancy Rastetter – TriBeCa
Jennifer Pilchman – Battery Park
Esther Sobol – Tribeca
Irina Mednik – Mill Basin Brooklyn
Rhona Drossman – Tribeca
Mona Akhtar – Tribeca
SUE PHILLIPS – TRIBECA
Nikesh Desai – Tribeca
James Trainor – Tribeca
Lisa Murphy – Tribeca
Sally Young – East village
Ruby Chang – Tribeca
Gina Gee – Tribeca
Annette Mathieu – Tribeca
Emma Greenberg – Tribeca
Angela Chiu – Tribeca
David Diao – Tribeca
Agnes Chapski – Tribeca
Oz Hanley – Tribeca
Dennis Spates – Tribeca
Lyndsey Corin – Greenwich Village
Amanda Kuss – Midtown East
Mona Hanley – Tribeca
Sarah Woolley – Tribeca
Jennifer Friedman – Fort Lee, NJ
Chris Kenny – TriBeCa
Sarah Raymond – Battery Park City
Kate McCamy – Tribeca
Kerry Gillespie – 1 WTC
Lauri Freedman – Brooklyn Heights
Marina Galazidis – Tribeca
Roi Alony – Tribeca
Jason Tauber – Tribeca
Cori Moscowitz – Upper east side
Miriam Hipsh – Upper Westside
Tracie Golding – Tribeca
Sarah Richards – Chelsea
Vincent Keegan – TriBeCa
Craig Fisher – TriBeCa
Allison Ullo – Financial
Lauren Law – Battery Park
Lauren Ewing – Tribeca, 40 years
Justin Dorazio – Battery Park City
Brigitte Crime – Tribeca
Jennifer Cecere – 158 Franklin Street
Madeline Spates – Tribeca
Alyxandra Williams – Financial district
Wickham Bermingham – TriBeCa
Sophie Arens – TriBeCa
Carole Hochman – Tribeca
Susan Baus – Lower east side
Halee Sage – Tribeca
Lynda Caspe – Tribeca
John Bingaman – Tribeca
Robin Lambert – Battery Park City
Mary Ortegon – Tribeca
Lance Lappin – TriBeCa
Ivy Lappin – TriBeCa
Lee Anne Fry – Tribeca
Julienne Dweck – Tribeca
Joshua Decter – Tribeca
Brett Tubin – Tribecca
Brian Collins – Tribeca
Mark Shwayder – Financial
Pierre Albert Winter – TriBeCa
Olivia Harris – Tribeca
Bobbie Oliver – Tribeca
L Slove – TriBeCa
Christopher Garvie – Tribeca
Robert Piazza – Tribeca
Liane Kentas – Tribeca
Bill Smith – NoHo
Susan Jasper – Tribeca
Manish Chopra – Tribeca
Linda Mahon – Tribeca
Kim Diamond – TriBeCa
Ronald Casty – Upper East
Tal Rabin – Tribeca
Gina Gershon – Tribeca
Lauren Gonzalez – Tribeca
Toni Silber-Delerive – Tribeca
Andrea Fontaine – Tribeca
Craig Kahler – Tribeca
Jim Conley – TriBeCa
Elizabeth Kislak – Tribeca
Toni Cohen – Tribeca
Pierre Delerive – Tribeca
Lorna Bowen – Tribeca
John Hopkins – Tribeca
Jan Jaffe – TriBeCa
Sara Gilbert – TRIBECA
Renee Stroebel – Tribeca
Nicole Fonarow – Tribeca
Emily Condlin – Tribeca
William Elray – Tribeca
Shari Werner – Tribeca
Zada Rose – Tribeca
David Silver – Tribeca
Alice Aycock – SoHo
Philip Maher – Financial District
Rachel Locascio – Tribeca
Cynthia Kern – Tribeca
Christine Grounds – Tribeca
Jesse Destasio – TriBeCa
Jennifer Richardi – TriBeCa
Perri Dorset – Tribeca
Richard Siegel – Tribeca
Matt Aguilera – Tribeca
Tolga Oguz – Tribeca
Dena Sturm – Tribeca
Katherine Peabody – TriBeCa
BRETT Moskowitz – Tribeca
Ellen Harris – Tribeca
Grace Bonfilgio – Tribeca
Jane Boisseau – TriBeCa
Vincent Scolla – Tribeca
Michael Skrak – Tribeca
Michele Spano – Tribeca
Shirley Jaffe – Tribeca
Maryna Lansky – Battery park
Gilberto Oliveros – Tribeca
Anne Baxter – Tribeca
Alice Hartman – Tribeca
Lora Appleton – Tribeca
Craig Meyers – Tribeca
Sarah Fairbairn – Tribeca
Ariel Zurofsky – Tribeca
Sally Girvin – Tribeca
Marlene Bingaman – Tribeca
Laurence Waltman – Tribeca
Andrea Ahearn – Tribeca
Wenxin Wu – Tribeca
Carolina Buzzetti – Tribeca
Nicolas Michael – Tribeca
Jon Walker – Tribeca
Donna Walker – Tribeca
Laure Daymard – Tribeca
Ricky Nordsoen – Tribeca
Karin Wilzig – Tribeca
Tracey Brennan – Tribwca
Lisa Verkuyl Davis – Tribeca
Jock Jones – Tribeca
Jennifer Zicari – Tribeca
Anne Dinning – Tribeca
Eva Tokarczyk – Tribeca
Lauren Lerman – South Orange NJ
Jonathan Walker – Tribeca
Ellen Callamari – Tribeca
Michael Wolf – Tribeca
Ivan Abrams – Tribeca
Suzanne COULTER – TRIBECA
CHRISTINE BOALS – TRIBECA
Julie Siden – TriBeCa
Marc Siden – Tribeca
Rachel Kuchinad – TriBeCa
Brad Harrison – Tribeca
Harvey Keitel – TriBeCa
Henley Vazquez – Tribeca
Helen Lennon – Tribeca
Clare McAdam – Tribeca
John Weyrens – Battery Park City
Edna Samuel – Tribeca
Francesca Leoni – Tribeca
Francesco Malatesta – Tribeca
Marissa Feinstein – Battery park
Angelica Harrison – Tribeca
Jamie Arvelo – Tribeca
Jennifer Fisher – TriBeCa
Diane Fernandez – TriBeCa
Stella Vakirli – TriBeca
Melinda Cullman – West village
Rebecca Zagoory – Tribeca
Flavia Destefanis – Soho
Pierfranco Semeraro – Caronno pertusella
Raffaella Bortoluzzi – Chinatown
Peter Bakst – Tribeca
Francesca Mercurio – Upper West Side
Jason Kliot – Tribeca
Gianni Sirch – Italy
Cristiano Loberti – Venezia
Elena Cimenti – Venice
Silvia Bertapelle – Venice italy
Mark Pitman – Tribeca
Elisabeth Tiso – WEst Village
Daleen Kupsch – 130 Watts Street #1S
Katie Steen – Tribeca
Joana Kliot – Tribeca
Nicole Agnew – Tribeca
Tiffany Hagge – Tribeca
Rick Gilberg – Soho 7 years, then Tribeca 28 years
Todd Komarnicki – TriBeCa
Lauren Taylor wolfe – Tribeca
Richard Wendell – Tribeca
Linda Benlevy – Tribeca
David Press – Tribeca
Tim Scholler – Tribeca
Anne Trivelis – Tribeca
Andrea Ahearn – Tibeca
Whitney Reichenbacker – Tribeca
Paulette Goto – Tribeca
Taryn Leavitt – Tribeca
Tina Singh – Tribeca
Hill Gal – Tribeca
Daniel Crowley – Tribeca
IVAN PICC – Tribeca
John Picc. – Tribeca
John Piccinich – Catskills – TriBeCa since 2003
Jasdeep Maghera – Tribeca
Noelle Bohlen – West Village
Elizabeth Mackin – Prospect Lefferts Gardens
Dr Ann Bleefeld – Hamilton Heights
Tim Blaquiere – Tribeca
Elysa Law – Soho
Kelly Na – Tribeca
Jennifer Durante – Tribeca
Fionuala Mcfadden – Tribeca
Maggie Molitor – Tribeca/Battery Park City
Jenny Lundmark – Battery Park City and Tribeca
Martin Keith – Tribeca/Battery Park City
Clare Kuensell – Tribeca
June Lum – Tribeca
Jonathan Coleman – Hell\'s Kitchen
Merri Milwe – Tribeca
Brooks McEwen – Tribeca
F Walley – Tribeca
Barbara Spitzer – Tribeca
Kimberly Pittman – TriBeCa
Eleonora Hroncich – Tribeca
Robert Lobe – Soho
Stanley Chen – Tribeca
Karen Davis – Bedford Stuyvesant
Vanessa Liu – Tribeca
Terri Suen-Lee – Tribeca
Susanna Jonke – Tribeca
Robert Jonke – Tribeca
Vivien Collens – Tribeca
Suzen Orourke – Tribeca
Diane Lapson – Tribeca
Roberta Vaughan – Tribeca
David Collens – Tribeca
Francisco Leiro – Tribeca
Gina Ma – Tribeca
Christine OHalloran – Tribeca
Lydia Dona – Tribeca
Rachel C – Tribeca
Diane Arnold – Tribeca
Kati Madouros – Tribeca
Amanda Frank – Tribeca
Jay Bangash – Tribeca
Robert Ameen – Tribeca
Susan Press – Tribeca
Jan Kawamura-Kay – Tribeca
John Fortenberry – Tribeca
Jean Standish – East Village
Julia Nasov – Tribeca
Michael Hoverman – Tribeca
Claudio Marini – Tribeca
Linda Marini – Tribeca
Marichelle Zlatev – Tribeca
Denise Shavers – Tribeca
Joseph Pirolli – Inwood
Sinem Dural – W
Daniel Stark – Tribeca
Truman Dunn – Tribeca
Annaline Dinkelmann – Upper West Side in work Downtown
Michelle Eliseo – Battery Park City
Jenn ifer Greene – Battery Park City
Anita Bartsch – Battery Park City (North)
Esther Regelson – Lower West Side / Little Syria
Mary Ann DiNapoli – Cobble Hill, Brooklyn
David Wood – New York 10280
James Marcovitz – Tribeca
Arianna Harrloh – Tribeca
Cristin Lavelle – Tribeca
Susan Hannah – Battery Park City
Janet Kusmierski – TriBeca
Greg Singer – TriBeCa
Josielyne Pacifico – TriBeCa
Marianne C. Dorado – TriBeCa
Vantrang Manges – TriBeCa
Michael Hoverman – TriBeCa
Julia Nosov-Hoverman – TriBeCa
Marianne Dorado – TriBeCa
Nicole Saunders – TriBeCa
Scott Saunders – TriBeCa
Victoria Petrusenko – TriBeCa
Paul Bang – TriBeCa
Dylan Ng – TriBeCa
Maura Craven – TriBeCa
Alex Goor – TriBeCa
Vito Galatioto – TriBeCa
Oscar Lajara – TriBeCa
George Lau – TriBeCa
Scott Ramsey – TriBeCa
Calder Singer – TriBeCa
Gloria Joseph – TriBeCa
Blaine Peck – Tribeca
Matthew Peck – Tribeca
Wayne Valzania – East Village
Alissa Zachary – Tribeca
Philip Kay – Tribeca
Chiara De Rege – Tribeca
Jay Nga – Tribeca
Mr Kim Bleimann – Tribeca
Nick Clark – Tribeca
Richard Boschen – Tribeca
Ken Barber – Tribeca
Stephen Cuascit – Tribeca
Kate Lehman – Tribeca
Julie Pullen – Tribeca
Travis Schlat – Tribeca
Eva Olsen – Tribeca
LIsa Lam – Tribeca
Jess Wells – Tribeca
Karen Thompson – Tribeca
Jan Smithson – Tribeca
Jack Johnson – Tribeca
Hannah Larsen – Tribeca
Jessie Wilkens – Tribeca
Kelly Childress – Battery Park
Mikala Kuchera – West Village
Diane Kpeppel – Greenwich Village
Steven Lee – Financial district
Selwyn Garraway – Lower West Side/Financial District
Dan Shaheen – Tribeca
Kathleen Moore – FiDi – 38 years
Kelsa Kuchera – West Village
Kate Clark – Tribeca
Susan Jones – Tribeca
Raj Dave – Tribeca
Nicole Tekkora – Tribeca
Stephanie Keppenne – Battery park
Hope Igleheart – Soho
Sarah Kay – Tribeca, 27 years
Sheila Cain – Tribeca
Nathan Weber – Tribeca – 30 years
Wendy Most – Tribeca
Audrey Matlock – Tribeca
Stephen Dimmick – Tribeca
Dolores Rode – BPC 1988 to 2006
Dorothy Zeidman – Tribeca
Michael Langenstein – Tribeca
JUNGMIN CHO – Tribeca
Michael Sellers – Park Slope
Andrea Zakin Amano – Soho
Helen Petkas – Tribeca
Elizabeth Rothstein – BPC
Sandy Imhoff – Fimancial district
Sally Young – East village
Taro Nakagawa – Tribeca
Terry Harlow – Financial District
Sara Romoli – Tribeca
Maryna Lansky – Battery park
Hilary Koyfman – Tribeca
Nils Chaplet – Brooklyn
Richard Morales – Prospect Heights
Heather Chaplet – Forte green
Luis Bonnet – Tribeca
Deborah Treisman – Tribeca
Farida Gadalla – Tribeca
Ann Feng Simon – Tribeca
Carp; Jazwinski – Tribeca
Alison Mintzer – Tribeca
Danielle Reilly – Tribeca
Penney Vachiraprapun – Battery Park City
Alexander Potulicki – Tribeca
Larry Hama – Tribeca
Keith Haber – Tribeca
Anthony Potulicki – Church St., / Warren St., / W. Broadway, / Greenwich St.
James Daniels – Tribeca
Katia Santibanez – Tribeca
James Nicholas – Tribeca
Victoria Weil – Tribeca
Margaret Badali – TriBeCa
Laurie Spiegel – Tribeca
Andrew Rafalaf – Battery Park
Roger Byrom – FIDi
Stephen Rathe – Tribeca
Mimi Thompson – Tribeca
James Rosenquist – Tribeca
Sharon Azar – Prospect Heights
Robert Mango – Tribeca
Michelle Bogin Dell – 3rd Generation New Yorker – Greenwich Village 20 years – Tribeca 17 years
Helen Mango – Long time Residence of Tribeca
Chales Coleman – Tribeca
Susan Hamilton – TriBeCa
Simone Carbonel – Tribeca
Beth Rosenberg – Tribeca
Casandra Lilien – Tribeca
Sonja Winther – Morning side Park
Paul and Lauren Netter – Tribeca
Suzanne Torrison – Tribeca
Jean Baiardi – Santa monica, Ca
M I Reiser – Tribeca (30 years)
Jennifer Plamondon – Tribeca
Ben Schneeberg – Tribeca
Jane Creech – Tribeca
Mel Young – Tribeca
Julia Heyward – Tribeca
Perry Hoberman – Tribeca
Andreas Wimmer – Tribeca
Anita King – Tribeca
Michael Pitts – Tribeca
Stacy Cadolini – Tribeca
Nick Auerbach – Tribeca
Sasha Auerbach – Tribeca
Kelly Stoecklin – Tribeca
Ariel Clay – Chinatown
Michela Santacroce – Residence
Peter Bianco – Residence
Lee Page – Tribeca
Joseph DeSalvo – Tribeca
Stacy Cadolini – Tribea
Max Kendrick – Tribeca
Lee Come – Tribeca
Richard YoungRichardyO – TriBeCa
Dominique Cheyns – Tribeca
Anita Haber – Tribeca
Cody Ranaldo – Tribeca
Jane Berg – Tribeca
Barbara Berg – Tribeca
Lauren Price – TriBeCa
Adan Rosado – TriBeCa
Martina Cox – Tribeca
Emma Rosenbush – Peter Cooper/Stuyvesant Town
Jacqueline Ochs – Tribeca
Carol McGovern – Tribeca
Nikita Merrin – TriBeCa
Donald Jenner – Washington Market
Magnus Blair – Tribeca, 10013
Belinda Haas – Tribeca
Nicole Vianna – Tribeca
Tsarina Merrin – Tribeca
Shabnam Rezaei – Tribeca
Venessa Merrin – Tribeca
Robert Haisley – Tribeca
Narendra Nandoe – Tribeca
Margo Davis – Tribeca
Kole Chapski – Tribeca
Chase Chapski – Tribeca
Jonathan Chapski – Tribeca
Francine Lathrop – Tribecca
Chuck DeLaney – Financial District
William Conway – TriBeca
Gordon Travers – Tribeca
Leo J Blackman – East Village
Jui Khaladkar – Chelsea
James Trainor – Tribeca
Cecilia Vicuna – Tribeca
Brian Burns – Tribeca
Elizabeth Beautyman – TriBeCa
Mette Rose – Tribeca
Michael Kaufman – Battery Park City
Barbara Miral – Tribeca
Alberto Gatenio – Tribeca
Renee Marzigliano – Hell\'s Kitchen
Susan Curley – Tribeca
Douglas Mercer – Tribeca
Marie Sonalet – Tribeca
Jean Standish – East Village
Beth Sopko – Lower East Side
Joan Greenberg – Tribeca
Pat Oleszko – Tribeca
Kristyn Komarnicki – Tribeca (franklin st)
Atoussa Stone – Financial District
Ronald Casty – Upper East Side
Mariette Bailey – TriBeCa
Annette Freyre – 80 north Moore ny
Anne Baxter – Tribeca
Jeffrey McGovern – Tribeca
Basha Silver – Harlem
Daniel Stark – Tribeca
Marla Ryan – TriBeCa
Alexa Wagman – Tribeca
Damon Boccadoro – NYC Building Inspector
Judith Epstein – TriBeCa
Marilyn Porcaro – Tribeca
Timothy Reilly – Tribeca
Barry Segal – Tribeca
Alyson Barnes – North battery park city
Debbie Berebichez – Tribeca
Neer Asherie – Tribeca
Bojana Gligorijevic – Upper east side
Nancy Rodriguez – 73 west broadway
David Chester – South Village
Joel Rutten – 10003
Kriti Siderakis – East Village
Nikki Refghi – Little Italy
Kat Kelly – Lower east side
Catie Eyer – Idaho : )
Aimee Fogleman – N/a
Marianne Smith – Alexandria, VA
Nate Smith – Williamsburg
Lauren Saphire – Bensonhurst
Jeanine Bianco – Financial District
Helen Petkas – Tribeca
John Weissman – UWS
John Weissman – UWS
John Weissman – UWS
Katherine Slawinski – Gramercy Park
Barbara Berg – Tribeca
Beth Sopko – Loisaida
Earl Parent – Warren St
Laura Kane – Union dquare
Taryn Leavitt – Tribeca
Ivonne Dersch – Tribeca
Jacki Ochs – Tribeca
Erika Petersen – Upper West Side
David Wood – Battery Park
Elliott Hurwitt – Little Italy. 37 years
Sara Holoubek – Tribeca
Mitchell Grubler – Chinatown
Lesa Rozmarek – Park Slope
Carolyn Strachan – Tribeca
Kaiama Glover – Tribeca
Julianne Cantore – Tribeca
Dusanjos Dusanjos – ZN8TvIG6IS6z
Dusanjos Dusanjos – ZN8TvIG6IS6z
Dusanjos Dusanjos – ZN8TvIG6IS6z
C A – Tribeca
Gabriele Jetley – Tribeca
Mark Fortner – Tribeca
Joshua Schwarz – Tribeca
Sally Young – East Village
Aurelie Pellissier Roman – Battery Park City
Camille Roman – Battery Park
Penelope Crabtree – Tribeca
Penelope Crabtree – Tribeca
Rosalie Acinapura – Tribeca nee Washington Market
Michael Cohn – Tribeca
Paula Thonney – Portland, Oregon
Nestor Marmol – Washington Heights
Adrian James – Sunset Park
Bill Van Parys – Tribeca
Shay Kothari – TriBeCa
Gloria Jacobs – Tribeca
Jon Steinberg – Tribeca
Joshua A. Bach – Tribeca
Rosalie Acinapura – Tribeca
Liam Fuerst – TriBeCa
Liam Fuerst – TriBeCa
Ruth Simon – Clinton/Hell\'s Kitchen
Mona Johansen – Tribeca
Philip Jason Gundersen – Tribeca
Edward Flounoy Jr – Far Rockaway
Jack Gaffney – Tribeca
Savannah Petrick – Tribeca
Alison Gill – TriBeCa
Natasha Martinez – TriBeCa
Kerel Brown – TriBeCa
Phoebe Plagens – TriBeCa
Sarah Kruger – Tribeca
Perry Weiner – Brooklyn Heights
Janiece Brown Spirzmueller – Tribeca
Pedro Beroy – Tribeca
Alice Brody – Upper West Side
Greg Drasler – Tribeca
Nancy Lane – 310 Greenwich Street
Eliot Freeston – Tribeca
Adam Foldi – Bedstuy
Jon Wysocki – Tribeca
William Goodhart – Yorkville
Greg Drasler – Tribeca
Kathy Drasher – West Village
Adele Eisenstein – Jackson Heights
Victoria Hillstom – New York,
Amy Harlib – Chelsea
GERARD CERZA – TRIBECA
Craig Bitman – BPC
Adrienne Rogatnick – Carnegie Hill Historic District
Carlos Almada – Tribeca
Jayne Kaszas-Levy – Brooklyn Heights
Jayne Kaszas-Levy – Brooklyn Heights
Jaimie Daniels – Tribeca
Kate Peachway – Tribeca
Liz Schwartzberg – Boerum Hill
Robyn Leidner – Tribeca
Robert Mulero – TriBeCa
Zina Michajliczenko – Columbus Circle – Hells Kitchen
Zina Michajliczenko – Columbus Circle – Hells Kitchen
Zina Michajliczenko – Columbus Circle – Hell\'s Kitchen
MARINA HEINTZE – TRIBECA
Nancy Whyte – Tribeca
Rudy Heintze – Tribeca north end
Alexander De Bordes – West Village
Natalya Bowen – Arverne, NY
Rickey Bailey – Biggest bonus
Tracy Gill – Tribeca — since 1991
Simeon Lagodich – Tribeca — since 1978
Robert Conroy – Chelsea
Clara DePre – Tribeca
Sung-ah Han – Tribeca
Joel Lobenthal – West village
Elizabeth Berridge – Tribeca
Elizabeth Berridge – Tribeca
Elizabeth Berridge – Tribeca
Kathryn Ray – Tribeca