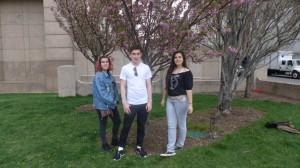 From left to right meet Stella Rose Schneeberg, Owen Colby, and Simone Schneeberg.
They are our community service volunteers this winter and spring.  Stella goes to  Eleanor Roosevelt.  Owen goes to Beacon, and Simone goes to Laguardia.
All three put together the SPYBECA scavenger hunt (with Simone doing the artwork).
Owen has also developed the interactive google map of all of Tribeca's individual landmarks, which is now embedded on our website.  He is now working on a survey of Tribeca North Historic District mapping out the state of physical assets such as old streetlamps, cobblestones, and older fire boxes.
We are extremely grateful for these high school students who have given great service to our neighborhood.    Thank you Stella, Owen, and Simone!