Events of Interest
Tomorrow, March 5, the Historic District Council's Annual Conference takes place from 9-1 at the New York Law School – corner of West Broadway and Worth Street.  All are welcome, entry fee is modest.  Panelists will be talking about preservation and the progressive agenda.
Tonight, March 4, at Brooklyn Commons, there will be a panel discussion about the Affordability of Artists Studios and the Small Business Survival Act.  6:00 p.m. at 388 Atlantic Avenue
LANDMARK WEST! will be hosting a book talk about the recently published "Affordable Housing In New York:  The People, Places, and Policies that Transformed a City"  Tuesday, March 15, 6:30 pm at Macaulay Honors College , 35 West 67th Street, $20.  This is fascinating book, and the talk is likely to sell out, so reserve your spot here.
Lecture, "Why Public Space Matters?" by Setha Low, CUNY Graduate Center, March 9th, 6:15 p.m., Segal Theatre, 365 Fifth Avenue. RSPV to Jim Cronin:  jcronin@gc.cuny.edu

Prospect Heights Gets National Status
The Prospect Heights Neighborhood Development Council (PHNDC) announced that "612 contributing buildings have been added to the neighborhood's National Register historic district, bringing the total number of buildings in the district to 917. The buildings were added to National Register of Historic Places by the National Park Service on February 16. The expanded district boundary includes properties on Flatbush Avenue, Vanderbilt Avenue, Washington Avenue, Underhill Avenue, Bergen Street, St. Marks Avenue, Prospect Place, Park Place, Sterling Place and Butler Place."  Read more here at the PHNDC website.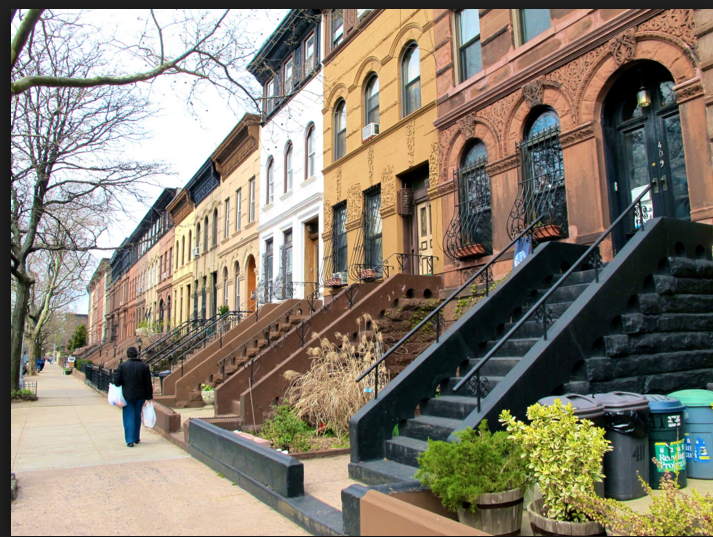 The Luxury Housing Plan for East Harlem
The Indypendent paper did some fine reporting here on the extraordinary meeting that took place on January 31st called "NYC Encuentro for Humanity and Against Displacement."  The principal organizer was the Movement for Justice in the Barrio, an anti-displacement organization in East Harlem.   The Movement, telling it like it is, stood up at the meeting and called De Blasio's ZQA/MIH zoning proposals, "a luxury housing plan."


Federal Complaint Filed over Sale of Brooklyn Heights Libraries
The Brooklyn Eagle carried coverage of the federal complaint filed by the advocates, "Love Brooklyn Libraries" over the sale of the Brooklyn Heights Library to Hudson Companies for a tower development.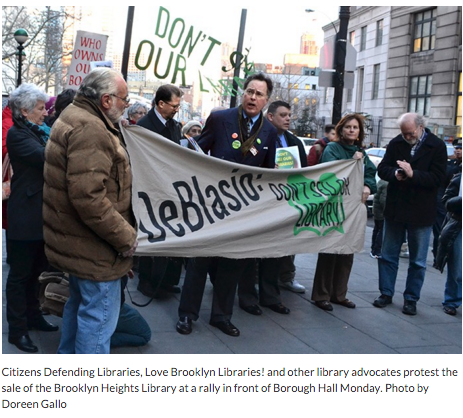 Read the full story here.


The Secret of Inwood's Greatness
The Wall Street Journal here reported last weekend on how wonderful the upper Manhattan neighborhood of Inwood was.  The Journal called it a "pleasant time warp."  Apparently, that "warp" is due to the fact that Inwood has great, civilized zoning that restricts building to no more than "seven stories."  That height allows for meaningful urban density, but also is one of the reasons the neighborhood is so livable. Let's call it a Goldilocks density.  But alas, Mayor De Blasio wants to destroy this and upzone the area into hyper-density tower world. Poor residents of Inwood, knowing your neighborhood is on the auction block to Big Real Estate….. Well, at least you can know we are all in the same situation all around the city.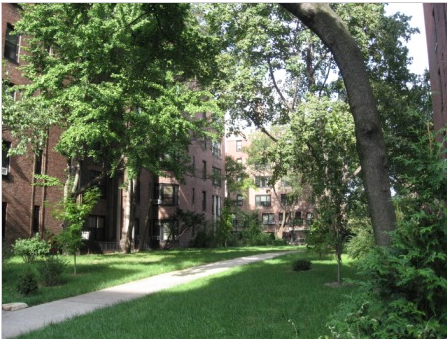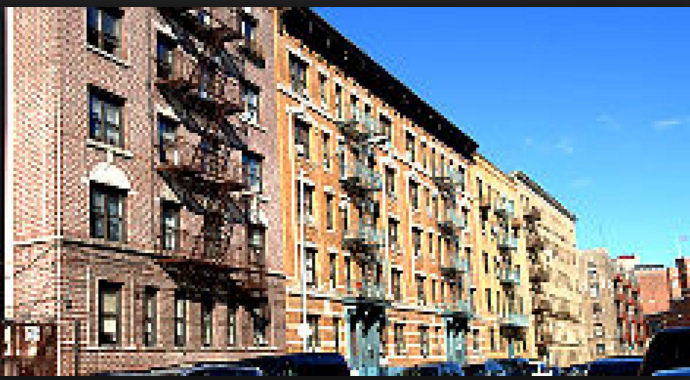 Great Reads for the Human-Scale Obsessed
The Wall Street Journal also had a great review here of a new book that constitutes a generalist overview of city planning ideas.  The title is Dream Cities by Wade Graham.  While there is little in Dream Cities that hasn't been said elsewhere, it is written in an exceptionally genial, pleasant, style, making it a great introduction to the subject for the non-specialist.  It is a lot easier going than the other recently published overview book by Paul Davies called "Architectural History Retold" which is full of great insights  – but alas,  you have to wade through lots of rambling lecture material to find those insights.  Much better than both is the wonderfully informative and visually fascinating overview book, "Affordable Housing in New York" by Nicholas Bloom and Matthew Lasner.  See the information about a book talk above.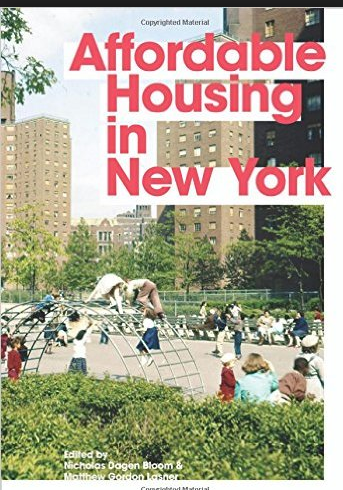 The Times Pays Attention to Harlem's human-scaled neighborhoods –
Why don't the beautiful, human-scale neighborhoods where live people of color get historic district status?  If you live in Bed-Sty or Harlem or Crown Heights, you might wonder about this every day, and rightly so.  These historic neighborhoods have large areas of spectacular human-scale architecture.  These neighborhoods have also suffered from the destructive policies of urban renewal that demonized and then destroyed human-scale areas and replaced them with Le Corbusien tower slabs in the form of "modern" public housing that often displaced as many as it housed.  And in the Bloomberg period, Harlem was subject to irrational up-zoning policies that carried the destruction of human-scaled Harlem even further.  And now De Blasio is doubling up on such policies and extending them to East Harlem.  And it goes without saying that all these neighborhoods are subject to rampant real estate speculation with very little protection for their human-scale.  Yes, there are a couple of tiny historic districts in Harlem and a just-designated small historic district for Bed-Sty.  There is also a non-trivial section of Crown Heights that has historic district status, but the areas that did receive historic district status are actually very small compared to what ought to be protected.
These are very likely cases of under-designation of historic neighborhoods. To see the terrible and destructive effects of under-designation, you don't have to look far.  Check out the visual effect of under-designation in this short slide show documenting the case of Tribeca here.
Could under-designation be happening in Chinatown and the Lower East side as well?  This writer wonders if there is not merit in Michael Henry Adam's notion that there is a pattern of under-designation of neighborhoods of color, the Tribeca case notwithstanding.  Might there be potential for a lawsuit on the matter?   Click here to read the article by Matt Chaban of the Times about Save Harlem Now!  Save Harlem Now! is  a member of the human-scale coalition.


Eyesore of the Week
I was going to give the Eyesore of the Week prize to that object that looks like a dinosaur and that passes for a Path Station – you know, the one down at the World Trade Center.  Yet there has been so much recent media hype this week about it, that I decided to turn my eye northward.
Much as I like Columbia University, the administration has never been known for good architectural taste (really, the International Affairs Building and the Law School are affronts to the city, are they not?).
In any case, for Columbia's new northern campus in Harlem they have gone starchitect.  This time is is all Renzo Piano.  But ugh.  The first eyesore shown below looks like a shark with teeth, not a ship as hyped, although it is of human-scale.  The second one is a science center and looks like…well, like a glass container of modernist tropes.  Boring.  Anti-urban. Anti-street. Corporate.  All it does is homogenize the future campus in some fantasy of globalization and make me sorry for the faculty and students who must inhabit it.  Perhaps they should put the economics department in there and let the scientists stay on the Morningside campus in Georgian splendor.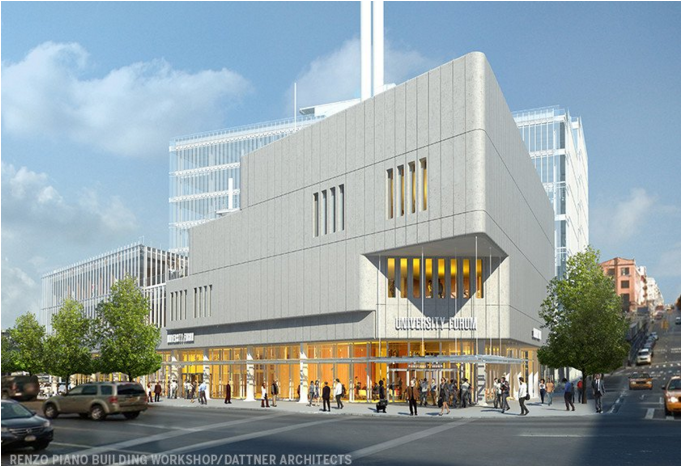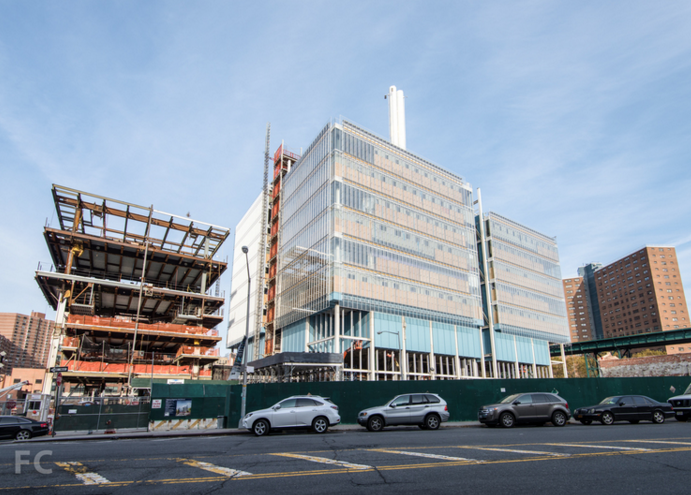 Do you want to volunteer or in some way help the human-scale cause in NYC?  We could use the following:
volunteers to help put together our weekly roundup
proofreaders
donations of venues for events (film screenings, book talks)
petition drive organizers, to push out out our petition into new neighborhoods and to plunge deeper into existing neighborhoods in search of signatures
recruiters, who find new organizations and block associations that want to join as co-sponsors of our petition here.
local event organizers (dinners, cocktail parties, block meetings) to learn about the human-scale idea
Write us at coordinator@humanscale.nyc