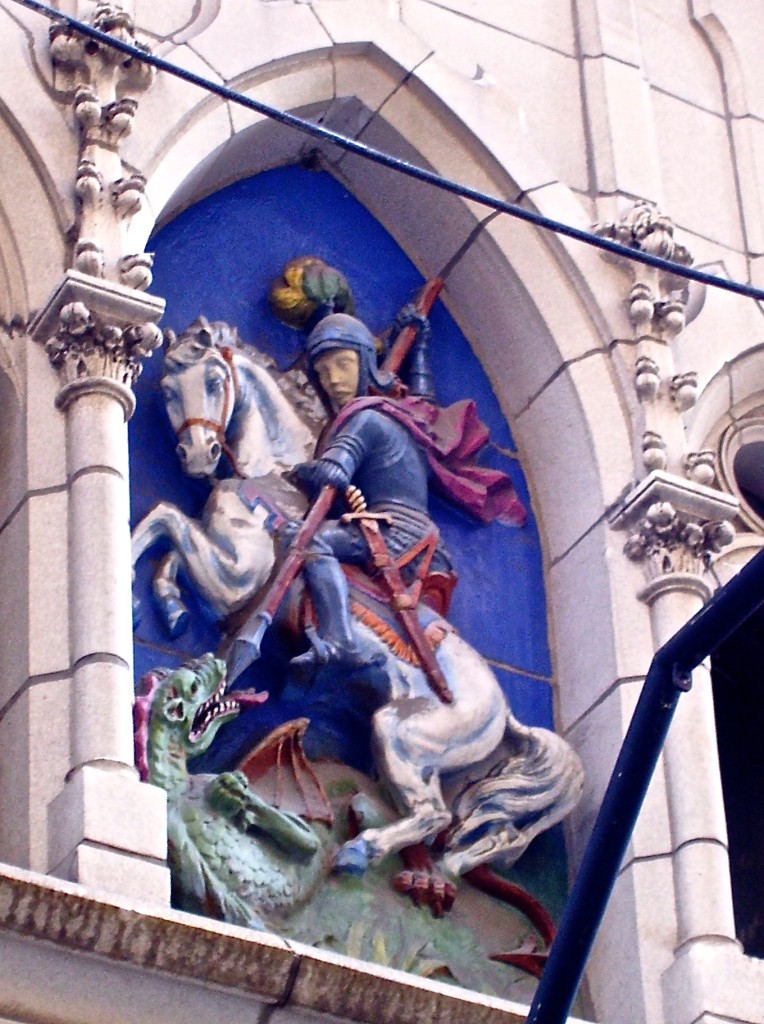 First things first, we need you to help slay some real estate dragons, and at present, a petition is the way to go.  Have you and your spouse, friends and neighbors all signed the most important petition circulating in the city now, the petition for a Human-Scale City?  If not detour here to sign:  www.humanscale.nyc
---
Things you can do this week:
 Call up your City Council member's office (or shoot them an email) and tell them to "man up" against the pressures of the Mayor and "just vote no" on the two widely hated zoning proposals "ZQA and MIH." Otherwise what is left of our city is in real trouble.   Bad zoning idea #1 is dubbed in Orwellian fashion "Zoning for Quality and Affordability," and ought more accurately called Zoning for Ugliness and Shadows for All".  The other hated proposal is called "Mandatory Inclusionary Housing" and ought really to be called, "Mandatory Displacement For Anybody Already There.  Get your background briefings here.
Or, attend the public hearing on those zoning proposals this Wednesday, December 16, 9:00 a.m. at the Museum of the American Indian,  Grab a "Vote No" sign that the Greenwich Village Society for Historic Preservation will be handing out or give your own 2-minute testimony.
Join with the Coalition to Save Chinatown and the Lower East Side Rally at against displacement at Gracie Mansion, 4:00 p.m.,. also this Wednesday, December 16, 88th and East End Avenue.   This is the real thing, everyone, people being displaced in Chinatown who have their own community zoning plan, a product of years of effort, who are being brushed off by De Blasio.  It is happening EVERYWHERE.  Read their call to action below for some genuine sentiment that reflects views across the city.
---
News to Cheer You up
Sound the trumpets! Ring the Bells!  The Landmarks Presevation commission had a moment of sanity this year and designated part of Bed-Sty a historic district.  This was the result of years of effort and lobbying.  Read the history of the effort here in the Times and the tale of the win in DNAinfo here.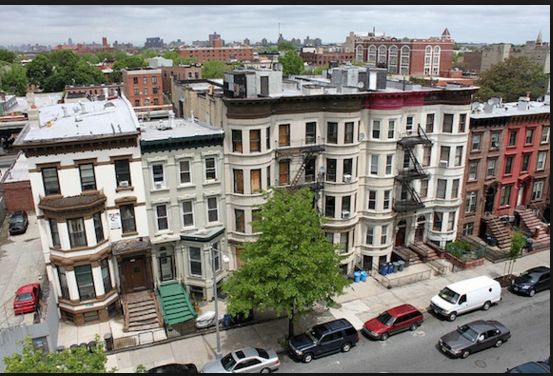 Save Chelsea and its allies had a win on the placement on the proposed beer garden out on the pier, a quick win for once.
Save the View and Brooklyn Heights Association have launched a new lawsuit against the Brooklyn Bridge Park Corporation.  The iconic view of the bridge from the promenade in Brooklyn is protected by  law.  Will developers get away with a view-grab?  Read about it here.
Friends of the Lower West Side and Washington Street Historical Society got some good film coverage of the remarkable story of a mosque on Washington Street here with an interview with Todd Fine as well as great slide show on Atlas Obscura of the Syrian christian church on Washington Street with its marvelous Saint George and the Dragon (terra cotta?).  See here and here.
Lynn Ellsworth was interviewed on WBAI's morning show this past week, which I suspect is a bit like preaching to the choir, but fun nonetheless.  When the link is available, we'll post it.  Take away is that there are indeed journalists out there not hostile to the idea of a human-scale city.
The Coalition to Save Chinatown and the Lower East Side had a massive turnout at its townhall against displacement and the Extell tower and the Mayor's refusal to consider their community zoning plan.  A large school auditorium was packed to standing room only and the crowd was furious that the Mayor sent only an underling from community affairs, when the Mayor himself had been invited. 
---
In the category of "we all have a dark side" news, Union Theological Seminary is going to build a skinny modern condo building in the middle of its architecturally glorious quad.  Many object to this, but who cares say the trustee, let the Lords of Real Estate trump the other kind!  Read about it here in the New York Times.  No surprise, but shouldn't we expect better from our theologians?
Photo from the Times of a dissident student who asks better of his elders.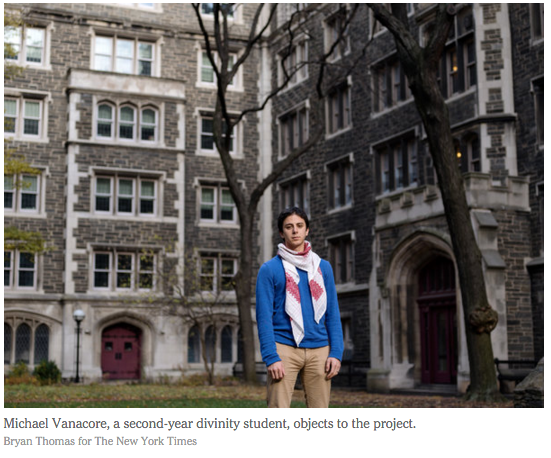 ---
"It was a sell-out".  Listen to the short story WBAI did of the sell-out of the Brooklyn Library sale to a real estate developer who will be building a tall condo tower on the site. Listen here.   Michael White is intereviewed.  If this creates outrage, let's think about how to do scorecards on our City Councilmember so we can rate them on land-use decisions.
---
"Dumb puff piece" prize of the week goes to the Wall Street Journal whose so called interview with Robert Stern (the architect) basically has him saying that he likes skyscrapers.  He should, given how many he has taken to designing for big real estate developers.  Seriously, WSJ, can't you do better? You can read it here.
---
Eyesore of the week!  Or maybe "atrocity" of the week? This award goes to a hideous building proposed for the so-called "Hudson Square" neighborhood, recently upzoned against widespread neighborhood opposition.  Trinity Real Estate swaggered around bragging about the taxes it contributes to the city and got the City Council to roll over and pant, "okay, whatever you want."   My own take is that architects are as much part of the problem as developers are.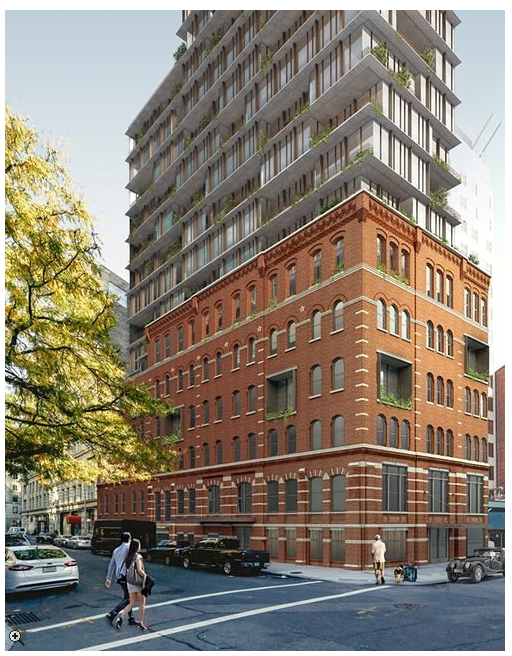 ---
"Have I been hit on the head and can no longer think?" Quote of the Week comes from Marvel Architects.  They participated in the demolition of a series of historic small townhouses near the Atlantic Yards project. The site will now host  a 26-story tower of their ugly design.   In a public meeting they hypocritically said, "We are interested in the DNA of Brooklyn" and then revealed that their own elevator does not go to the top floor by saying "We are between the taller buildings and the carpet of brownstone scale."  Hmmm.  Further proof that architects get basic human-scale notions drummed out of them as they dance with the real estate devil, a necessity in that profession, but meaning it is hard to trust them with any logic whatsoever.
---
A moment of silence for Ruppert Playground on 92nd Street,  cleared away two years ago.  In it's place, as runner up for eyesore of the week, we have 205 East 92nd, a hideously bland hyper-dense tower that is part of the general destruction of Yorkville.  It is 36 stories tall.  In exchange for stealing from the public realm, 47 of the 231 units will be affordable.  Yippee.  People!  This is why we need to elect politicians who don't take real estate money!  Read about Related's "playground pouncing" here at 6Square Feet, a place that mostly fawns over developers, but once in a while covers something worth reporting.  Try not to look at their nauseating "building of the year", so ugly I can't even report it here.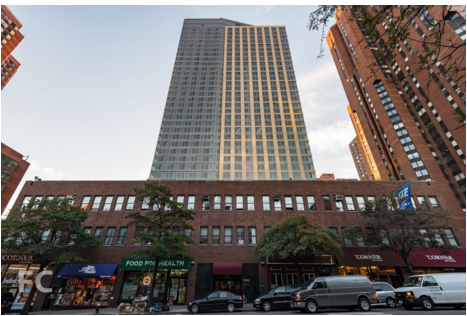 ---
That's it for this week.  I close with this finding from White Street in Tribeca.