Many of them need your pitchfork presence, others are fun ways to find out what is going on.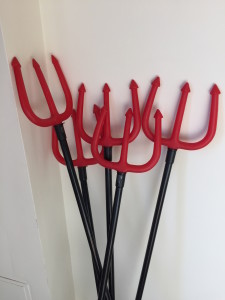 Today, November 4:   6:30 p.m. Community Board #2 (the Village and Soho) holds a hearing about the misconceived and widely hated up-zoning plan for the whole city (already voted down by numerous community boards).  Location:  NYU Silver Building at 32 Waverly Place, aka Washington Square East, room 206. Residents of Greenwich Village are very good at making pitchfork mobs and I wouldn't be surprised if this was a rather lively event.
Of interest to Tribecans:  Thursday, November 5, 9:00 a.m., Landmarks Preservation Commission, 1 Centre St, 9th Floor.  The commission will hear testimony about what people think about landmarking 143 Chambers and 315 Broadway. Tribeca Trust will be there. These two buildings are in the areas that ought to be included in an extension to Tribeca's historic districts. Ditch your job for the morning and show your support for these buildings.
Of interest to the entire city:  Sunday, November 8, 10:30 at Columbus Circle, the "Stand Against the Shadows March" to protest the insane towers going up on 57th Street casting shadows on Central Park.  The call is for zoning reform, but citizen-led zoning reform for a human-scale city, not the developer-led reform the Mayor has been proposing.  Bring a black umbrella to symbolize the shadows.  Facebook link here. Bring your kids, bring your strollers, it promises to be a sunny day.  And bring a sign or poster of your own local neighborhood cause related to bad development.  This event was organized by the hardy people who make up the Commitee for Environmentally Responsible Development.
November 10th, 6:30 p.m., The Historic District Council holds its annual fund-raiser called "The Pride of Lions" honoring all the prior Landmarks Lions such as Christobel Gough, Anthony Wood, Roberta Gratz, Arlene Simon, and many, many other true New York heros and heroines of a human-scale city.  Click here to buy a ticket.  This year the event is at the Loeb Boathouse in Central Park which is a way classy place to do this kind of event.
There will be a hearing of the City Council's Committee on Parks and Recreation of the City Council on Thursday, November 12, 2015 at 10:00 a.m. in the 16th Floor Committee Room at 250 Broadway, New York, NY regarding a proposed bill called " Int. No. 737 – the creation of a task force to study the effect of shadows cast by large buildings over parkland."   This one has me wondering:  do you need a bill to do this?  Isn't this kind a weak reaction to the ridiculous heights  these new towers have and to the city-destroying bad development happening everywhere?  A more forceful idea would be a demolition moratorium on all pre-WW 2 buildings until a local plan is made with community involvement. Or, how about height restrictions?
Monday, November 16, from 6-8 p.m., at Clinton School, 10 East 15th Street. Gale Brewer, our Manhattan Borough President who is fairly sympathetic to the ideas of a human-scale city, will be holding a public hearing on the Mayor's "Zoning for Quality and Affordability" proposal.  That is like a dragon breathing down our necks because it seeks to up-zone the entire city willy-nilly without a drop of real planning.  Sign up to testify and use your alloted 2 minutes of free speech to explain all the reasons why this proposal needs to be stopped, or, just say you against it and sit down again (see here and here  for background).
For fans of the human-scale city, a protest rally in the morning of Tuesday, November 17, 7:30 a.m.-1:00 at the Brooklyn Museum to protest the "6th Annual Brooklyn Real Estate Summit" where I imagine the Lords of New York plot ways to enserf and carve up Brooklyn.  The rally is organized by the Brooklyn Anti-Gentrification Network (BAN) which is composed of a variety of block associations and tenant groups.
Of special interest to Tribecans, Tuesday evening, November 17, 6-8, Tribeca Trust sponsors an informal Outreach Event at the Downtown Community Center at the corner of Warren and West Streets.  This informal event is for Tribecans about "Saving Tribeca:  Historic Districts, Zoning Reform, and Small Business Survival".    Tribeca Trust will be explaining the current state of affairs as briefly as possible, answering questions, and soliciting your views.  WE've invited someone from TakebackNYC to take on the small business problem.  No big long speeches, panels or lectures, however.  Roger Byrom, Chair of Community Board 1's landmarks committee may also be there to explain and answer questions.