Happy New Year to all!
We have been on hiatus since the Christmas holidays, but we are back with all the news we can squeeze in. Read on…
New Yorkers for a Human-scale City is an alliance of 86 community, civic, tenant, parks, public space, and preservation groups across all five Boroughs.  Our unifying petition can be read on-line and signed here.  Your organization can also join us by sending a note to coordinator@humanscale.nyc  
This is the seventh weekly roundup describing the fight for a human-scale city.  Tribeca Trust has kindly hosted these weekly round-ups, but they come from your contributions combined with our own outraged idealism and cynical take on the what the press is saying about New York's built environment. Read the earlier roundups here.
---
Whose neighborhood is going to get wrecked next?
The Municipal Art Society (MAS) released a map of where all the super-tall new buildings are going to come next.  Thanks MAS.  It is a scary map. Read the article here.  Stare the map and weep below. When done weeping, take action as described below.  (Hey, they forgot about a bunch of those super-tall buildings coming up in Tribeca…).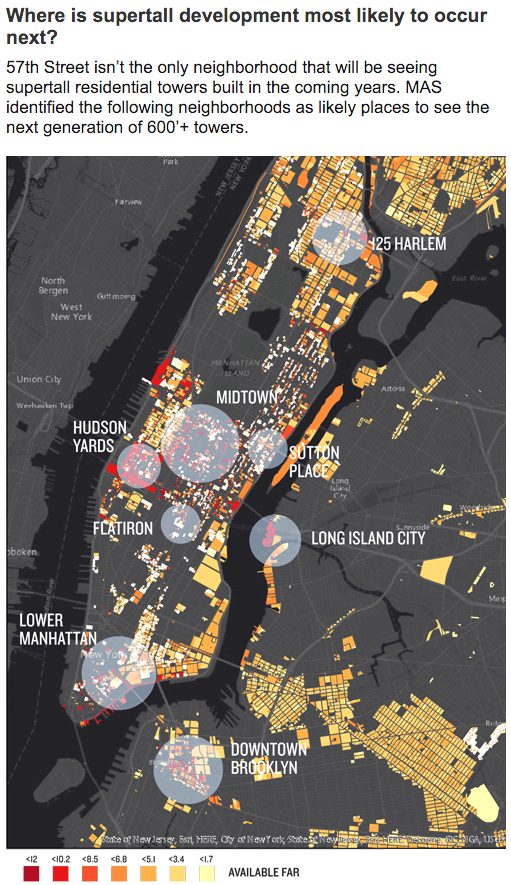 ---
Despite almost total rejection of this idea by community boards across the entire city, the Mayor has decided to dig in his heels and ignore the opinion of residents.  That means that the only entity who can stop this train is the City Council.  So please, go to this new page here and fill in your contacts and then press a button. In one 10-second digital act, you can send a letter to the Mayor, the Borough Presidents, and all the city Councilmembers (those with email addresses) urging them to oppose the Mayor's one-size-fits all zoning proposals.  You can modify the boilerplate letter t if you so desire, or just send it as is.  Corny as it may seem to our cynical age, letter writing and petitioning government is one of the few tools we have to effect change. We have others tools too, but we'll get to that later.
---
---
Save the Date #1:  January 31, 2016 at 3:00pm
The Movement for Justice in El Barrio invites leaders of community groups for an open discussion on the threat of displacement and unwanted building in our city.  Their invitation is for those who are working for " true affordable housing, for freedom,…for the preservation of our communities, for peace, for respect, for themselves, for their community, for dignity…for humanity."   This is a great opportunity for civic organizations across many fields of work to talk about the issues the De Blasio administration is forcing on us and to find common ground.
For more info, or to RSVP (by January 20th), please contact them at movementencuentro@gmail.com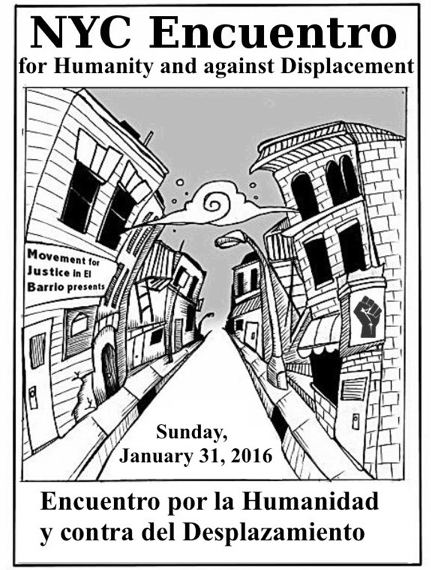 ---
Save the Date #2:  The next hearing about the fate of the Elizabeth Street Garden will take place this January 20th, 6:30-7:30, at the Scholastic Auditorium in Soho at 557 Broadway (between Spring and Prince).   As readers will remember, this stunning garden, revived by community members in dense Elizabeth Street on the site of a former public school, is slated for destruction and replacement with a so-called "affordable housing" development.  Friends of the garden have found an alternative site for the housing, but the City seems to be ignoring them.  In a densely packed city, especially in Lower Manhattan, the last thing we need to do is replace a garden.  What absurdities our elected officials have wrought!   Come out and testify.
---
New Small Business Administration Appointment = Depressing News for Small Businesses
Mayor de Blasio recently appointed Gregg Bishop to the important job of Commissioner of Small Business Services (SBS). We have learned from Take Back NYC and LES Dwellers that we are once again left to deal with an unqualified Commissioner who does not understand the needs of the small business owner.  Small businesses are shuttering at an alarming rate.  They are being forced out for various reasons, but the most troubling is when they are being shut out by large real estate developments.  Kirsten Theodos, of Take Back NYC, details the trouble a weak appointee brings to the situation:  "Contrary to campaign promises, it's apparent that Mayor de Blasio is following the anti-small business policies established by Mayor Bloomberg and the continued sacrifice of our City's long established small businesses to corporate speculators and greed."
To read TakeBackNYC's full article, click here.  Photo below of a shuttered Tribeca storefront.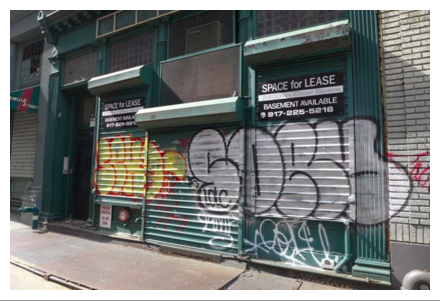 The Ruination of a Great Church on the Upper West Side:  take simple steps to stop this
Susan Simon of the Central Park West Neighbors Association writes that that there are fresh and desperate efforts going on to save the magnificent Carrere and Hastings church on the Upper West Side from a developer who has bought the landmark.  Here is a photo of what has been lost on the inside of the church as a developer remakes the space into luxury condos. Read all about it on the LANDMARKS WEST! blog here where there are links to a petition and to a letter campaign.  Their fight is our fight, this kind of mess is happening all over the city.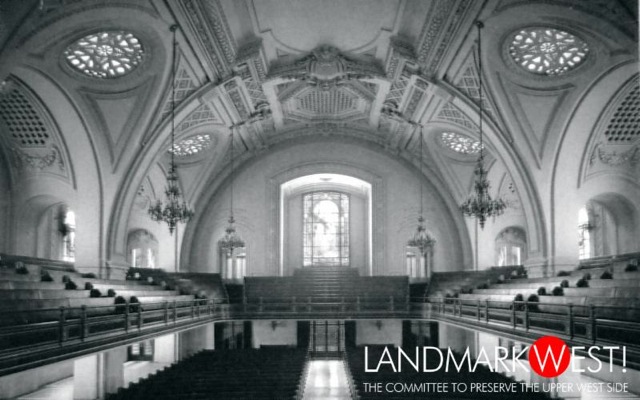 ---
Community Gardens Revisited: Is this really where new buildings need to be?
Mayor de Blasio ended 2015 by announcing plans for affordable housing to be built in 9 community garden spaces throughout the city.  Given that he didn't grab all of them for housing, garden advocates are relieved.  On the other hand, commentator and participant in these scenes Rene Calvo in a response to Politco Pro:  "They [the city] just walked in with a list of nine gardens that they were going to close and 34 that they were going to save…I also want to state that there was never any attempt to really engage the community in the decision making process. They came into the room with their list finalized. Basically what they have told us is that they are going to take this land away from our community but they are going to hold our hands while they're doing it. That is how they are "better than the previous administration."
So it is a victory, sort of, only sort of.
To read the full article from Politico New York, click here.
For additional reading on the fight to save community garden spaces, click here and here.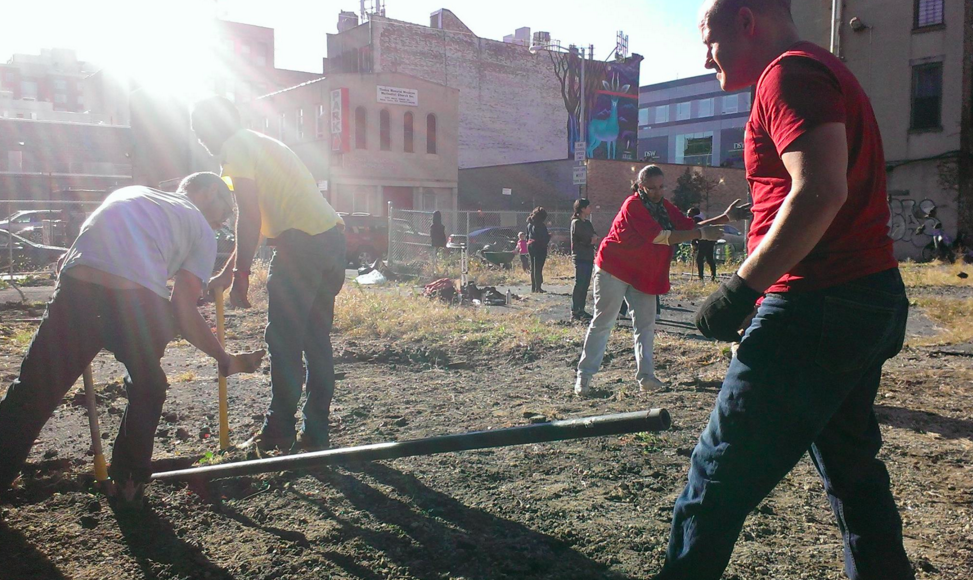 Image courtesy of Mandela Community Garden.  This is one of the seven gardens slated to be turned into "affordable" housing space.
---
There is a Rebellion in East York Rebellion and We all Sympathize
Mayor de Blasio's rezoning plan is facing ever-growing resistance from community groups everywhere, but East New York has been a special case:  the Mayor plans to build a lot there and real estate speculation has been rampant, driving up prices already.  The local Coalition for Community Advancement has mobilized residents in East New York and forced the community board there to vote no on the Mayor's zoning plan (see their facebook page here.  In a press release, they said:  "One of the key concerns of the Coalition is that the new housing created under the rezoning will be largely unaffordable to existing residents, given the levels of income within the East New York study area relative to the levels of affordability the city is proposing."  If the new housing plan can't support the local community, who are we really making this plan for?
To read the full article, click here.
ANHD created this interesting graphic to show what levels of income potentially qualify under the Mayor's affordable housing plan.  ANHD also created an interactive map highlighting "Your Neighborhood's Economy."  Click here to find yours.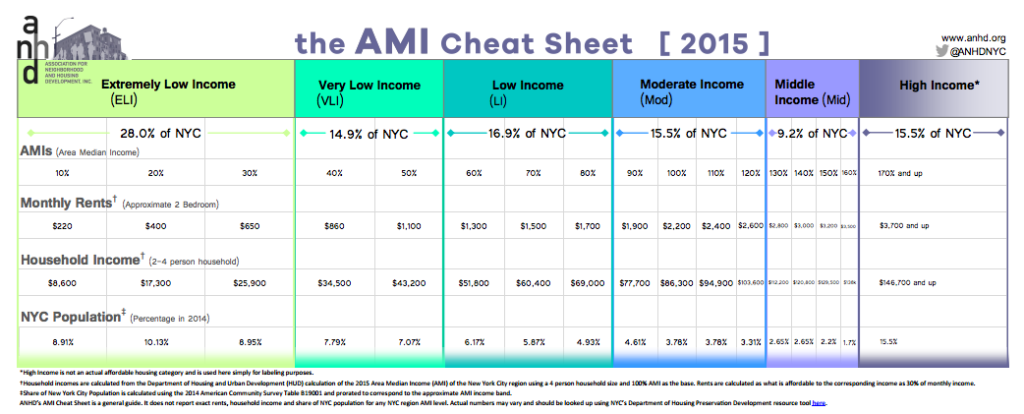 ---
Tall Building and the Thievery of our Urban Commons:
Currently there are about two-dozen hyper-tall buildings in development in Manhattan and Brooklyn.  They over-shadowing our parks and ruin our skyline.  Developers of these buildings are aware of how many such buildings are planned, but bizarrely omit their competitor's buildings from their marketing materials.  For prospective buyers, the views from advertising materials show completely unobstructed views.  When questioned about this fact the developers say that they can't be future-tellers and that their materials only show what was in existence when their building was built.  But as this article from the Municipal Art Society shows, that is not the case.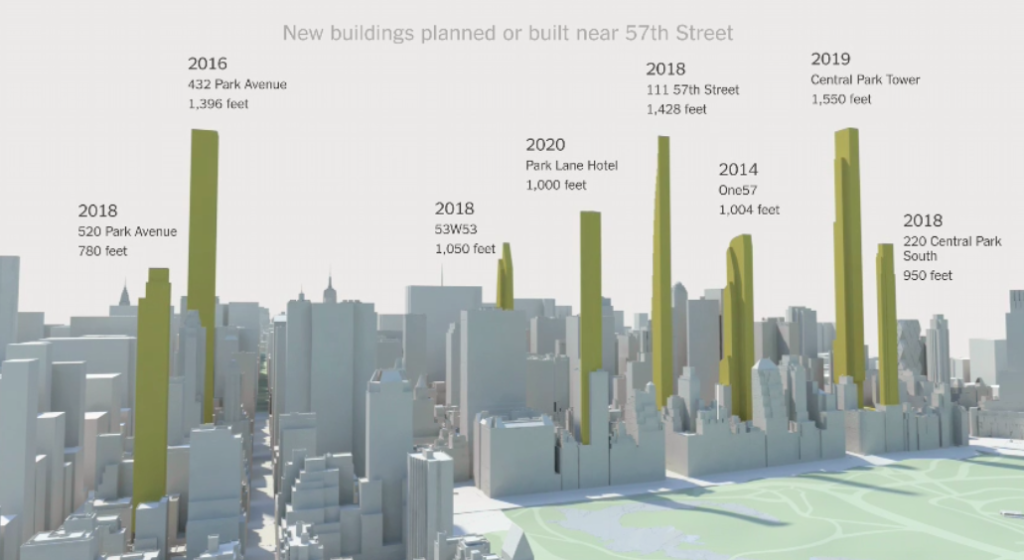 Image courtesy of The New York Times, click here to watch the full video rendering and read the full article on the takeover of tall buildings.
---
Eyesore of the Week and Quote of the week!
Big Real Estate developer Brodsky is finishing up the sales for what is our eyesore of the week, creepily dubbed "the Enclave at the Cathedral."  It is practically on top of the great Cathedral of St. John on the Upper West Side.  This ugly thing will make you weep, but it I guess we can all take weak comfort in that it did generate our quote of the week from the eternally honest Professor Andrew Dolkart of Columbia University.  He was quoted in the Wall Street Journal thus:  "It has basically privatized views of the Cathedral. Is this how we want to treat our internationally significant historic sites, by jamming apartments on the same lot?"
So true, Professor Dolkart, and so terrible, and so indicative of how we have to change the laws that allows this kind of privatization to happen.  Here are two photos of the eyesore. To read the paywalled article in the WSJ go here.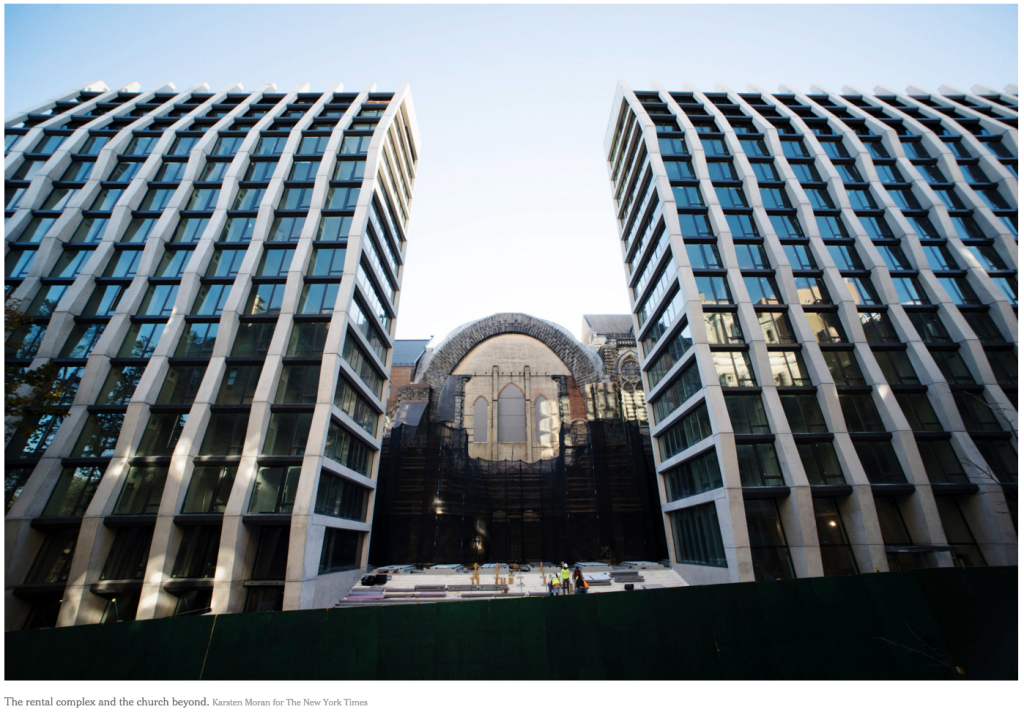 ---
Eyesore of the Week (Runner-up):  The Salt Building on West Street
Michael Kimmelman, (the architecture critic at the New York Times) for some inexplicable reason loves the salt shed building on Canal and West Streets. The shed sits opposite two parks and is an eyesore to all who use those parks. But our critic declares it to be public sculpture.  He also (obnoxiously) makes fun of neighbors who hate it.  Aside to Mr. Kimmelman: please refrain from that kind of bullying in your future columns and find another less charged word than "Nimbyism".  We know you are better than that.
I know the salt shed well, and sympathize with the neighbors who loathe the building as well as the equally awful  aluminum truck depot next to it.  Kimmelman, who may in other ways be a reasonable man, is incomprehensible on this issue. The salt depot, while possibly being "sculptural", is also hideous and as anti-urban as  it gets.  It looks Gulag-era Soviet.  Its garage neighbor next door is equally bad.  Even my teenager hates these two buildings and she's far more tolerant of bad architecture than I am.  Maybe we can get another critic like James Kunstler to rustle up some rhetoric to embarrass Kimmelman into a retraction.  (We can dream, can't we?)
Now you know, so when you are walking by West and Spring Streets, get out your google glasses so you can distract yourself with internet surfing so as to ignore the pain to your eyes that these urban nightmares create.
By the way,  no objection here to the function these buildings serve, it's the architecture that stinks.
---
That's the news for now.  Outraged?  I am.  If you are as well, scroll back to the top, sign the petition, send the "one button" letter, and pass them on to friends and neighbors.  Join the human-scale city effort.
Meanwhile, stay tuned for news about the annual gala of the Darth Vader of lobbying groups, the Real Estate Board of New York, aka, "REBNY".  Their black tie event is coming up in late January.  Since REBNY controls most of the politicians here and in Albany through their political action committees, it will be interesting to see which politicians appear at the gala to prostrate themselves before the Lords of Real Estate.  In fact, shouldn't we all be there taking pictures of that kowtowing and telling politicians to start prostrating themselves in front of voters instead?
Comments and corrections welcome.
Until next week…