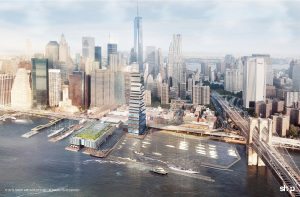 Those who live around the Seaport have been valiantly fighting a nasty and manipulative effort by the Howard Hughes Corp to "skyscraper up" and generally wreak havoc on what is left of the historic seaport after the debacle of urban renewal there in the 1960s.
We in Tribeca know what it is like to be in such a situation.  But there are some bits of gallows humor to be found. For example, I'm fascinated by the new trend in certain architectural and real estate development circles to indulge in Orwell-speak.  A case in point: Curbed reports this hilarious sentence, "among those supporting the [Hughes] project was the Downtown Alliance's Dan Acherman, who said the project would 'respect [the seaport's] historic integrity.'"  Kinda gives new meaning to the word integrity, eh?   I have sadly heard similar cases of Orwell-speak at the Landmarks Preservation Commission, when tall glass curtain wall buildings are plunked down into or next to historic districts and dubbed "harmonious" without a trace of irony.
Orwellian or not, the Seaport situation does seems dire.  The powers of real estate capital have really lined up behind it to create a Goliath similar to the one that lined up to destroy the vast area around the old Washington Market.  That was back in the late 1950s.  Our democracy is so enfeebled I'm not sure how you fight this kind of Goliath, but my heart is with the Resistance. Watching, the only thing I can think of that might be useful is to get our Mayor to understand that the historic, distinctive city is relevant to his goals and his administration.  Unfortunately, REBNY and its retainers, dependents, and courtiers have gotten to him first.  The reality is that we can have historic districts, a connection to history AND affordable housing. These are not mutually exclusive alternatives.  And it would be a far better city if the Mayor recognized that.  We do not have to give away Manhattan to REBNY in order to get its members to do affordable housing in East New York or Corona, or anywhere else.  The pesky advisors to the Mayor who tell him he must bow to Lords of Real Estate Capital and to their curtain-walled, hyper-dense vision for New York are just wrong, and obviously under the sway of Big Real Estate. The Mayor clearly needs some new policy advisors.
One part of the Seaport drama troubles me: Hughes has hired the anti-historic district firm, ShOP Architects, to design a hyper-dense Seaport.  One of ShOP's leading principals is Vishaan Chakrabarti, a former Bloomberg appointee who teaches at Columbia.  Despite living in Tribeca*, he is the author of a pro-skyscraper, anti-zoning and anti-historic district tract called A Country of Cities: A Manifesto for An Urban America. The book is written in the same wrong-headed vein as Edward Glaeser's equally pro-Big Real Estate book, The Triumph of Cities.  Given ShOP's philosophical bias against preservation, is it even possible for them to come up with something the Resistance could stomach?  And doesn't it muddle things to have ShOP staff on the Landmarks Committee of our Community Board — the same Community Board that oversees the Seaport?  On the other hand, I suppose it doesn't matter if they are recused, which I am sure is the case.
The Downtown Post has been doing excellent coverage of the many dramatic events and meetings around the Seaport.   You can go here to read back issues and catch up here:  The DowntownPostNYC.com
The initial Resistance can the found at "Save the Seaport" here http://saveourseaport.wordpress.com/  and you can get on their mailing list for updates.
See also more parts of the Resistance here:  http://www.friendsofsouthstreetseaport.com/vision/
Every design proposal for the Hughes project that I have seen has been is so truly terrible that I find it hard to study the images much.  They are wrong in terms of urbanism, density, intent, vision,  and architectural imagination.  Everything is just the usual heap of curtain wall imported from China (can our country really not make glass anymore?). It hurts my eyes and gives me a headache.  The latest proposal seems to be no improvement.  The Historic Districts Council said it best and with a rare bit of wit amid the passions.  Here is their intelligent summary, from a recent blast they sent out:
"Last night, the Howard Hughes Corporation presented the latest iteration of the proposed South Street Seaport redevelopment to Community Board 1's preservation committee and the public.  The plan presented, as a whole, is a new attempt at reviving the failed festival marketplace strategy of decades ago and adding a 2014 patina of more bulk and retail to the district. The current schematic takes the oldest neighborhood in New York City and dresses it in an abundance of fluorescent lights, covers it in peculiar paving and awnings, and alters its historic buildings and urban fabric.  For consistency, the new features will be knitted cohesively with a thread of homogenized mediocrity. It will render New York's appearance to the likes of anywhere else, when our city's aesthetic is derived from its history and that is why it appears different.  This plan is counterproductive, as it will move a landmarked building in order to afford better views of a new mall, yet its new tower will block views of New York's favorite icon: the Brooklyn Bridge.  As a Texas mall developer, Howard Hughes Corp. may be accustomed to a formula of building on pieces of flat land where nothing exists. This paradigm is translated to the corporation's treatment of the Seaport, where they are prepared to build what seems to be a new city within a city. The Seaport is not a barren piece of land with little investment or public interest, nor a resource to bleed dry, but a unique palette of historic properties to work from, which contribute to all of Lower Manhattan and the city beyond." (Historic Districts Council, statement of 11 December, 2014 to CB #1.
-Lynn Ellsworth
* This should come as no surprise.  Living in Tribeca is no urbanist credential, given that the financiers behind the criminally tall 56 Leonard were Tribeca residents.