---
IN THIS TRIBECA ISSUE:
Challengers to Margaret Chin

6 Amazing Tribeca Before and After Photos
---
Two Challengers for our City Council Seat
Margaret Chin has been our City Councilmember since 2010.  In the last election, she came to office with a lot of Big Real Estate backing:  the Real Estate Board of New York's PAC funneled $80,000 into pro-Chin marketing. (Read about that here.)
Chin has the peculiar right to run for a third term, due to legislation [CORRECTION:  THAT HER PREDECESSOR ALAN GERSON VOTED ON] that granted exceptions to the two-term limit that applies to the rest of the City Council.  Recall that voters were very much opposed to this end-run around term-limits, but as often happens in NYC, the popular will was ignored.  Read about that here on CNN.   Councilmember Chin represents District 1 which sprawls across the Financial District, Battery Park City, Tribeca, much of SoHo, bits of the Village, Chinatown, the Seaport, and the Lower East Side.
This January, the Lo-down paper in the East Village reported that Chin will have two challengers in the next election coming up in November.  They are Christopher Marte, a lifelong Lower East Side resident, and Financial District resident and attorney Aaron Foldenauer, a relative newcomer to New York City.
Disaffection in Chinatown
Chin has been coping with widespread disaffection in Chinatown, notably against the Chinatown BID (see first photo below) as well as the year-long protests of the Coalition to Save Chinatown and the Lower East Side.  Those protests started against City Planning and De Blasio and have grown larger and angrier due to the crazy four towers that are rising up on the Lower East Side. The protests now encompass criticism of Chin.  Residents of SoHo and Nolita have also been furious over Chin's refusal to protect the Elizabeth Street garden (read about it here and here).   Chin didn't win herself many preservation-minded friends when (in an unprecedented move) she overturned the designation of a landmark that had already been through public hearings.  Read about that here.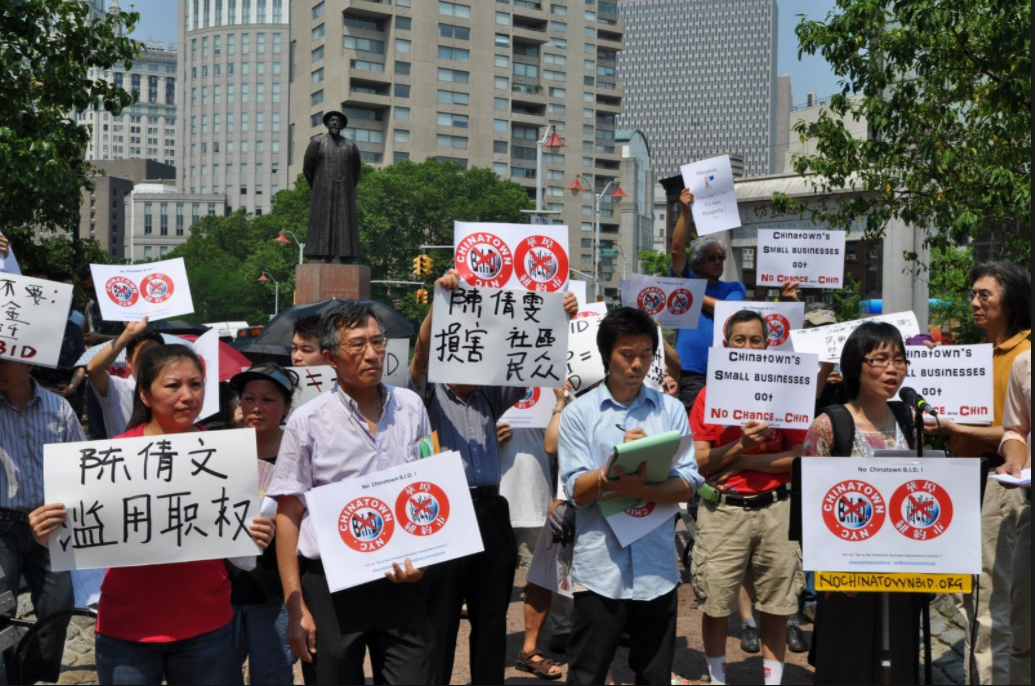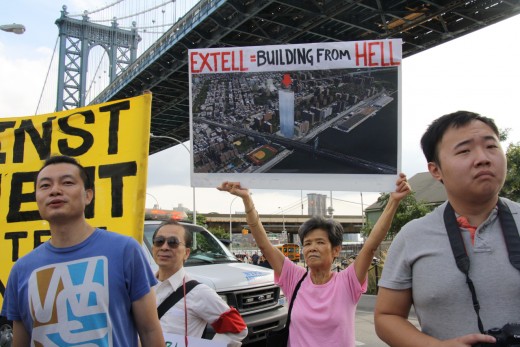 Both challengers have comments on their website about preservation and historic districts.  Here are snippets:
Marte (photo below): "Christopher has spoken out against massive luxury developments in the Two Bridges neighborhood and the Rivington House dealings." and "Christopher will be an advocate for landmarking the unique and iconic buildings and structures that define Lower Manhattan and New York City. He will work to expand existing historic districts while creating new ones."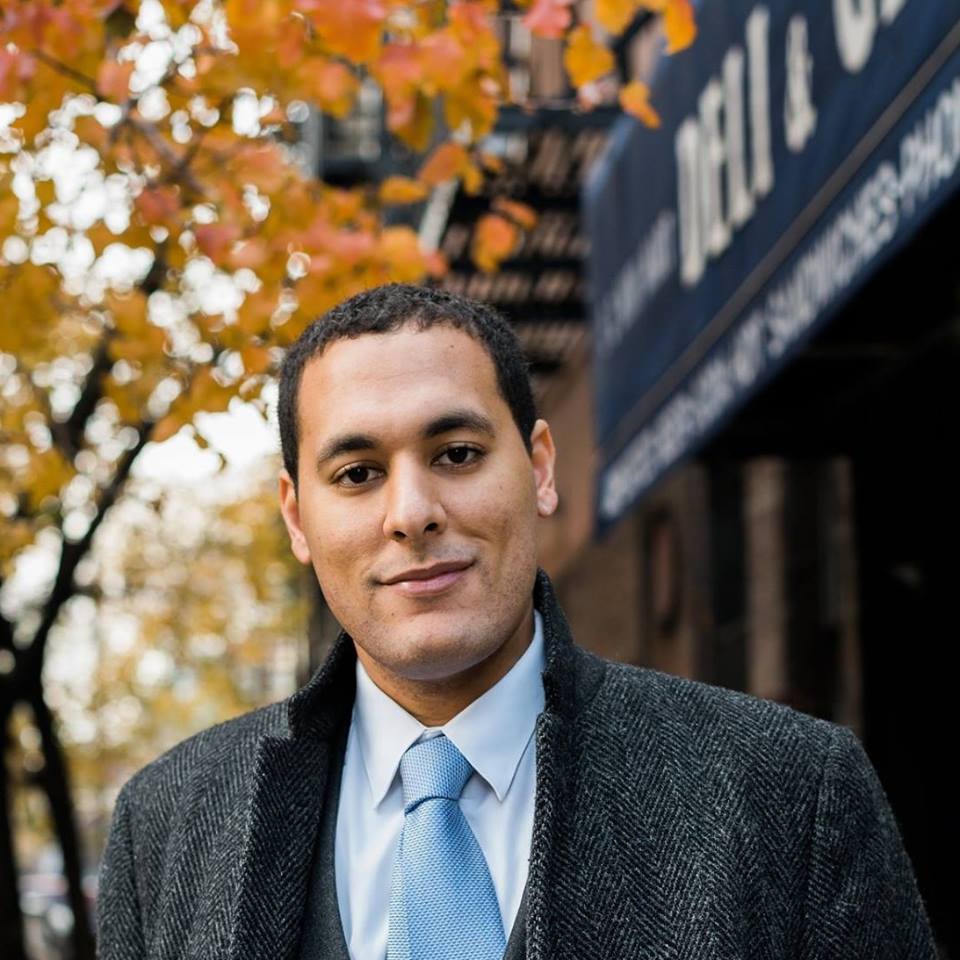 Foldenauer (photo below): "Lower Manhattan contains a number of historic neighborhoods, including the Financial District, the Lower East Side, SoHo, Tribeca, Little Italy, and Chinatown. We need to strengthen land-use regulations to preserve small businesses and to protect the integrity of historic buildings, sites, and neighborhoods. We must preserve the character of our neighborhoods and make sure that they remain affordable for all local residents."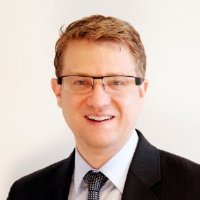 We'll be intrigued to learn how the candidates respond to the questionnaire for candidate sent out by the Alliance for  Human-scale City.
---
Amazing Before and After Photos of Tribeca
These great before and after photos are best seen on our website (here if you are just reading the Mailchimp newsletter) where we have a fun interactive slider.  But you can also see them in your browser or iphone without the interactive element by just reading on.
The old photos come from the New York Public Library.  Our photographer, Robert Ripps, took photos of what those locations look like today, standing in the same spot as the original photo (special thanks to Carmen @ MKH for providing access for the clocktower shot)   The first six are below. Next week we'll show a few more.
Once the beautiful Clocktower building stood out as the prominent building on a low-scale block. Now, you barely even notice the building (even when no scaffolding is on it)!
This one-story, modern storefront is now a huge apartment building with an even taller building now across the street.
How charming and eclectic this block used to be!  Notice the tire repair shop. The historic buildings were torn down and now replaced with the Zinc building.
6th and Grand.  Once the location of a beautiful Italianate church (we are seeing back of it) on the block north of Tribeca as you enter SoHo now the concrete building has replaced it, altering the entire block.
The corner of West Broadway and Leonard Street had mixed-use buildings, but now that whole block has been torn down for a larger building with more construction next door.
We don't even recognize this street! Once full of low-scale, mixed-use rowhouses and carriage houses, the West Side Highway is now lined with high, modern glass towers.
What's so charming about Tribeca? The mixed-use rowhouses, the historic warehouses, and the cast-iron facades to name a few things we cherish.  These typologies are slowing diminishing and getting replaced with high-end apartment buildings.  Take a good look at your block: how do you think the look and dynamics will change in another 100 years if we don't protect Tribeca?