IN THIS TRIBECA ISSUE:
3  Great Tribeca-related Articles in Broadsheet Daily
More Amazing Before and After  Photos
The World Trade Center site gets dissed
History of Broadway
Lead in the Schools
Two New Ugly Buildings for  Tribeca
Community Board Ditches Tribeca Committee
---
 3 Tribeca-related Articles from BROADSHEET DAILY
Matthew Fenton is one of the best downtown reporters out there right now and a real journalist – an asset to us all in Lower Manhattan.  This week we are bringing your attention to 3 of his articles that were published in the Broadsheet Daily:
30 Park Place (Source: Broadsheet Daily)
A.) In his article "Reach for the Skies", Fenton explained that almost half of the super-tall buildings (656 feet or taller) built in America in 2016 are located in downtown Manhattan.  There are also 7 more super-tall buildings either under-construction or in the planning phases for Lower Manhattan.  New development is likely to bring in 6,000 new apartments to Downtown Manhattan in the next few years.  While this is an enormous increase, there is a lag in civic infrastructure to support the large growth.  Read the whole article here.
B.) Fenton's article "Mapping Affluence in Lower Manhattan" debunks the myth that Tribeca is the richest neighborhood.  In a report of New York's 50 wealthiest zip codes by ESRI, Downtown Manhattan results are surprising.  Southern Battery Park City made it into the bottom of the top 10 wealthiest zip codes and Southern Tribeca is ranked between 10 and 20.  Northern Battery Park and western Tribeca are ranked between 20 and 30.  None of the other downtown neighborhoods are on the list.  The richest neighborhoods were located in waterfront communities in Queens and Staten Island.  Read the full article here.
C.) A recent email blast by Matt Fenton discussed how State Assembly member, Deborah Glick, is sponsoring a tax on residential development. The tax money will then be used to fund new public schools. Community Boards 1 and 2 as well as the Community Education Council have supported the bill.  Over-crowded schools has been a major issue in Lower Manhattan with new development going in faster than schools can be build.  In addition, over the last couple decades, the City has sold off large plots of city-owned land for development, without that profit going back into the community to support the growth.
---
More Before and After Photos of Tribeca
We posted a few before/after photos last week in this post.  Due to popular demand, we have a couple more before/after photos to share with you:
Once an elegant row of Italinate, multi-family apartments and store fronts, this corner of West Broadway and Park Place is now an ugly glass and metal box.  These before and afters make us cringe.  If additional space was needed, we wish a couple new floors had been added instead of replacing the historic architecture with something so boring.
This beautiful cast-iron, Italianate building is quintessential of Tribeca.  Unfortunately, this building and its neighbor were replaced by a huge, architecturally insignificant apartment complex.
---
New York Review of Books: The World Trade Center Site is a "Mess"
In case you missed it, check out the full article of Martin Filler's New York Review of Books take down of the mess made at Ground Zero.  The review is entitled, "New York's Vast Flop" and you can read it here.
Filler points out what we locals know already: The tower cost $3.9 billion to build, making it the most expensive skyscraper in the world.  Filler argues that it just looks like another glossy super-tall tower and that "it seems impossible to see this as anything other than a place-holder for half of what once stood in its approximate place."   For a local, that easily reads as "the great Washington Market" which once stood on the exact site where 1 World Trade rises.  But Filler probably did not mean that.
Filler does also summarize:  Santiago Calatrava's World Trade Center Transportation Hub, or the Oculus, just opened in March.  The building took 12 years to build, instead of the planned 5, and $4 billion, which is twice as much as initially proposed.  Filler thinks this design is also a fail, "What was originally likened by its creator to a fluttering paloma de la paz (dove of peace) because of its white, winglike, upwardly flaring rooflines seems more like a steroidal stegosaurus that wandered onto the set of a sci-fi flick and died there."  It is also stuffed with high-end and predictable retailers, turning it into a shopping mall instead of a building that fosters civic pride or projects a democratic space.
A few more buildings are planned to complete the World Trade Center complex.  For those of you who missed it, here is an excellent deconstruction of the architectural nonsense that has been printed about 2 World Trade:  https://misfitsarchitecture.com/2015/06/30/14-more-big/
A rendering of the new World Trade Center buildings in Lower Manhattan (Source: DBOX/Little, Brown and Company)
---
 History of Broadway
Here's a great article on the history of downtown Manhattan.
It's no secret that downtown Manhattan is there New York City began.  But I bet you travel the streets of Lower Manhattan without realizing the histories of well-known streets and neighborhoods.  Did you know Canal Street was an actual canal? Did you know that Tribeca was once a swamp and then turned into meadow by Anthony Rutgers in the 18th century? The meadow was named Lispenard's Meadow, after Rutger's son-in-law, Leonard Lispenard.  I'm sure you are familiar with Worth, Leonard and Thomas streets? These were named after Lispenard's sons (Worth Street used to be named Anthony Street).
Every street and space in Lower Manhattan has a story.  It's an interesting tale of settlement and land-use planning.  I suggest you read the whole article to get a new perspective of Downtown.
---
Lead Found in Downtown Schools
Downtown Express reported in February that 8 out of 10 Downtown schools have lead in the water.  Read more about the problem here and here.
The schools in question are:
• PS 234 Independence School at 292 Greenwich and 200 Chambers streets
• Spruce Street School, 12 Spruce St.
• District 2 Pre-K Center, 1 Peck Slip
• The Peck Slip School, 1 Peck Slip
• PS 150, 334 Greenwich St.
• Lower Manhattan Community Middle School, 26 Broadway
• Richard R. Green High School of Teaching, 26 Broadway (entrance at 7 Beaver St.)
• Leadership and Public Service High School, 90 Trinity Pl.
• Battery Park City School, 55 Battery Pl.
While lead is seen in some older buildings, new school buildings like Spruce Street School are on the list.  Students were sent home with letters discussing the risks of high amounts of lead.  However, the Department of Education was criticized for not outlining specific remediation plans.
The Center for Disease Control recommends chelation therapy for a child if the lead levels are found to be high.
---
Two Ugly New Buildings Planned for Tribeca
Just when you thought it couldn't get worse, it does:
A very ugly building is proposed for the south side of Canal between Broadway and Church.
A tower (42 stories!) is proposed for the block of Broadway between Chambers and Warren, facing  City Hall.
Both are over-scaled.  The one on Canal simply ignores the context and the aesthetic and architectural language of the historic districts.  What can we say?  Opponents, get legal counsel.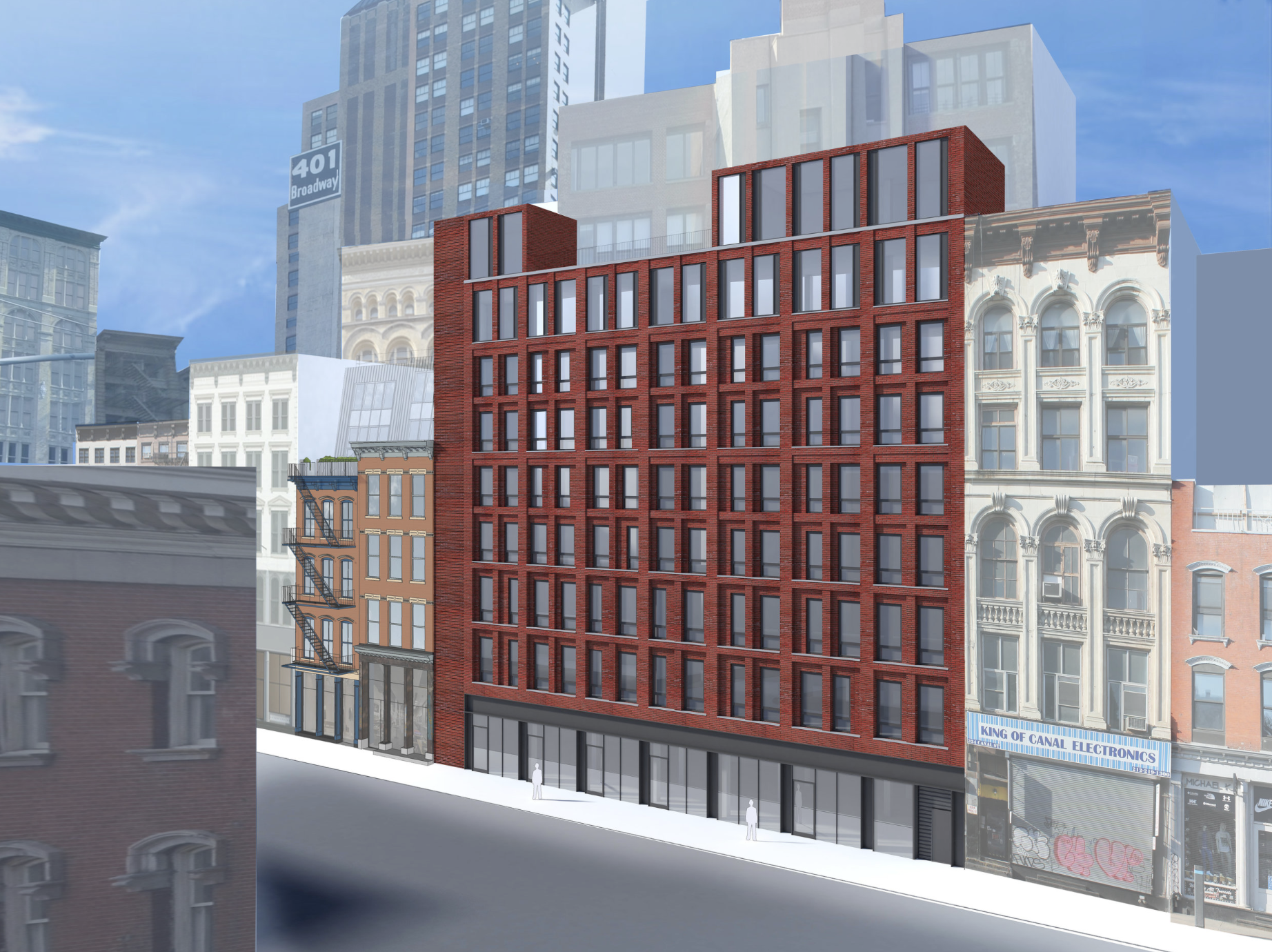 And the one on Broadway is proposed for 42 stories to replace this small, placeholder building.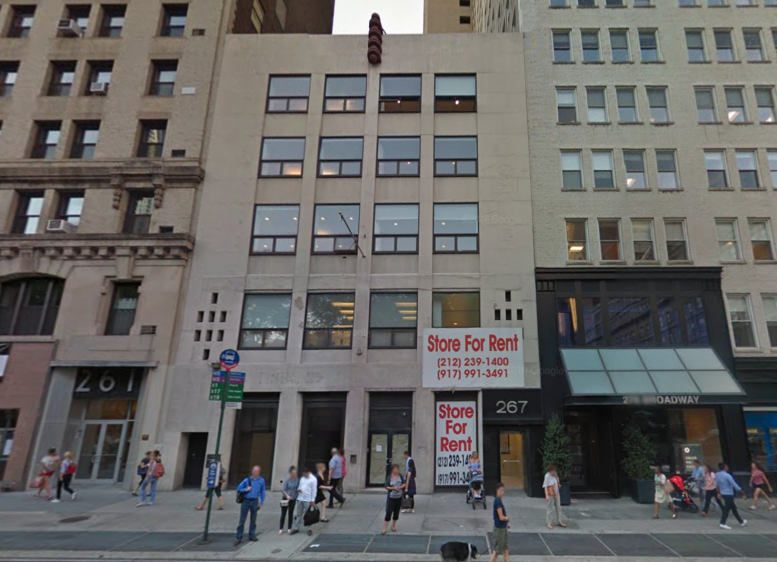 ---
Tribeca Committee Ditched by Community Board
In a reorganization of the community board, only the Battery Park committee will remain a geographically focussed committee.  This is extremely odd.  The new chair of the board is a Battery Park City Resident.  But, hey, should Battery Park have a special committee but no other neighborhood have one?  Doesn't that look just a little like favoritism?   Just because Battery Park residents live in a quirky legal regime, that doesn't imply that the Battery Park committee in any way actually represents the people in Battery Park or are in need of a special geographic committee?  We also learn that there will be a new land-use committee and a liquor licensing committee, which does seem like a more streamlined way to deal with liquor licenses.
So people have been asking, should we Tribecans care about this issue?
Frankly, while it is problematic having to deal with non-Tribecans downtown residents over land-use issues (what do they care about Tribeca if they don't live here?), I do think the general answer is no, at least among the residents we have been talking to.  It is not as if the Tribeca Committee actually ever "represented" Tribeca in any way.  Our community did not elect the people from Tribeca or elsewhere in downtown who served on the Tribeca Committee.  And the Tribeca Committee was mostly occupied with liquor licenses and outdoor seating, all of which were given freely.  Practically, the change just means that Tribecans will have to generate pitchfork mobs at the new licensing committee if they want to get upset about the ridiculous number of  such permits and outdoor seating that the board has been bullied into allowing.  And if you want to fight about over-scaled buildings, or Community Board 1's perverse management of the 137 Centre Street demolition threat, Tribecans will have to go to the land use committee AND the landmarks committee, which is not so different from what we had to do before.  And the land-use committee is unlikely to be sympathetic to Tribeca issues (who is, anyway, except people who live here.)
All of this is a reminder that New York Style Community Boards are extremely problematic:  in NY they are a symbol of the inadequacies of representative democracy at the local level which is the very level where direct democracy would be more appropriate.  Also, recall that in our city charter, community boards have no real power at all.  They merely "give advice" to the other agencies of government, who are free to ignore the community board's advice.  Even stranger, residents self-select to "apply" to be the board, and they don't even have to be residents and they don't even have to be of voting age and pay taxes (witness the trend to appoint teenagers to the board) and they get appointed by either the Borough President or the District 1 City Councilmember.  There are no term limits.  There our people on our community board who have been there for 20 years!   Conflicts of interest are common, particularly on land-use issues.
Community Board 1 is also famous among community boards (at least among the city-wide nonprofits we interact with) as being heavily pro-Big Real Estate, which is of course, the biggest source of land-use dissension among residents.  The problem is that politicians want community boards to be malleable places. As former Chair of Community Board 2 told me about the function of community boards:  "we give cover to the politicians".  What that means is this:  if there is an issue that is widely unpopular, the politicians can get the community board to issue a positive resolution of support anyway, to give the illusion that the community is behind the measure.  Potemkin democracy!
To be sure, that is a cynical take on the problem.  Many people who are active in the political clubs claim that direct election of the boards would be worse and expensive, but that strikes me as self-serving in the extreme.  You just need a larger ballot.  The clubs often advise the politicians they supported on who to appoint.  Direct democracy would take away that function.  Besides, as Winston Churchill said, democracy is the worst form of government, except for all the others.  And at the local level, direct democracy is relatively easy to organize.  People have been doing it for a long time.
Community Board reform has also been the talk of many other neighborhoods. For example, there is a group in Brooklyn petitioning for direct elections for community boards.   Here are some the ideas I have heard:
 There should be term limits.
Members should be directly elected or chosen by lottery (as many offices were in ancient Greece), or by a mix of the two methods.
They should be given something substantive to do, with real power, but not until they are directly elected.
Land use should be tightly focussed around meaningful geographic areas  (the opposite of what our Community Board is doing).
The city staff who manage the boards should be hired and appointed by the newly directly elected board itself.
Debate welcome.  We'll happily publish other views on the matter if you care to submit an op-ed.  In our next issue, we will give the bios of all the Tribecans who serve on the community board and what committees they will serve on in the new structure.