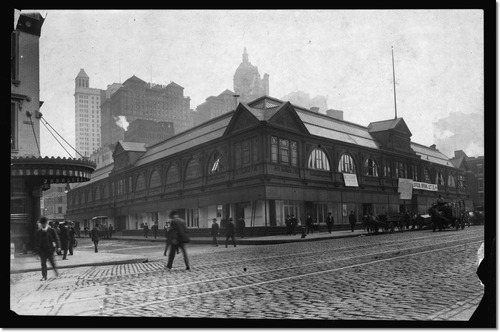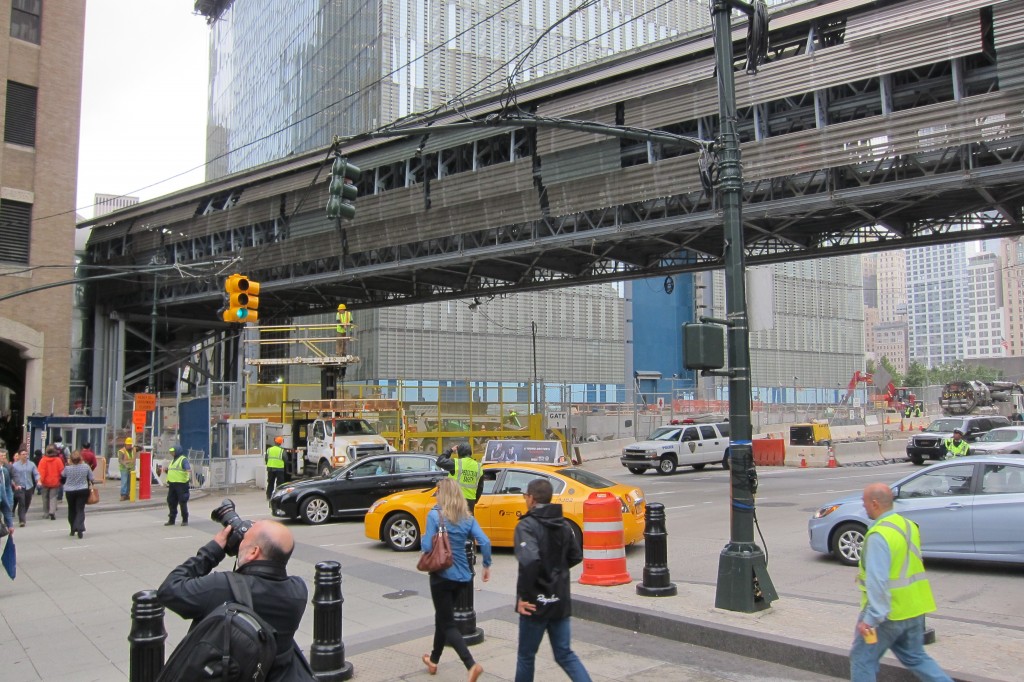 In the top photo we see the elegant Washington Market building of 1880 at the corner of Vesey and West Streets. It was built on the site of a traditional market that had been there since 1770. Washington Market was the largest produce market in the country and the epicenter of an international agricultural supply chain reaching from small farmers the world over to consumers all over the northeast. In this photo you can see the Singer building in the distance (now demolished for a black glass and steel high-rise tower).
This bottom photo is taken in 2013 on the same spot, looking in the same direction, showing the same site now. What you can see is the "Freedom" tower and the bridge across West Street leading to it.
Washington Market and the neighborhood around it was an unqualified economic success for small business, for farmers. It favored the kind of small-scale capitalism you read about in Adam Smith. The "produce men" had their own banks and were behind the launch of the mercantile exchange. Nonetheless, the market did not survive the will of bigger capital. Using eminent domain, the market was destroyed as part of the Washington Street Urban Renewal Plan created by David Rockefeller's Lower Manhattan Development Association (precursor to the current LMDC). The market was moved to Hunt's point over the protests of the people involved. Radio Row and Little Syria were also destroyed as well as much of what is now Tribeca. The World Trade Center was built on its site and now the current Freedom tower.