Update on the Shenanigans at 172 Duane and the Fate of Duane Park
Over the summer there was a neighborhood uproar on Duane Street over a glass building to be cantilevered on top of 172 Duane. The truly awful solipsistic glass design (completely anti-contextual) had the full approval of the Bloomberg Landmarks Preservation Commission who, in a phrase out of Orwell's Animal Farm, claimed it was a mere "rooftop extension."
Here is a photo of what was approved.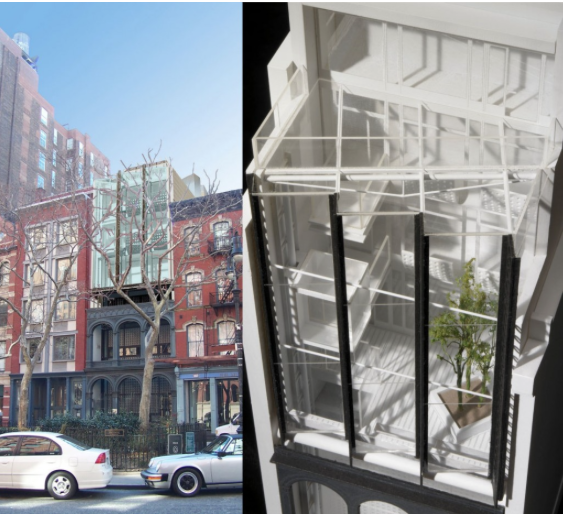 However, various things happened since August which are of great interest.
The project was abandoned at the Department of Buildings and we have no idea what is going to take its place. We are, of course, checking from time to time.
The architect of the glass 172 Duane project did a scurrilous thing that we are trying to change. He tried to get Duane Park categorized as a "public place," not a "public park," a trick that would have allowed a bigger building at 172 Duane. How so? Basically, it would have allowed City Planning to consider Duane Street a "wide" street like an Avenue and thus take an important measurement from the 172 Duane curb line all the way across the park to the curb line of 165 Duane  –  rather than from the 172 Duane curb line to Duane Park. This is what would have allowed for bigger bulk for 172 Duane.
Tribeca Trust raised the issue with the Parks Department's legal team and historian, the Borough President, and the Landmarks Preservation Commission. The Parks Department seemed as disturbed as we were. We asked the Parks Department to begin the process of asserting their dominion over the space and make sure that Duane Park is correctly gazetted in the official map of the city at the Borough President's office.
We also told all concerned that the best thing would be for Duane Park (someday, if the world gets richer) to be extended to its original footprint (it was bigger prior to the 1940 Moses renovation) and the southern sidewalk restored.   And of course, we want the old Belgian Block pavers restored on the whole block.  The vast majority of Duane Street residents petitioned for that two years ago. The old pavers are they are all still under the asphalt and in great condition. It would seem a no brainer for the Department of Transportation, but they don't always listen to what the public wants.
But a new idea was thrown out to us.  Shouldn't Duane Street be pedestrian anyway except for deliveries, taxis, and the Patisserie's truck? What do you think?