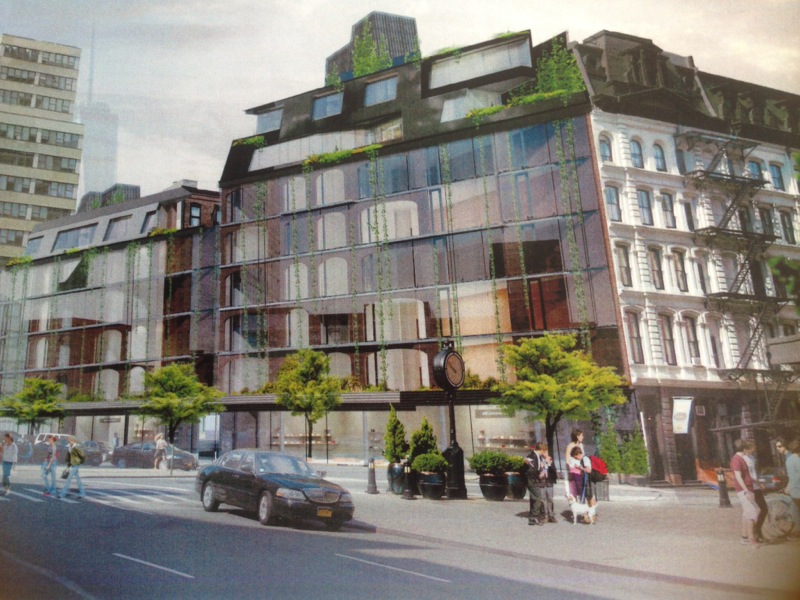 During the recent fight over the much-hated design
for the new buildings in Tribeca East Historic District at 100 Franklin Street, Jamie Gordon circulated a petition asking Tribeans to object to the design (a picture of which is above).  She later gave it to us to study.   The petition gathered just over 1200 signatures, 85% of which has Tribeca zipcodes or addresses note.  Just over 98% of the comments were pro-preservation and against modern glass buildings and high rises, while 1.4% were snarky "pro-glass" comments that were too nasty to reprint here.  In this posting, we share with you the comments of ordinary Tribecans, a page or so at a time.  Here are the first twenty.  Since so many mention the seemingly equally hated Jenga tower, there is a picture of that at the bottom.
  Too much glass in New York. Leave it out of Tribeca.
  This must stop now in Tribeca.
  56 Leonard Street should never have happened and this glass condo on 100 Franklin Street should not happen.
  It's too late to stop 56 Leonard but it's not too late to stop this proposed glass condo on the 100 Franklin Street lot.
  This project makes a mockery of landmark designation
  Please don't ruin the neighborhood!
  Zoning is there for a reason. No selling out to developers and destroying New York's neighborhoods, New York is special because of its character and history. Let's not turn it into another generic high-rise city.
  Please preserve the historical integrity of Tribeca's architecture.
  I have lived my entire life (more than 70 years) within the boundaries of New York City. I cannot believe we are still fighting big development. I thought we had turned a corner in favor of preserving historic treasures  and neighborhoods and that people had come to their senses in favor of fighting to keep our landmarks and unique neighborhoods. Developers are deaf, dumb and blind…
  The Developers have been systematically killing the very saleable thing about the downtown of Manhattan…its historic architecture, it's wonderful artists and creative people (who can no longer afford to live here), and turn the area into yet another tasteless, glass-filled neighborhood for tourists. If developers have no taste, education or appreciation of this wonderful area, then they shouldn't be allowed to even submit anything.
This is an inappropriate and dangerous plan.
 We already have a 60-story eyesore being built on Leonard & Church with the Jenga building– which the neighborhood opposed. Let's not spoil the complexion of Tribeca with another glass condo tower that is out of place in our area.
  Stop the greed. No to glass condo on 100 Franklin Street
  Stop this proposed Glass Condo development
  This design is entirely out of context with the Tribeca Historic District. A glass wall? How does that fit into the cast iron heritage of Tribeca?
  Don't sacrifice the beauty and the history of Tribeca that the world has come to love and cherish, merely for real estate developer's profits.
  Please preserve Tribeca's integrity
  Developers are trying to build al historically inappropriate glass condominium between White Street and Franklin Street. Let's not sacrifice Tribeca's history for real estate developers' profits!
  We have all adhered to zoning restrictions in our area, and their enforcement is the reason we decided to live here. Do not trump the rules for the short-term profit of one person!
  Please don't give in the Developers, preserve TRIBECA!