---
One Last Chance to Defeat the Up-zonings: Mark Your Calendars
The City Planning Commission is having a meeting on February 3 at 10:00 a.m. at 22 Reade Street.  Members of the public are not allowed to speak but they can watch the commission take its own, internal vote on the much-hated city-wide zoning proposals.  These proposals are widely seen as a "give-away to developers".  Here is the background: window-dressing changes have been made to the proposals called "ZQA" and "MIH" – changes meant to acknowledge the fact that the overwhelming majority of community boards voted against these proposals. The changes don't change much but give cover for the politicians in the City Council to claim, in Orwellian-speak that they have managed to turn a terrible idea into a "reasonable" one.  The vote might be painful to watch if you have even a iota of idealism left in you. After the vote, the proposals march on relentlessly to City Hall.  See the bullet point below.
Come one, come all!  Turn out February 9th, 9:30 a.m., at City Hall itself, for the City Council hearing on the hated up-zonings. Take the day off work.  Let the City Council know, in person, with two-minute testimony, what you think. Councilmember David Greenfield will be presiding and texting the whole time to show his contempt for those who disagree with the Mayor on this.  That was his M.O. over the hearings on another bill (775 that affected the Landmarks Preservation Commission) so be prepared to watch him noodling on his cell phone while you testify.  But don't be afraid. He is just a City Council member.  They come and go, remember, voted in and out by you, the public.  Wondering what to say to the City Council?  Try this:  we are tired of the destruction of neighborhoods, the whole process is flawed, and that we will not re-elect those who are selling out the future of New York to benefit a bunch of big real estate developers.  We want politicians who will help us fight for a build-out a human-scale city that respects our historic fabric.
---
 More Proof of Why We Need a New Law Imposing Contextual – and Neighborhood Specific – Height Restrictions.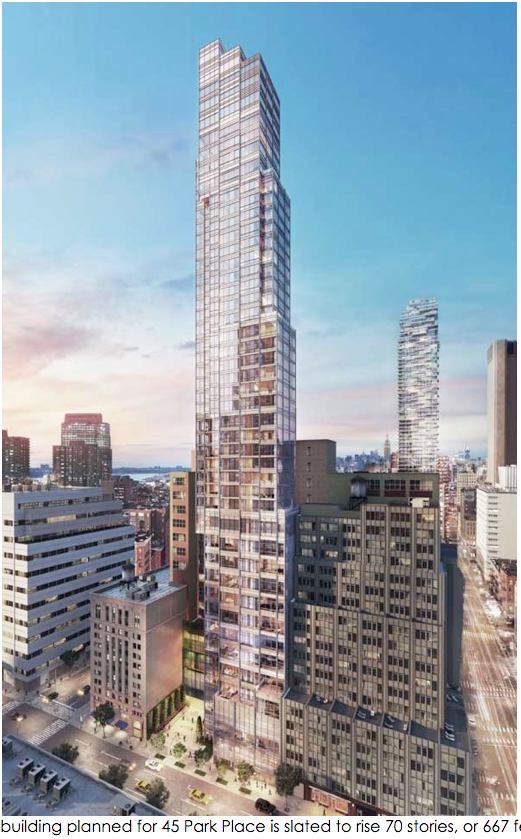 Earlier this week reporter Matthew Fenton, for Broadsheet Daily, provided a disheartening round-up of the excessive number of hyper-tall skyscrapers coming up throughout Lower Manhattan.  He rightly pointed out the potential congestion these buildings would impose upon our neighborhoods.  "Whether the capacity to deliver services like transportation, police protection, healthcare, and (above all) education can be stretched to encompass a population that appears likely to grow by many thousands in a few short years is, at best, uncertain."
It's not just congestion.  In the rendering above, note that the site of the tower was the former Burlington Coat factory, a building that architects, historians, and neighborhood residents begged to have been put into Tribeca East Historic District. In fact, a former Chair of the Landmarks Commission was willing to landmark the Burlington Coat Factory and even said so once to one of our civic leaders.   But it was demolished.  Too much real estate pressure on the Landmarks Commission is the usual reason given.
Note as well the ugly and useless public private plaza at the foot of the building.  That should be stopped as it serves only it give the building extra height and does nothing for the public.  In fact, we need to change the rule that allows such a plaza to exist.  In fact, we need four specific policy reforms:
 a downzoning when there is historic fabric at stake and a temporary, 4 year moratorium or "waiting period" on demolition of historic fabric
must tighter restrictions, if not a ban on transferable development rights, known as TDRs. This market for TDRs is having unintended consequences on the public realm and needs dramatically tighter restrictions
a ban on zoning lot mergers that are used to create taller, out of context buildings
Contextual height limits, specific to each neighborhood, that respect the historic fabric of the city.
Park Place is a perfect case study of why these four zoning rules make sense. Park Place was all historic fabric not 10 years ago.  Now it is gone, wiped out by hyper-development. And the city is not better for it.
To read the full Broadsheet Daily article about the developments in Lower Manhattan, click here.
---
Leonard Lopate and Michael Kimmelman:  "It's a Tussle over the Soul of New York"
Leonard Lopate of WNYC radio recently interviewed Michael Kimmelman, the architecture critic for the New York Times. You can listen to it here. Kimmelman is vaguely sympathetic to some of the issues shared by the advocates of a human-scale city.
Lopate asked all the right questions, showing he is doing a great job of keeping tabs on what is going on in our over-developed frenzy of a city.
Here are some great quotes extracted from what was a high-minded and interesting interview.
"They all look like they come out of the same kit." (Leonard Lopate on all the new condos going up everywhere)
"He's been nice to developers" (Kimmelman talking about De Blasio, in what might be the understatement of the week for this round-up) "
"I'm not sure it's the best strategy [De Blasio's affordable housing approach], it obscures the importance of building neighborhoods." (Kimmelman understated again, as the word "destroys" might better describe what is going on)
"It's really a tussle over the soul of New York." (Kimmelman answering a question about the possibility of height restrictions, with the word tussle once again understating the degree to which REBNY is at war with the historic city.)
"Most architecture is not Architecture with a capital A." (Kimmelman again).
"The streets are dead where those buildings are." (Lopate referring to the street-killing effect of many tower buildings.)
"It's a nondescript tall building that you can't miss." (Lopate on the "Freedom Tower").
I was intrigued to hear that Kimmelman did (kinda) come out supporting public discussion about regulating viewscapes and the skyline, but I think he missed the larger point: the sky itself needs to be asserted as an asset of nature that is in the public domain, not the private property of developers.
---
The East Fifties Alliance and the Rezoning of their Neigborhood
The East Fifties Alliance has been fighting a hyper-tall, 1000 foot tower that will both destroy historic buildings, block a lot of people's views, and cast immense shadows.  Their approach to the crisis was straightforward.  They raised a lot of money to hire zoning specialists and an attorney.  The team of hired guns was  charged with coming up with a rezoning proposal of their own that the neighborhood could stomach, all at breakneck speed. The final proposal has been announced with great fanfare.  It would increase buildable area "as-of-right" but would also impose a height restriction. Councilmember Ben Kallos championed the proposal and so did all the other relevant elected officials.
But is it really a win?
On the one hand, it might stop the crazy super-tall towers from coming up in that neighborhood (hurrah!), and it is wonderful that a politician is responsive to the neighborhood (go Ben Kallos!), but it still allows a lot of out-of-context towers to come up and doesn't really deal head-on with the problem of merging adjacent property lots and stacking air rights from a whole block on top of one building. Unless it does that too, it may not clearly protect neighborhood character, which is tricky, given that the area has already suffered significant over-scaled development.
So is it a model for the rest of the city?  On the upside, it might be a model of process of politicians and specialists working with communities to stop the most egregious of types of development, but I have concerns. How many neighborhoods can raise that kind of money to hire consultants to fast-track a zoning proposal? Also, it is unclear to me how exactly this differs from the current ZQA and MIH proposals that the Mayor is pushing through.  More informed readers, please explain.  And then there is this puzzle:  in the renderings shown below, it looks as if the up-zoning they request is ignoring much of the historic fabric and even shows some of it as demolished in the new zoning plan….Look at the low-rise townhouses where it says E 57th St."  In the after rendering those are demolished.  Surely that is just a mistake  in the rendering?  As we know more, we will report back.
Meanwhile, you can study the "before"and "after" renderings of the neighborhood. The first is an illustration of the neighborhood as it is now.  The second shows how it might look built-out under the new up-zoning combined with a height restriction that the East Fifties Alliance proposes.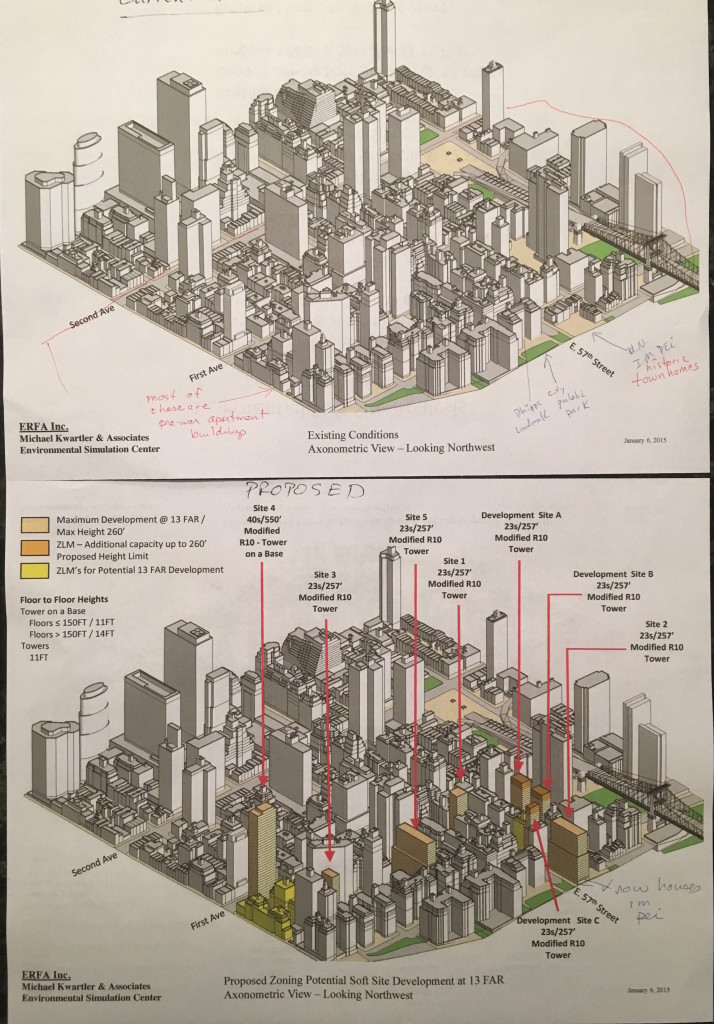 ---
A Rare Case of the Right Kind of New Development…Really! 
David Dunlap, for the New York Times, recently discussed the plans for derelict farm land in the middle of Staten Island.  Purchased from the city for $1 by developer Raymond Masucci, the 45-acre lot will now be turned into "Landmark Colony" – an affordable housing and public park space.  Led by V+B architecture/urban planning and Tribeca's own landscape architect Nancy Owens Studio,  the area will see adaptive reuse of existing materials, historic restoration of existing buildings, and new architecture that will be a modest 6-stories and in sync with surrounding landscape.
"At a cost of about $91 million, Mr. Masucci would rehabilitate five remaining buildings on the site, tear down five others and preserve a 112-year-old men's dormitory as a stabilized ruin. He would also construct three six-story apartment buildings and 14 multiple-unit townhouses, some with built-in garages, for a total of 344 condominiums. They would start opening next year."  The new construction is not architecturally glorious and one could quibble with the streetscape, but it hits the right scale and density for the area. Here are some renderings.
To read the full New York Times article, click here.
To read more about the architects and planners, click here.
---
Eyesore of the Week (and why we need height restrictions)

Long Island City is now staring down the development of yet another monolithic glass tower with no unique attributes.  This one is done by architects working in the firm with the twee and pretentious name of "SHoP."  (Why do so many architecture firms feel they have to play with fonts and capitalization?)
Take a look.  The building is just one more bullying extrusion of glass curtain wall imported from China, a corporate nada that mostly hits us over the head with its size.  This eyesore is also attempting to get around zoning laws: the area is currently zoned for manufacturing so the builders want to change that.
That raises the question: why is the city is just giving up without a fight to save manufacturing space?  On the one hand it rehabilitates some factory areas for manufacturing use as reported last week, but then randomly abandons other manufacturing areas of the city (such as this one) to global real estate capital.  Is there any planning going on at all?  Condos may be "highest value use" right now in zoning terms,  but it is condos everywhere is also short-sighted from a public policy point of view.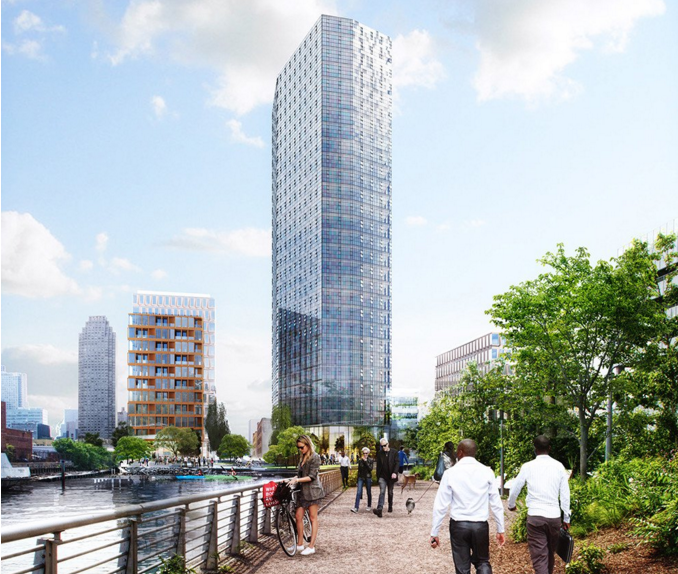 Image courtesy of 6sqft.com.
To read the full article about development in Long Island City, click here.
---
Mysteries of the Mall: Save the Date
1. On February 3rd Landmarks West is hosting a book talk featuring Witold Rybczynski.  He will be discussing his latest book "Mysteries of the Mall: And Other Essays".  Landmarks West calls it, "a deep exploration of modern life that examines our cities, public places, and homes."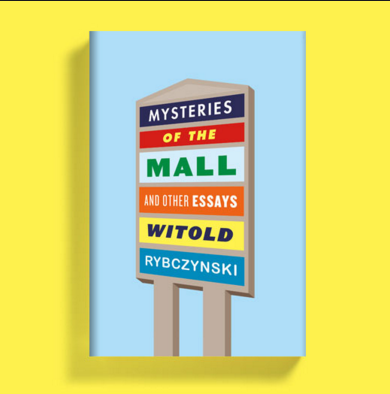 To RSVP, or read more about the event, click here.
---
Just Because You Can, Should You? Save the Date for a Talk About the Perverse Rules about Modifying Buildings in Historic Districts
On Thursday, February 11th the Historic Districts Council is hosting a cocktails and conversation event with their  board President, architect Dan Allen and Executive Director Simeon Bankoff.  The evening will present a discussion on, "how should advocates evaluate the core preservation issues underlying proposals to change historic buildings?"
To RSVP for this event, click here.
---
Slimmer and Taller, Any Excuse to Go Higher
A building on Madison Avenue is being restructured to be "slimmer" and taller.  The building in question is at at 390 Madison Ave. It was originally built in the mid 20th-century, using dark glass and a wider base. For new developers, it was an opportunity to continue building upwards with little regulation or resistance from the city.
The new construction on the building will work with the existing structure, though it will be updated for a more "modern" clientele. This includes replacing the darker glass covering the building with lighter glass in what will be floor to ceiling windows, slimming the building by cutting the sides, adding eight stories to the top, and putting higher ceilings into the new floors.
But what does adding eight stories really mean? For the developer and architect, it is "a great story of adaptive reuse" which sound like a mis-use of the phrase.  For New Yorkers it means we will have less sky, more shadow and more darkness since we are handing the sky itself over to Big Real Estate.
---
South Street Seaport Advocates Discover A Secret Plan of the Howard Hughes Corp
The Friends of South Street Seaport (FOSS) uncovered public documents submitted by the Economic Development Corp. (EDC) and Howard Hughes Corp (HHC) that show an intent t0 build a mixed use project at the landmarked Tin Building at the South Street Seaport. These plans have long been denied by EDC and HHC.
When confronted by the FOSSS, HHC and EDC denied the plans and stated that the mixed use building had been submitted under deadline pressure and that they were not currently under consideration. Unimpressed with that answer, FOSSS has called for more transparency in the process of development, especially when it comes to building plans that will over-development a historic neighborhood.
FOSSS is insisting that the Office of the Deputy Mayor Housing and Economic Development conduct an environmental analysis of the area under consideration to supplement the plan submitted by HHC. The plan submitted by HHC was done with no consultation and is widely though to be embarrassingly inadequate.
To learn more, visit http://www.friendsofsouthstreetseaport.com/
---
For the weeks ahead, we will be pausing on the round-up formula of this newsletter in favor of some short essays on the issues behind a human-scale city….with pictures.