1.  Secret Film Series in a Tribeca Chateau during May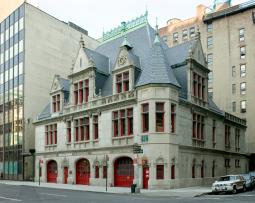 James Sanders is a Tribecan and a founding patron of Tribeca Trust who lent his name to our cause (thanks James!).    He is an architect and co-producer with Ric Burns of the PBS Documentary "New York:  A History".  James collaborated with the Historic Districts Council (Tribeca Trust's fiscal sponsor) to put together an under-the-radar, secret film series entitled, "Life in Reel New York".  James is a serious researcher of how New York is portrayed in the movies.  This series highlights early depictions of New York streetscapes.  You will get to see New York as it once was.  Events are on Monday evenings in May.  The iceing on the cake is that the films will be screened in the landmarked Downtown Community Television Center at 87 Lafayette Street, a spectacular "chateau" in a stretch of Tribeca that merits inclusion in Tribeca East Historic District.
May 6:  An Illustrated Lecture by James Sanders followed by the 1948 Documentary, "In the Street" about life in Spanish Harlem.   6:30 p.m.
May 12:  "Street Scene" a black and white film from 1931 by King Vidor.  6:30 p.m.
May 20:  "An Unmarried Woman" filmed in the Soho Cast Iron District.   6:30 P.M.
Tickets to each film are $10.  For more information and to purchase tickets go here.
2.  Spybeca!  A Spring Scavenger Hunt with hefty Prizes, May 3rd
Designed by our community service teenagers for the teenagers and f amilies of Tribeca.  Saturday May 3rd, 12:30 p.m.    Get your clue sheet from the high school community service volunteers of Tribeca Trust at Hudson and West Broadway between 12:30 and 1:30.  The hunt is our way of celebrating the international Jane's Walk Day, a annual day in honor of Jane Jacobs, West Village mother, nemesis of Robert Moses, and author of "The Death and Life of Great American Cities".  Come on out with your friends and family to explore your neighborhood with new eyes.  Win a chance at $100 gift card at Barnes and Nobles (among other prizes)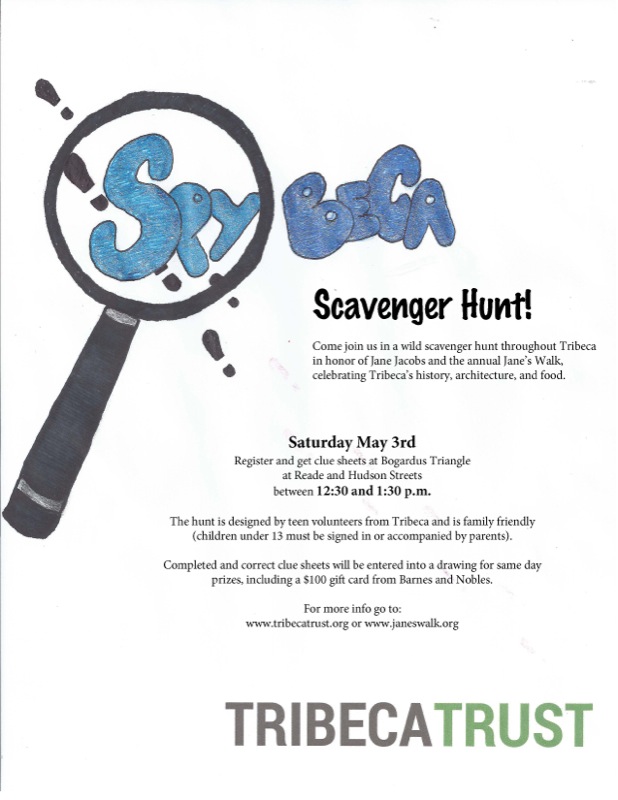 3.  Find us at the Tribeca Film Festival Family Day April 26th, buy your copy of "Texture of Tribeca"