by Robert Ripps (Tribeca resident, father, photographer, and board member of Tribeca Trust)
Last weekend was the 12th annual Open House New York weekend, a great citywide event that lets ordinary people get into some extraordinary spaces, and see some amazing things, ranging from normally off limits architectural gems to a state of the art wastewater treatment plant to contemporary artists studios.
The first place I visited was Manhattan Borough President Gale Brewer's office on the 19th floor of the century old Municipal Building, itself an architectural gem which provides great views of eastern Tribeca & midtown. There, after a greeting from Ms. Brewer herself, we found ourselves in a large room with many detailed maps, mostly dating from the early 1800's. Included was a original of the 1811 Commissioners plan, maybe 10 feet long, hand drawn of course, outlining the street grid soon to be imposed upon Manhattan from Houston to 155th Streets.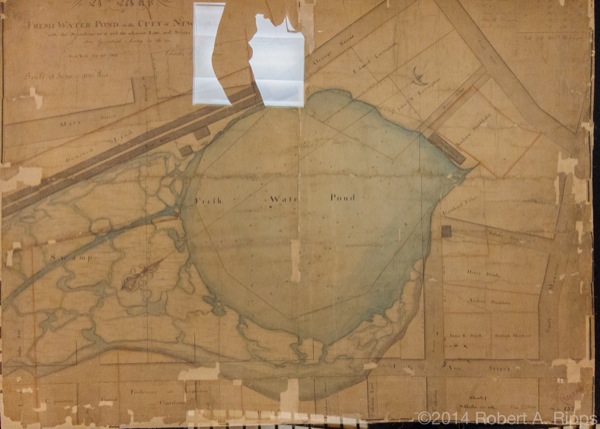 My son Max, who accompanied me, is a huge NYC history buff (and majors in history at HSAS) . He was duly impressed, and loved comparing the detailed maps that showed the locations and names of "current" land owners, who where about to be chopped & gridded. Kips ahoy!  We also loved the old map of Collect Pond, showing it in great detail before it was finally filled in and became a part of the five points "slum," part of which is where the Criminal Courts Building now stands.
My other tour, on Sunday, was of the Empire Stores in DUMBO. Built starting in 1869 with additions in 1885, and located along the waterfront, the series of attached warehouses used to store mainly coffee, before being abandoned over 60 years ago. It is now being restored and repurposed to house technology based offices, shops and some amazing public spaces, with priceless views of lower Manhattan.  Many period details, like shutters, coffee bean slides and other coffee apparatus are being carefully saved, restored and repurposed in the final design.  As part of the restoration, foundations are being replaced, concrete floors are being repoured- or in some cases, installed for the first time. The original west coast timber columns are still solid enough to hold up the structure, although some bases have rotted from decades of water being drawn up into them from the wet ground. Schist walls are being left unexposed, and will form the walls of many of the spaces.  After donning hard hats (and signing releases of course), we were allowed to enter the most finished section, where we could see the interior with its stone and wood supports up close. We were shown where a huge atrium had been cut up to the top of the structure, and told how all the old wood and other materials would be reused elsewhere whenever possible. All in all, it was a pretty amazing space, with a real sense of history and atmosphere, almost sacred like a great European cathedral. Enjoy the slideshow below of the Empire Stores.