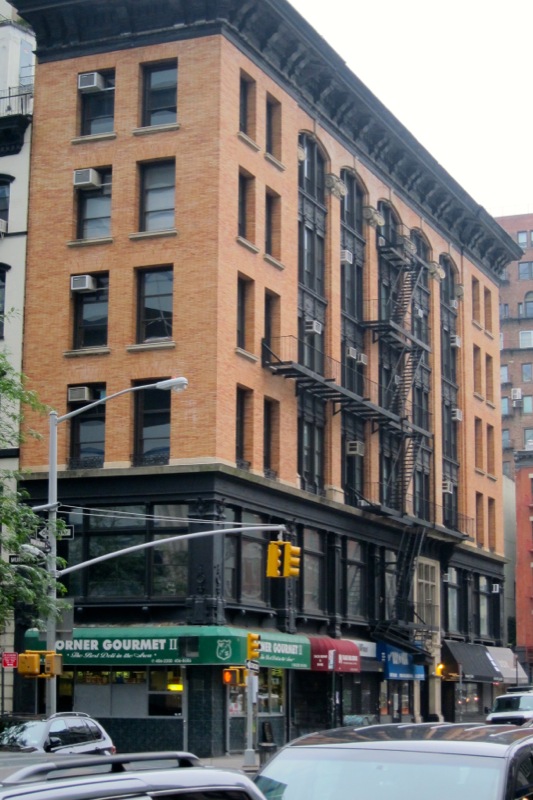 Great American Vernacular Architecture
"The Gibbes Building"
66 West Broadway, NYC
Block 132 Lot 1
NB 975-95

Prologue
Rumors always fly in Tribeca. One that resurfaced recently (via a parking lot attendant) was this: the Gibbes building would be torn down and replaced with a 60-story modernist hotel. Panic all around of course. It was unfounded. This being New York, rumors like that are so easy to believe, after all.
In this case, it would have been a tragedy, as the Gibbes Building is one of the most outstanding examples of vernacular 19th century architecture in Tribeca. It deserves individual landmark status.

The Mystery
The Gibbes Building rose up in 1895 at the northwest corner of West Broadway and Murray Street. At that time, it was in the middle of a neighborhood filled with hardware, pottery, and printing businesses. We know who designed the building, but we don't know who the Gibbes family is. Does anyone in Tribeca know anything about them? Their name is literally attached to the building. Notice their name in beautiful script over the door and the charming initials (G and B) on the decorative plant guards along the 3rd floor windows. A reasonable guess is that the building might have been a special order for the Gibbes family of Charleston. They were a very wealthy cotton trading family with a substantial business in New York and might well have moved cotton between the wharves and the textile businesses of Tribeca, or perhaps they just needed a New York headquarters. The suggestion is not implausible. One of the Gibbes heiresses even ended up in NYC where she married and summered in Newport. When she died, she left a substantial part of her legacy to start the endowment of Barnard College. Was the Gibbes building part of her assets? Someone needs to trace the property rights to uncover that nugget of information. But maybe a Tribecan already knows and will tell us.
Prior to 1895, we are not sure of the size or character of the building on the site. Whatever it looked like, it most likely burned down: in 1871 The NY Times reported a fire at 63 Murray Street. The fire spread to the neighboring buildings at 62 and 65 Murray Street. Numbers 12 and 14 College Place were also damaged in the fire. At that time, 65 Murray Street had been occupied by a confectionary manufacturer, a paper warehouse (which contributed to the fire damage) as well as the Quackenbush Hardware merchants (note that there are Quckenbush Hardware companies all over the country, as well as in Queens and upstate NY, so it is intriguing that one started here). There may have been a small building erected between the time of the fire, 1871, and the time of the Gibbes Building, 1895.

The Occupants

In 1895, the Real Estate Record (Feb. 2, vo. 55, #1403) reports that a the new building at 65 Murray St. was to be built by the owner, Horace S. Ely of 62 Cedar Street. It listed William Bloodgood as the architect. The article announces that it will be "7 story stone and iron fire-proof store and loft building. The structure will contain elevators, steam heating equipment, electric wiring and fixtures, structural, architectural and galvanized ironwork, iron shutters [nowhere to be seen now], and sanitary plumbing". As we shall see later, the mention of fireproofing is historically significant.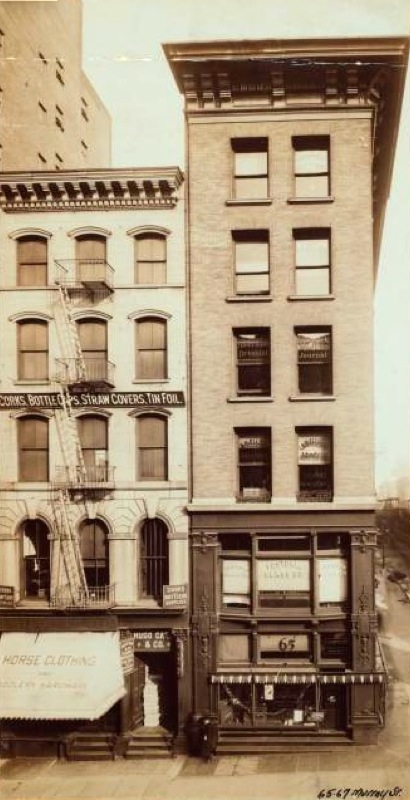 The building was quickly rented to a variety of businesses: a crockery business (the whole area was known back then as the crockery district), publishing enterprises, lawyers, candy manufacturers, and a variety of professionals. The well-respected New York Medical Journal had its offices and editorial rooms there. The current occupants are similar: an eclectic group of small, independent "shingle on the door" professionals keep offices there, the kind of professionals we hope stay in Tribeca.
The building was sold in 1920 to Max Marx who is reported to have had the intention to fix it up and sell it. He bought it through Charles Noyes, an investor and broker who worked the Washington Market and Civic Center area hard. He had holdings all over Tribeca. Noyes was selling it on behalf of St. Luke's Hospital, who itself must have purchased it just a few years prior. When Marx bought the Gibbes Building, it had a rental income of $40,000 a year. The NY Times reports: "it is by far the finest office building in the neighborhood and the headquarters of many prominent crockery firms. The facade of this building as has been largely copied in this and other cities owing to its graceful lines with perfect light arrangement." Tribeca Trust would like to know where this building was copied! If anyone knows details, please contact us.
A tenant of note in the 1930's 2nd floor space was the Aquarium Stock Company. The press described it as the largest aquarium store in the country. It made headlines in 1935 when it brought a large octopus from the Caribbean to its showrooms and managed to turn the showroom into a bit of a tourist attraction. The octopus did not live long but the company thrived. The company eventually decamped (after another nearby fire) to neighboring 27 Murray Street and then Warren Street. It continued to be one of those large, "only in New York" type of businesses popular with tourists and children. The Prince of Japan and his wife, an avid collector of tropical fish, visited New York in the early 60's and specifically asked to visit the showroom on Warren Street. Note that the Aquarium Company remained on Murray Street until 1977. Does anyone have photos of it?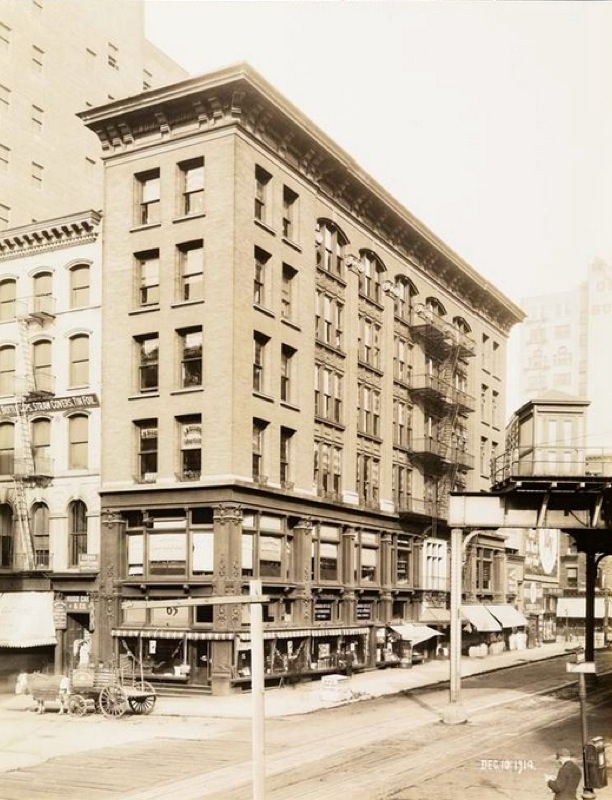 The Architects and Masons of 66 West Broadway
Easier than the Gibbes family to track down are the Bloodgoods; an unheralded but gifted clan of masons and builders. The Bloodgoods are credited with many great buildings in NY (see Andrew Dolkart's note at Avery Library).
The Bloodgoods began their careers as masons and building contractors but in later life attained the status of self-trained architects. This came in the form of William E. Bloodgood who designed (and built with his relative, Freeman Bloodgood), the lovely Gibbes building under consideration at 66 West Broadway.
The Bloodgoods were an old NY family – known for longevity [sic], dating back to the Dutch period. A group of them lived with or worked with Matthias Bloodgood in 1838 at 101 Wooster Street in NY. There, and in Brooklyn, they thrived for at least three generations as masons, builders, contractors, and architects. Matthias's brother was the younger Freeman Bloodgood. Freeman had a son, Freeman Jr. William Bloodgood was likely a cousin of Matthias. William had a son, named William Jr. The Bloodgood clan collaborated with many architects and engineers for many an important building in NYC (ex, The Cable Building). William E. Bloodgood for a time partnered with Freeman under the name "Bloodgood and Bloodgood".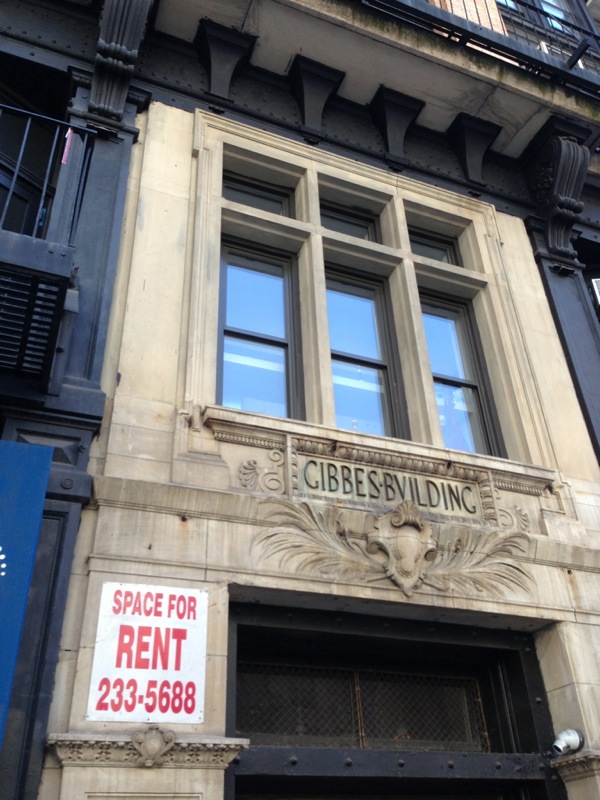 City Directories show William E. Bloodgood first listed as a mason, then later as an architect. His offices were variously at 149 Broadway (as a mason), 16 West 12th Street, (as a residence) and 8 York Street (as an architect) and later with a residence at 251 West 92nd Street.
According to the History of Union County, New Jersey, Vol 1) William's cousin Freeman Bloodgood Sr. moved from New Jersey to New York in 1838 to learn the mason's trade. Freeman moved in with his older brother Matthias at 101 Wooster Street and later 140 Wooster Street. Note that his brother Matthias died at aged 88 in 1890 and is credited as the builder for the People's Bank at 395 Canal Street (now demolished), the Collegiate Dutch Reformed Church at Fifth Avenue and 48th Street, the Dutch Reformed Church at Fifth Avenue and 29th Street (for details see Matthias's obituary in The New York Times, page 5, Jan. 6, 1890, where he was also noted as the former President of the famous Mechanics and Trader's Society).
In 1880, Matthias Bloodgood in his hat as the President of the Mechanics and Trader's Society approached Charles Mettam "an architect and holder of several key patents in cast iron construction design" and William J. Fryer, an architect and inventor of a fireproof chimney flue. His idea: totally revamp New York's building code. The trio agree to work together. Their policy partnership was successful and the direct cause of 1885 remedial legislation in New York to improve fireproofing. The Gibbes Building – built 10 years later – thus has a close connection to the Bloodgood's thinking about fireproofing.
Freeman Bloodgood built 204 Chatham Street (now Park Row) [demolished], 203 Fulton Street [demolished], the Berkley House at the corner of Fifth Avenue and Ninth Street, the Potter Building at the corner of Astor Place and Lafayette Street, the first fireproof store known as the James L. White building at the southeast corner of Franklin Street and Broadway (a landmarked cast iron structure), the auction house of Brown and Secomb at the corner of State and Bridge Streets where the new Customs House stands, the A.H. Hatch Building on Greenwich Street near Beach Street (tragically demolished during urban renewal of the Washington Market area), and a large and conspicuous building on the east side of Greenwich Street between Harrison and Jay Streets (this most likely to refers to the Bazzini Building or its immediate neighbor to the left) (See history of Union County book noted above).
Both William and Freeman Bloodgood served as officers on the executive committee of the renowned General Society of Mechanics and Tradesmen of the City of New York, as had Matthias Bloodgood.
William Bloodgood is listed as the architect for landmarked 334 Canal Street, and was credited with making plans for "erecting a brick and stone foundry in Dubois, PA as of Dec. 15, 1900". Bloodgood also had contracts in 1903 to build a basement store and tenement in Jersey City at 109-201 Morgan Street. And in 1898 (May 14), Architecture and Building published drawings for a stylish residence in Upper Montclair for S.P. Kobler, Esq., in which William Bloodgood is no longer a mason but a full-fledged architect practicing at 64 Cedar Street. He is also credited with various masonry apartment buildings such as the Fitzgerald Condominium built in 1921 before retiring to New Jersey.
William Bloodgood is also thought to be the architect for the now-demolished Central Baptist Church at 92nd Street, and West End Avenue. The evidence for this is an 1895 photo of the church on the Upper West Side. Does anyone know where we can find such a photo? Although the finding has been challenged, it is certainly plausible: the Central Baptist Church had its origins in what is now Tribeca on Laight Street in 1842 and William Bloodgood was a lay Deacon of the church, and at that time, a nearby resident of the block up at 92nd Street. It makes sense he might have lent his architectural skills to that church [citation of Christopher Grey's article in The Times].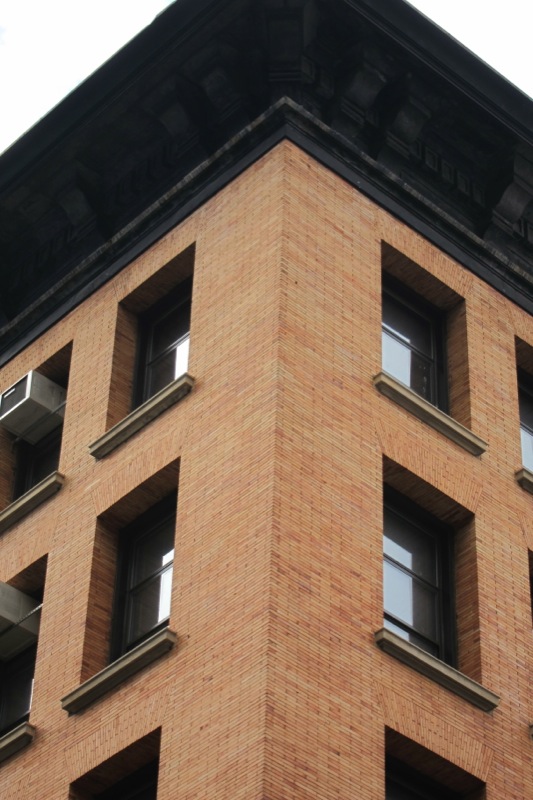 The Design of the Gibbes Building: Masterpiece of Vernacular NYC Architecture
The masonry work on this building is remarkable. It is clear that the Bloodgoods knew how to work in brick. It is a showpiece of restrained, elegant taste and craftsmanship. It conveys both lightness and gravitas, beauty and solidity. The bay windows, the composition of steel, brick, and glass on the first and second row are thoughtful in the extreme. The iron grillwork with the initials G and the Gibbes name over the door are obvious inspirations for a similar stylistic flourish used at the neighboring "Gerken" Building just a block north. The Gibbes building features a beautiful cornice that is wide and solid with unusual curved braces. Rather than attempt in words to describe the visual experience, here are more photographs. To see for yourself, go to the restaurant "Saleya" on West Broadway and sit by the window. You'll have the best seat in the house to admire a great undiscovered treasure of Tribeca, one that merits landmark designation.

Epilogue:
The Gibbes building is (astonishingly) NOT a landmark. Neither is it in the Tribeca South Historic District. If you think it should be, help us! Write to landmarks (fill out an email form here: http://www.nyc.gov/html/mail/html/maillpc.html) and tell them that 66 West Broadway merits inclusion in Tribeca's historic districts.