---
A Call to Action for Supporters of the Human-Scale City  
A Picket at the REBNY Gala in Midtown on Jan 21st, 6:30.  Please come. 
Is your neighborhood  harmed by reckless and out-of-scale real estate development?  Are you troubled by the tall towers shadowing Central Park?  Are you outraged at the way unregulated air rights transfers keeps allowing Big Developers to dump immense towers in low-rise neighborhoods?  Has the city ignored your neighborhood's pleas for a community-led development plan?  Do they dismiss your efforts to get historic district protections?   If so, then join those who have decided to do something about it.  Here is the press release for an upcoming demonstration.
Press Release for the REBNY Picket Reads as Follows:
"The annual  banquet of the real estate industry's most powerful lobbying group, the Real Estate Board of New York (REBNY) takes place on January 21st, 2016 at the New York Hilton, 1336 6th Avenue at 6:30 p.m.
Every year politicians in New York City and Albany flock to this gala to rub elbows with the city's most powerful lords of real estate.  How can they resist? REBNY's massive political action committees have long funded politicians both in New York City and Albany.  
This year to protest the undemocratic and unregulated links between politicians and the real estate industry, community groups across the city will be picketing in front of the entrance to the gala at the Hilton.  They demand community-led planning and zoning, height restrictions, protections against displacement and hyper-gentrification, a relaunch of the Moreland Commission Against Corruption and an end to the government procedures that allow the real estate industry such outsize influence on city government. Groups include members of the Coaltion to Save Chinatown and the Lower East Side, the Brooklyn Anti-gentrification Network, the South Bronx Community Congress, and individual groups from New Yorkers for a Human-scale City. 
Bring signs depicting issues specific to your neighborhood.
For more information:
juliomunoz@earthlink.net, 646-322-6698
---
If you can't come to the picket at the Hilton, here are two things you can do.
Read and sign the petition for a human-scale city here.
---
Can't Picket, but Want to Learn about Plutocracy?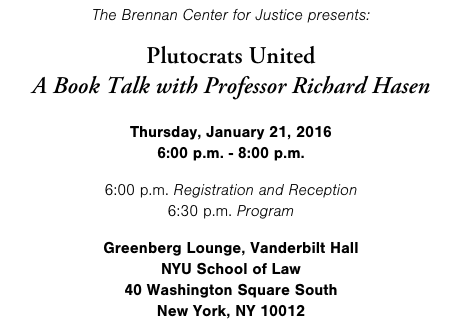 For more information, and to RSVP to the event, click here.
---
Saving the Slave Theatre in Brooklyn
On January 15th, there was a rally to save the Slave Theatre in Brooklyn.  We found out about it too late to announce here.  But you can read about the legal battle and imposing demolition here and here.  The flyer from their event is shown below.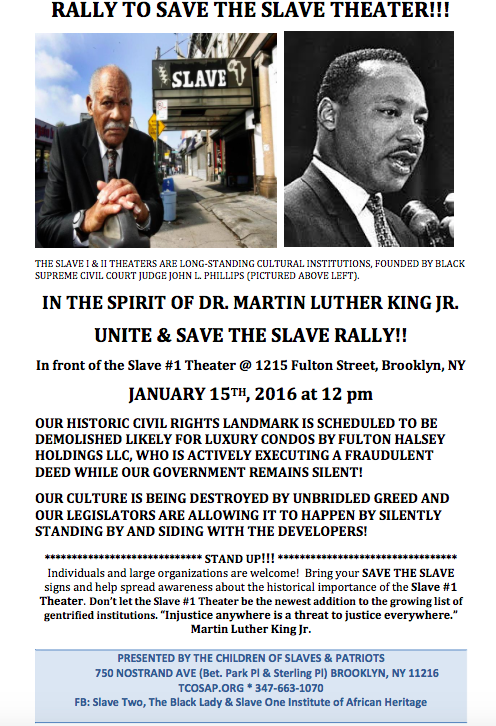 ---
Pulitzer-worthy research on Landlordism
The journalists from ProPublica are at it again with their Rent Racket series.  This group of heroic, investigative journalists, who deserve Pulitzers, have been documenting the legal and illegal ways landlords manipulate the law and undermine rent stabilization.
To read their latest article, click here.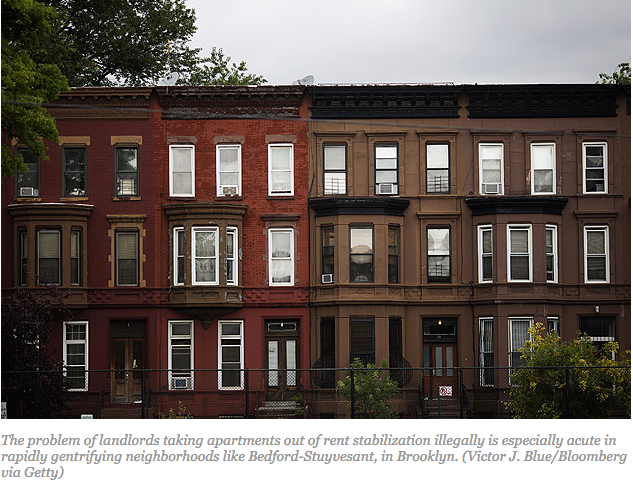 ---
Good News #1 Of the Week:  Manufacturing not Dead and the City can Act in the Right Way, if it wants to
This is a story in which the Economic Development Corporation did something right (for once) and renovated the great Cass Gilbert warehouse  in Brooklyn as a center for high-tech and manufacturing.
To read the full WSJ (paywalled) article, click here.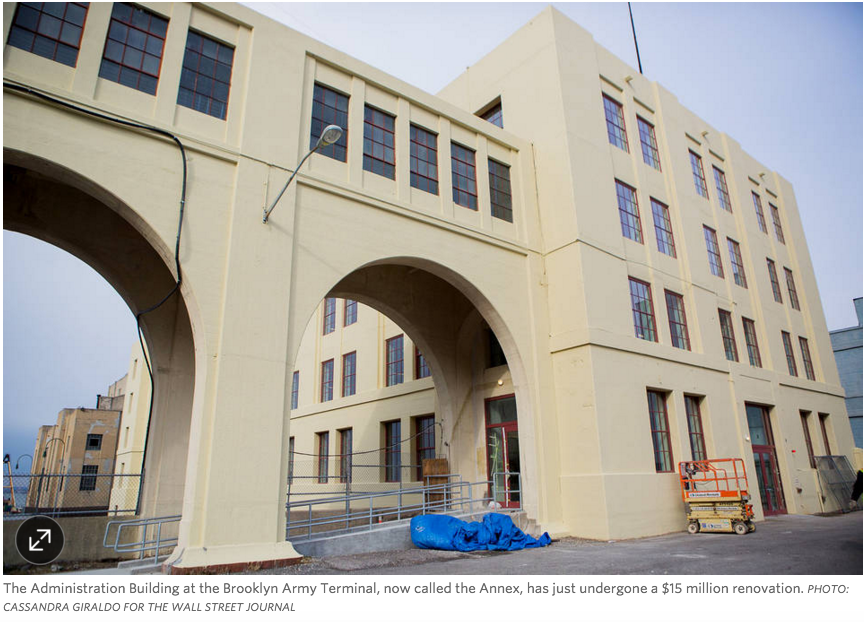 ---
Good News #2:  The US Treasury Department will track money laundering via real estate investment
We all know that too much of the high-rise, luxury condo market is being fed by international real estate capital, which needs to be regulated.  It is how oligarchs and vague "limited liability corporations" needlessly ruin our skyline, our city, and drive up real estate prices.  Some of that real estate money is money that is searching for "laundering" so it is welcome news that the Treasury Department will be requiring new disclosure rules to track this money and possibly prevent laundering.  It is a step in the right direction.  To read the full WSJ article, click here.
---
Good News of the Week #3:  The Developers favorite Tax Break is Expiring 
The 421-a tax abatement program is a give-away to real estate development and has been massively abused to build luxury housing (like 56 Leonard) and juice profits for developers.  It was invented back in the dark days of the Lindsey administration.   The Wall Street Journal reports that the program now loses the city $1.26 billion a year.  At the Human Scale City, we think that pile of cash would be better spent  on 100% affordable housing units on a low to mid-rise basis throughout the city. So why would anyone morn the loss of this program designed for a different era?  We should be delighted.
To read the full WSJ article, click here.  And here is there great little graphic that went along with the article.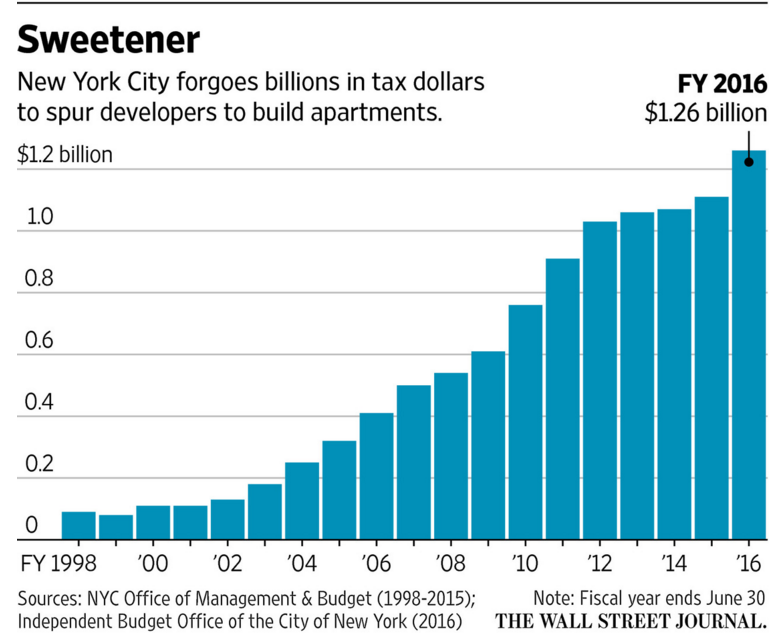 ---
Why We Need a New Moreland Commission:  No U.S. Charges Against Cuomo on Ethics Panel
The "Moreland Act" is a state law that allows the governor to appoint a special commission to investigate corruption.  Governmor Cuomo took advantage of the law and appointed such a commission  a couple of years ago with a lot of splash and press conferences.  Then, the minute the commission started finding evidence of big real estate's habit of "paying for legislation" to favor their industry, Cuomo hastily disbanded the commission, to the outrage of good government groups statewide.
The U.S. District Attorney (Mr. Preet Bharara) vowed to keep investigating on his own, without the Commission.  While he managed to take down State Senator Shelly Silver that way, the press reported that there is no evidence against Cuomo himself.  They reported on Monday that, "after a thorough investigation, there is insufficient evidence to prove a federal crime."  While the article continues to detail how Cuomo's office tried to impede the investigation, they were still unable to find corroborating evidence.  Sadly, this game in Albany continues.  The best solution and most honorable would be re-launch the commission.
To read the full NYT article, click here.
---
Quote of the Week
The Project for Public Spaces consulting group has created a charter to raise awareness on ethical practices within new real estate development.  They ask architects and urban planners to sign onto a code of ethics that states (among other things), "I will not do projects that increase poverty, dislocate or displace people, or destroy tangible or intangible cultural heritage of communities that live in the city. I will not do projects that destroy multi-class public space."
Way to go PPS!  PPS is a signer of the petition for a human-scale city and one of their staff has written an op-ed on their blog about the human-scale city.  To learn more about the code of ethics, contact them at info@pps.org
Or read Mr. Burke's op-ed here.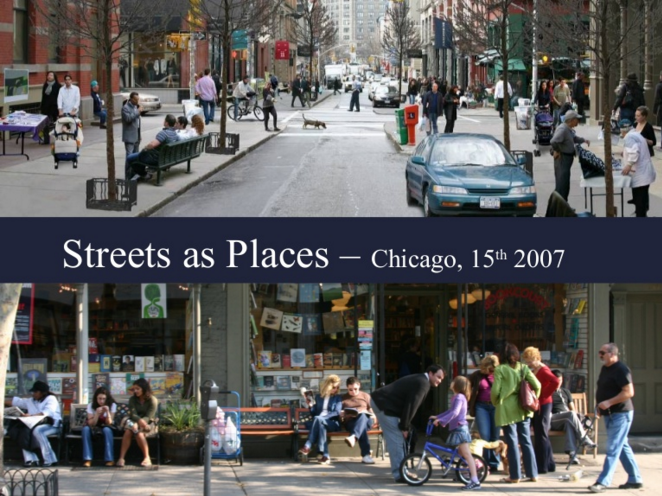 ---
Outrage of the Week
We all know landlords hire thugs to harass tenants.  Who knew that there were businesses that did the job for them?  An example is a business in Brooklyn called "Quickevic" who specializes in ousting "unruly" tenants.  Below you can see their business logo from their website.  What are we to think of this?  Only a real estate-dominated city would allow such a business thrive.  If this bugs you, scroll to the top and join the picket line.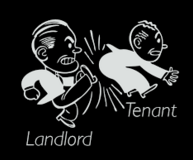 ---
Eyesore of the Week  _correction!
The original version of this piece had a poorly chosen diction and a snarky tone that the issue does not merit. The result was an incorrect sense of the issues this building represents.  Here that diction is corrected.  My apologies to the excellent Broadsheet Daily.
This week the prize goes to the out-sized building being proposed over the old Sims building in Lower Manhattan.  The sad part is this:  the deal is  one more example of how residents of New York have been forced into situations where to get one public good (like a school or a plaza or a park) we have to negotiate height deals with the real estate world and sacrifice one public good (light, air, long term beauty, old buildings, neighborhood scale, etc.) to get another public good.  Is such a trade-off really necessary or inevitable?  Is it really true that there is no other way to build schools and parks without having to make such trade-offs?   Public debate needs to move in this direction in New York City.  How do we weigh the value of the things lost for the things gained?  Who gets to do the weighing and how democratic is that process?
It also raises a question:  do we know enough about the city's budget and finance systems to believe that the city cannot provide public goods like schools and parks and roads and police and firemen without the high-rise real estate deals that literally reshape our city in ways we might not want?  Are there other ways to finance schools and parks?   Although this particular deal is happening in what is already a high-rise area already (although it is near where local activists have been asking for a tiny historic district for Little Syria), it does reminds us of the now long-ago fight over the Gehry building which had similar issues. Local residents did not want it, they fought it, and lost. A school and plaza were offered as recompense to the general downtown community.  The tower was happening anyway, so downtown took the school and plaza and went silent.  And to be fair, schools are always good things.  But that school was quickly over-crowded and it soon became clear that we needed yet another school – due to unplanned over-building and the huge number of conversions downtown.  Finally a new school was won (the stunningly beautiful Peck Slip School if my memory serves), but the school overcrowding continued and now we get another, much-needed school about a 15 minute walk from Peck Slip.  At what point will the city do some planning about population trends and make an effort to avoid the current cycle.  For overcrowded schools, that cycle goes something like this:  let developers overbuild wherever a neighborhood is hot, then after the schools become overcrowded and six years of children have had to suffer through many years of over-crowding, cave in at last to community pressure for another school and finally build another one in yet another developer deal (with half gyms and no arts rooms and no real playground) in an overly-dense high-rise that exacerbates the over-crowding situation, so the problem is managed for only a couple of years before the cycle begins again.  Surely there is a better way. Does it involve planning?  Probably.
In any case, to read about the lower Manhattan school that is going to happen in exchange for a taller building (which is a good thing, schools are always good), go here to Broadsheet Daily, one of the best local papers in Lower Manhattan.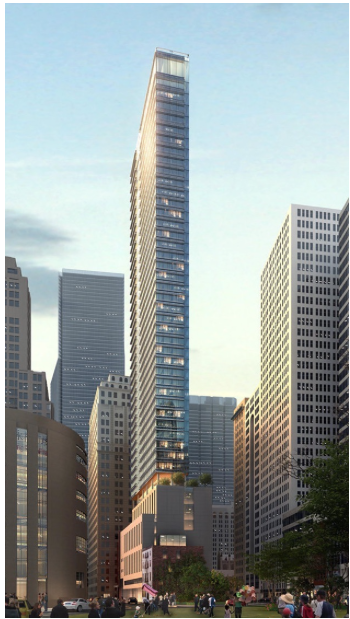 ---
Next week we take a break from the round-up and report instead on the issue of community-led planning (or lack of) in New York City.
Last week's round-up can be read below.
---