If you haven't signed the petition for a human-scale city yet, do so here
Upcoming Events
Monday, Nov. 23rd, 5:30pm: A talk with the photographers and authors of Store Front II, A History Preserved: The Disappearing Face of New York.  Location: Rizzoli Bookstore, 1133 Broadway, RSVP to 212-228-2781
Monday, Nov. 23, 6:30-8:30 p.m.: Cocktails & Conversation: An Evening to Honor NYC's First Historic District, hosted by The New York Preservation Archive Project, the Brooklyn Historical Society, and the Brooklyn Heights Association. Location: Brooklyn Historical Society, 128 Pierrepont Street, Brooklyn  General Admission: $100 Member Admission: $80  Buy Tickets here
Monday, Nov. 30, 6-8 p.m.: Wyckoff Gardens new construction meeting (see below). Location: 280 Wyckoff St.
Announcement:  To the  people in Yorkville seeking funding for their low-rise tiny charmer of a theatre, please resend your data so I can announce it.
90-Second Video of the problem we face: Two Hell's Kitchen, submitted by Troy Torrison
if you don't see the video below, click here.
Quote(s) of the Week:
First from Pete Hamill:  Pete Hamill, one of New York's favorite literary sons, reflects on the changing skyline of his beloved hometown in National Geographic: "…its architectural face is colder, more remote, less human, seeming to be sneering. In Manhattan the new superthin, supertall buildings are blocking the sky, casting long, arrogant shadows on streets once caressed by sun."  Read it here and imagine we could read such writing more often. Mr. Hamill, please write a guest column for us here!
 The "wish I'd said it first" prize goes to Justin Davidson, the architectural critic for New York Magazine.  In a recent article he asserts what every other smart person in NY has been saying, that the De Blasio administration's zoning changes would add a marginal amount of affordable housing to the city's stock at the expense of the 30-year-old contextual zoning rules. He summed up the zoning mumbo-jumbo from City Planning's powerpoints like so:  "In other words, those neighborhoods will get crappier without getting any cheaper."
News From The Wave of Civic Activism
Community push-back against the Mayor's up-zoning and inclusionary zoning proposals has been citywide. In my neck of the woods,  CB 1 in Manhattan last night rejected what had been written by their planning committee, and instead voted to support the goals but not the means of  the Zoning for Quality and Affordability and Mandatory Inclusionary Housing proposals. There was a lot of heated opposition to just accepting what the planning committee had written.  Five Manhattan Boards have voted no so far (including East Harlem), the rest have not voted. In Brooklyn, eight Community Boards have voted no on the proposals so far, with nine more Boards yet to vote.  In the Bronx, 9 of 12 Community Boards voted against the proposals, as did the Bronx Borough Board.  The Queens Borough Board voted no, as did 12 of 14 community boards there. The three Staten Island boards have postponed their vote. Will the Mayor have the grace to admit he needs new advice on how address the affordable housing problem?  Maybe he needs new people running City Planning, Economic Development, and Housing.
George Calderaro took an arrow and aimed it straight and true to the Real Estate Board of New York's take-over of the public discourse on real estate.  What do I mean?  Every Manhattan Community has now issued a resolution in SUPPORT of the Landmarks Law, in honor of its 50th anniversary.  We all owe thanks to George Calderaro of the 29th Street Association for making that happen over the course of the last year.  City Council, are you listening?  The public does not like the Real Estate Board of New York's efforts to dismantle what is obviously a popular law, which most certainly goes for the poorly conceived bill 775 that Greenfield is pushing for.
Manhattan Borough President Gail Brewer, who does have a reputation for listening to the public, generously hosted a non-required hearing on ZQA and MIH and on Wednesday night.  The turn-out was huge and overwhelming against these zoning proposals.  Some smart person asked, why are community boards voting when the Environmental Impact Study is not available?  Good question.  So far, I have not found an answer.  If you can enlighten me, do. At the hearings it was interesting to see two large housing rights organizations come out against mandatory inclusionary zoning, as least as written.
DNAInfo has been particularly thorough in their coverage of all these votes.  See here for a good example
The New York Post described broad opposition to the DeBlasio administration's zoning plans, emphasizing the nearly universal rejection of by community boards throughout the city. Although decisions by the boards are advisory only, communities are pushing harder for input. Read the article here.
The coalition, New Yorkers for a Human-Scale City gets a shout out. Coalition groups from around the city expressed frustration with the lack of community input in the implementation of DeBlasio's ZQA plan. Spokespeople criticized issues such as the "one-size fits all" approach of the zoning plan and the potential of its developer-friendly incentives to encourage building that is out of context with surrounding neighborhoods.  The DNA info article recognizes the historic scope of the coalition, New Yorkers for a Human-scale City and the widespread concern throughout the city that is the source of the coalitions strength and reach. Read it here.
Tenants and a housing advocacy group are also asking for a seat at the table with regard to a proposal to build about 600 new units in the public housing project of Wyckoff Gardens in Boerum Hill, half of which are to be affordable housing, the rest luxury units.  Current residents are concerned that the new development may result in a loss of their apartments. Read DNAinfo's story here.
Similar sentiments were expressed by Movement for Justice in El Barrio in a CB 11 meeting on November 17; residents fear that the 75% luxury units proposed in the rezoning of their East Harlem community will put pressure on long-term low income residents, small businesses and street vendors, causing the displacement of current residents. In addition, tenants argue that 25% units designated as "affordable" are not within reach of current East Harlem residents. Read it here.
During a public hearing hosted by the Landmarks Preservation Commission, developers and city officials squared off against preservationists over a historic Harlem brewery. Former and current city council people who have accepted donations from the developer owners tried to characterize the Landmarks Preservation process as the problem whose solution is to allow developers to decide the fate of architectural treasures. The flawed Landmarks Preservation process should be improved, not cast aside. See DNAinfo's article here.
On November 17th, over 150 people associated with The Brooklyn Anti-gentrification Network (BAN) protested to demand that the Brooklyn Museum not host the 6th Annual Brooklyn Real Estate Summit, and that Borough President Eric Adams not speak at the summit (over 2,000 people signed petitions issued by BAN and The Artist Studio Affordability Project). In the end both the Museum and Adams made it clear that they would not accede to BAN's demands, but BAN's agitprop was humorous and moving and got widespread coverage on the internet. Read the Gothamist article here.
Architectural heros still exist! Although a proposal to restore a historic Greenwich Village building had to be shelved when it was determined (by both the architects and the Landmarks Preservation Commission) that its structural issues were too severe to stabilize it, FSI Architects has researched the history of the 1833 former Federal residence, and designed a contextually appropriate replacement. The proposed new structure would be slightly taller than the current one, and would mimic its original style with architectural elements including a mansard roof, a slate roof, and lower stories would be clad in salvaged brick with blue-stone lintels.  See the Cityland article here.
A nonprofit group will investigate restoring the Stanford White-designed Gould Library at Bronx Community College, originally designed for NYU, who occupied the west Bronx campus until the early 70s, when CUNY bought it. The Save Gould Library Memorial Library group hopes to estimate what it would cost to repair and preserve the opulent structure (think green Connemara marble columns and a gilded copper dome studded with rosettes) and then set out to raise the money to do so, a sum that may exceed $50 million. The Times coverage is here.
Food for Thought
New York Magazine's Nov-16-22 cover article on a block in Bed-Stuy is a spectacular visual way to tell a story (whether you agree with the writer's biases or not).  Well done.  The on-line version is as compelling as the print version:
Eyesore(s) of the Week
In honor of the critic James Kunstler, whose brilliant eyesore of the week column in the blogosphere is so hilariously famous, I offer up our more humble New York  City version.This week the prize is shared by three new developments (send in your candidates for next week).
First up, starchitects and city-killers De Meuron and Herzog are no doubt getting huge design fees to put up Ian Schragers over-scaled glassy condo at 160 Leroy.  To get depressed, read the puffy press release in the Times

here.

 The waterfront was once so great and now that stretch is truly awful. Notice how the urban context (West Street and the neighboring buildings) is utterly wiped out in the rendering below.  That is how starchitects see cities, which is why they are bad for cities.  Do you hear that, Board of Trustees of the American Museum of Natural History?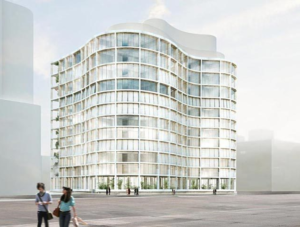 Next up, here is an unstated argument for reforming the Landmarks Law to include design review within 400 feet of a Landmark (NYPL in this case) or a park (Bryant Park in this case).  Why do I say that?  Well, Michael Kimmelman, the architecture critic for the Times, comes out damning with faint praise an over-scaled glass tower on Bryant Park here.  Our otherwise decent and well-intentioned critic tries to make the case that this glass thing is somehow contextual because of the corporate plaza, an argument he is really stretching for and failing to reach. He shows three ugly photos and calls a neighboring building a "modernist jewel box."  (ugh, there was once a time where all modernist things seemed to have been called "jewel box" )  And poor Bryant Park, shadowed, shadowed, shadowed and more shadows to come, see below.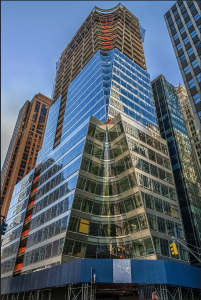 And the last eyesore of the week, is a few feet away, where 11 Byrant Park is to get a new ugly over-scaled building that will also shadow Bryant Park.  Check it out in Architectural Journal here (paywall possible).  Here is picture to see the eyesore that will soon be inflicted on us and Bryant Park and the NYPL Central branch.  Strengthen the Landmarks Law, people!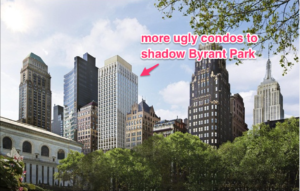 We Close With The Most Despicable Real Estate Ad of the Week
Why we need a windfall profits tax on the real estate industry….Hawked as the tallest apartment building in the city, 111 Murray is going up.  It is on the site of what was once a block full of gorgeous 19th century warehouse buildings, all torn down by Rockefellers who were filled with misguided fantasies of building a new city. Anyway, below is a creepy rendering of what will be one of the tallest apartment buildings in Manhattan.  It is a crime I suppose, an architectural one or an urbanist one, or perhaps both. I've been not-so-quietly mourning this despicable assault on my once-great neighborhood for a while now.  And while I was ruminating about it, the developer took out an ad in the Times last week, pornographically celebrating "uninterrupted views of the city and its surrounding rivers in every direction" and then declaring, "modernism lives in Tribeca."  I recently learned buried inside a city economics study that developers downtown are now getting yield on capital of 97% for luxury condo projects.  They get that yield because we are giving away our light and air and views, grabbing them and removing them from the public realm, and handing them over to developers. Well, in addition to my outrage at the windfall profits at public expense, I feel compelled to tell the buyers of those apartments:  you do not live in Tribeca, you never will… Instead you live nowhere, except that ugly place known as Dubai-on-Hudson…
Send in your suggestions for civic miracles, and candidates for architectural crime, eyesore, and quote of the week.