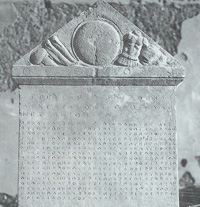 In ancient Athens, young male citizens took the Ephebic Oath after their military training.  It was about civic engagement.   The oath is shown inscribed on the bit of stone ruin pictured above.   A translation of it (or a similar oath found elsewhere) reads like this:
"We will never bring disgrace to this, our city, by any act of dishonesty or cowardice, nor ever desert our suffering comrades in the ranks; we will fight for the ideals and sacred things of the city, both alone and with many; we will revere and obey the city's laws and do our best to incite a like respect in those above us who are prone to annul or set them at naught; we will strive unceasingly to quicken the public sense of civic duty. Thus, in all these ways, we will transmit this city, not only not less, but far greater and more beautiful than it was transmitted to us."
We don't actually take such an oath at Tribeca Trust, but the spirit of it is around.   I mention it because  we could use your help (not just with money).  We are an all-volunteer group.  Thanks to donors in Tribeca, we do have funds to pay master's degree student interns from  Columbia to do some research for us, but we do not, by design and on purpose, pay ourselves.  We do what we can on the margins of our schedules, which are as hectic and anyone's.
That means we are at risk for burn-out.  The solution?  You!  Volunteers!
Our four most important needs are these:
1.  Event volunteers.  You might help organize events that promote civic engagement and awareness of Tribeca's history and architectural heritage.   Your participation  could come in the form of  planning an event like a "friendraiser" cocktail party in someone's home or working up a more unusual activity  (like the teens who did the Spybeca scavenger hunt).   Just got a day?     We will need a few volunteers for set-up and clean-up on outdoor events on May 3rd and June 13th, so if you are willing, let us know!   If you can write, or edit, or do graphic design, we need you too. If you are just a good organizer, that is also welcome.   A few hours a month can do a lot.
2.  Strategic planning for our fund-raising.  If we are to engage in any kind of campaign to study and modify the zoning around Tribeca, we need to raise at least $15,000 to pay for serious professional research.   We've been talking to some zoning consultancy firms.   Perhaps you are an artist and would care to donate a piece for an auction?
3.  History buffs:  Live in an old building outside the boundaries of the historic district but want in?   Know anything about your building?  Save us some time and write down what you know for us or let us interview you.  Have old pictures of your building?  Give us a copy.  Let us do a blog posting on your building that can archive your building's story.
4.  Specialists:  Know a lot about wordpress?  Take on our web site maintenance for us.  It isn't much work but would be even less work if tech savvy people took it on for us.  Familiar with elementary accounting just good at household book-keeping?  Eventually we will burn out our current (wonderful) treasurer and will need a replacement.  Talk to us.