Community Planning:
A Way Forward
---
One of our co-sponsors of the human-scale city petition is "Concerned Citizens for Community Based Planning."  They are based in Prospect Lefferts Gardens in Brooklyn. Alan Berger is one of their founders.  He is also on the steering committee of New Yorkers for a Human-Scale City (www.humanscale.nyc). He recently sent us the "Concerned Citizens'" statement of principles about community planning. It is an excellent distillation of the dire situation in New York City.  The principles are thus not specific to Brooklyn.  The eight principles show a way forward and so I share with all signers of our Human-Scale City petition.
---
Statement of Principles of Concerned Citizens For Community-based Planning
Preamble
"In view of the numerous zoning and land use related neighborhood studies now being conducted, we feel it is important to seek common ground with other community groups. We think this is particularly important because Department of City Planning rezoning studies and the Mayor's citywide rezoning initiatives rely on deliberately divisive techniques and false tradeoffs to pressure neighborhoods into accepting outcomes nobody wants.
We therefore invite all other neighborhood groups to sign a joint statement of principles and present a unified front to city agencies and developers. In the absence of such a statement, we believe that even well intentioned studies such as the PPEN/PLGNA [Prospect Park] study which is not supposed to be a zoning study, but only a study addressing housing "needs", can be used by the city to further push unwanted and unnecessary density, instead of preserving an affordable neighborhood for us.  We will see more towers of 8 -14 stories with hundreds of units at high rents, such as the ones currently being backed by the city at the Bedford Union armory and the Caton Market. We also believe it is vital that we make this compact now, not after a Department of City Planning (DCP) study has begun. As the experience of East New York shows, once that study is initiated, DCP ignores community feedback and community board disapproval.
Eight Principles
We support only community-initiated and community-controlled zoning and land use studies. While we are of course willing to work cordially with staff from the Department of City Planning, there are important substantive and procedural differences between Department of City Planning rezoning applications and those put forward by the community. We do not support the May 2015 request from the community board for the Department of City Planning to initiate and conduct a rezoning study. These plans are now on hold due to strong community opposition – not to needed downzoning, but to unnecessary upzoning.   We know at this point that the Department of City Planning is not initiating any neighborhood-wide contextual zoning studies and is deferring several community requests for contextual rezoning and downzoning. Every study listed on the Department of City Planning website includes a major upzoning/s designed to produce thousands of units of new market rate housing in addition to a limited number of "income linked" units. Even before the current administration, academic studies have documented a pattern by city planning of downzoning suburban neighborhoods and wealthy white brownstone neighborhoods while upzoning already dense areas, former industrial areas, and lower income neighborhoods of color.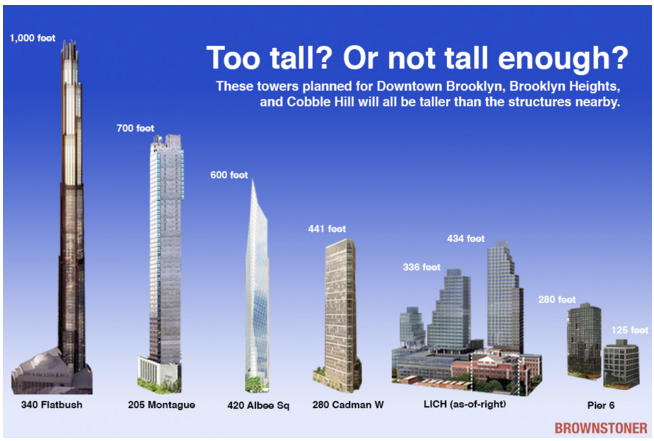 We need a new approach to planning which explicitly recognizes that additional building density and population density is neither inevitable, desirable nor appropriate in our neighborhood, which is already fully developed, and contains the densest census tracts in Brooklyn. This does not mean we cannot have an affordable neighborhood, nor does it mean we cannot have economic growth. While we recognize that no zoning can or should have absolute or permanent power to prevent all additional density, the record in our community and many others shows that zoning can heavily influence these outcomes for many decades. In much of our neighborhood, which was mistakenly zoned R6, R7 or R8, huge monstrosities are going up next to low-rise pre-war buildings, blotting out light and air for both homeowners and tenants of adjacent rent stabilized buildings; sound, occupied, architecturally wonderful buildings are being destroyed and "frankensteined". On the other hand, in parts of the city where major avenues near public transit are zoned R4 and R5, there is currently little or no development pressure.
The character of our neighborhood is essentially low rise and we seek to limit building heights appropriately but we do not accept that we need to trade height limits for density increases.
4 . We will not trade upzoning in some areas for downzoning in other areas
*What we mean by downzoning is reducing the residential floor area that can be built in addition to adding height limits. What we mean by upzoning is not only an increase in the floor area that can be built, but also a failure to downzone areas where numerous, non vacant soft sites currently exist, or any zoning which incentivizes the conversion of non residential (i.e. commercial, institutional/public or manufacturing) uses to residential uses.
We will not trade upzoning for affordable housing, economic development, infrastructure, or other community benefits, even as we seek other means to promote those goals and to receive our fair share of taxpayer dollars allocated to such services.
While we will work to protect as much of the neighborhood as we can as fast as possible, we will not protect homeowners at the expense of tenants and merchants or vice versa.
We will not trade rent-stabilized units for new construction affordable housing.
We seek to enforce fair share principles and laws with respect to supportive housing, homeless shelters, rehabilitation centers, supportive housing and other similar facilities.
Finally, we emphasize that we should agree to apply these principles in our neighborhood based on the unique characteristics of this area, as documented extensively through public data sources.  While different groups may have different political goals and views with regard to the direction of the city as a whole, we believe that our shared interests as residents and small business owners in this community override these differences.
To learn more, contact Concerned Citizens For Community Based Planning
190 Lincoln Road Brooklyn, NY 11225
(917) 715 7157/Alan Berger
Send an email:  plgrezoning@gmail.com
Website:   www.cb9rezoning.org
---
Send in your comments and corrections.  Meanwhile, stay tuned for Part 2 next week and don't forget to sign the human-scale petition here.